The Exon Junction Complex Controls the Efficient and Faithful Splicing of a Subset of Transcripts Involved in Mitotic Cell-Cycle Progression
1
Department of Biology, Graduate School of Science, Kobe University, 1-1 Rokkodaicho, Nadaku, Kobe 657-8501, Japan
2
Division of Gene Expression Mechanism, Institute for Comprehensive Medical Science (ICMS), Fujita Health University, Toyoake, Aichi 470-1192, Japan
3
Human Genome Center, Institute of Medical Science, The University of Tokyo, 4-6-1 Shirokanedai, Minato-ku, Tokyo 108-8639, Japan
4
Department of Computational Biology and Medical Sciences, Graduate School of Frontier Sciences, The University of Tokyo, Kashiwa, Chiba 277-8561, Japan
5
Laboratory for Malignancy Control Research, Medical Innovation Center, Kyoto University Graduate School of Medicine, Kyoto 606-8507, Japan
6
Laboratory of Cell Regulation, Departments of Applied Animal Sciences and Applied Biological Chemistry, Graduate School of Agriculture and Life Sciences, The University of Tokyo, 1-1-1 Yayoi, Bunkyo-ku, Tokyo 113-8657, Japan
*
Author to whom correspondence should be addressed.
Academic Editor: Mateus Webba da Silva
Received: 16 May 2016 / Revised: 21 June 2016 / Accepted: 22 June 2016 / Published: 2 August 2016
Abstract
The exon junction complex (EJC) that is deposited onto spliced mRNAs upstream of exon–exon junctions plays important roles in multiple post-splicing gene expression events, such as mRNA export, surveillance, localization, and translation. However, a direct role for the human EJC in pre-mRNA splicing has not been fully understood. Using HeLa cells, we depleted one of the EJC core components, Y14, and the resulting transcriptome was analyzed by deep sequencing (RNA-Seq) and confirmed by RT–PCR. We found that Y14 is required for efficient and faithful splicing of a group of transcripts that is enriched in short intron-containing genes involved in mitotic cell-cycle progression. Tethering of EJC core components (Y14, eIF4AIII or MAGOH) to a model reporter pre-mRNA harboring a short intron showed that these core components are prerequisites for the splicing activation. Taken together, we conclude that the EJC core assembled on pre-mRNA is critical for efficient and faithful splicing of a specific subset of short introns in mitotic cell cycle-related genes.
View Full-Text
►

▼

Figures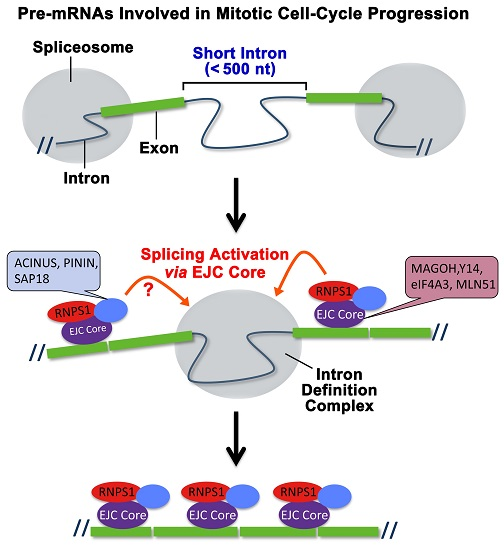 Graphical abstract
This is an open access article distributed under the
Creative Commons Attribution License
which permits unrestricted use, distribution, and reproduction in any medium, provided the original work is properly cited (CC BY 4.0).

Share & Cite This Article
MDPI and ACS Style
Fukumura, K.; Wakabayashi, S.; Kataoka, N.; Sakamoto, H.; Suzuki, Y.; Nakai, K.; Mayeda, A.; Inoue, K. The Exon Junction Complex Controls the Efficient and Faithful Splicing of a Subset of Transcripts Involved in Mitotic Cell-Cycle Progression. Int. J. Mol. Sci. 2016, 17, 1153.
Note that from the first issue of 2016, MDPI journals use article numbers instead of page numbers. See further details here.
Related Articles
Comments
[Return to top]