Influences of Electromagnetic Energy on Bio-Energy Transport through Protein Molecules in Living Systems and Its Experimental Evidence
1
Institute of Physical Electrons, University of Electronic Science and Technology of China, Chengdu 610054, China
2
Department of Physics, East China Normal University, Shanghai 200062, China
3
State Key Laboratory of Electrical Insulation and Power Equipment, Xi'an Jiaotong University, Xi'an 710049, China
*
Author to whom correspondence should be addressed.
Academic Editor: Marie-Christine Bacchus
Received: 16 January 2016 / Revised: 25 June 2016 / Accepted: 27 June 2016 / Published: 25 July 2016
Abstract
The influences of electromagnetic fields (EMFs) on bio-energy transport and its mechanism of changes are investigated through analytic and numerical simulation and experimentation. Bio-energy transport along protein molecules is performed by soliton movement caused by the dipole–dipole electric interactions between neighboring amino acid residues. As such, EMFs can affect the structure of protein molecules and change the properties of the bio-energy transported in living systems. This mechanism of biological effect from EMFs involves the amino acid residues in protein molecules. To study and reveal this mechanism, we simulated numerically the features of the movement of solitons along protein molecules with both a single chain and with three channels by using the Runge–Kutta method and Pang's soliton model under the action of EMFs with the strengths of 25,500, 51,000, 76,500, and 102,000 V/m in the single-chain protein, as well as 17,000, 25,500, and 34,000 V/m in the three-chain protein, respectively. Results indicate that electric fields (EFs) depress the binding energy of the soliton, decrease its amplitude, and change its wave form. Also, the soliton disperses at 102,000 V/m in a single-chain protein and at 25,500 and 34,000 V/m in three-chain proteins. These findings signify that the influence of EMFs on the bio-energy transport cannot be neglected; however, these variations depend on both the strength and the direction of the EF in the EMF. This direction influences the biological effects of EMF, which decrease with increases in the angle between the direction of the EF and that of the dipole moment of amino acid residues; however, randomness at the macroscopic level remains. Lastly, we experimentally confirm the existence of a soliton and the validity of our conclusion by using the infrared spectra of absorption of the collagens, which is activated by another type of EF. Thus, we can affirm that both the described mechanism and the corresponding theory are correct and that EMFs or EFs can influence the features of energy transport in living systems and thus have certain biological effects.
View Full-Text
►

▼

Figures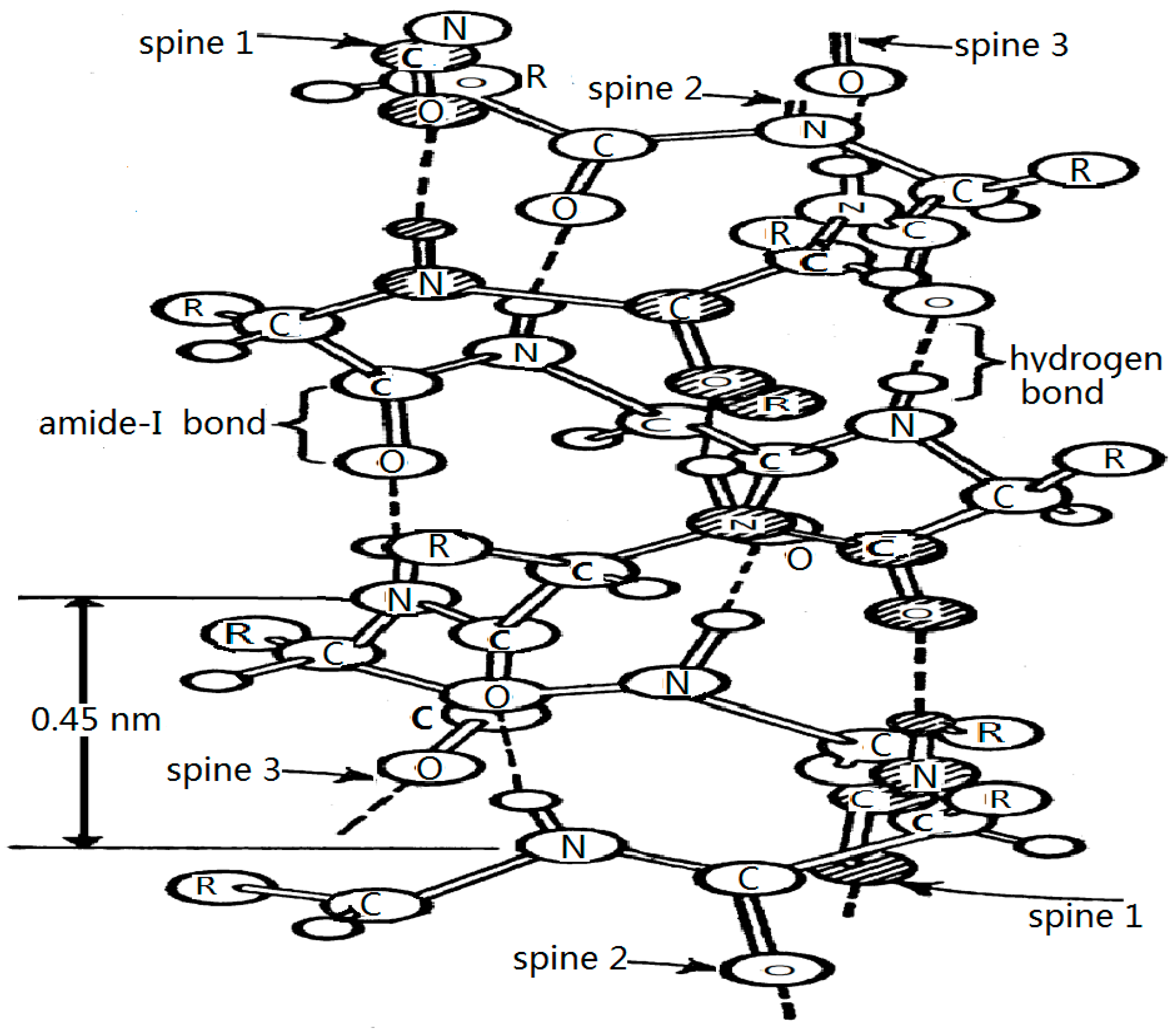 Figure 1
This is an open access article distributed under the
Creative Commons Attribution License
which permits unrestricted use, distribution, and reproduction in any medium, provided the original work is properly cited (CC BY 4.0).

Share & Cite This Article
MDPI and ACS Style
Pang, X.; Chen, S.; Wang, X.; Zhong, L. Influences of Electromagnetic Energy on Bio-Energy Transport through Protein Molecules in Living Systems and Its Experimental Evidence. Int. J. Mol. Sci. 2016, 17, 1130.
Note that from the first issue of 2016, MDPI journals use article numbers instead of page numbers. See further details here.
Related Articles
Comments
[Return to top]