Echinacoside Inhibits Glutamate Release by Suppressing Voltage-Dependent Ca2+ Entry and Protein Kinase C in Rat Cerebrocortical Nerve Terminals
1
Department of Anesthesiology, Far-Eastern Memorial Hospital, Pan-Chiao District, New Taipei City 22060, Taiwan
2
Department of Mechanical Engineering, Yuan Ze University, Taoyuan 32003, Taiwan
3
School of Medicine, Fu Jen Catholic University, No. 510, Zhongzheng Rd., Xinzhuang Dist., New Taipei 24205, Taiwan
*
Author to whom correspondence should be addressed.
Academic Editor: Katalin Prokai-Tatrai
Received: 10 May 2016 / Revised: 16 June 2016 / Accepted: 20 June 2016 / Published: 24 June 2016
Abstract
The glutamatergic system may be involved in the effects of neuroprotectant therapies. Echinacoside, a phenylethanoid glycoside extracted from the medicinal Chinese herb
Herba
Cistanche
, has neuroprotective effects. This study investigated the effects of echinacoside on 4-aminopyridine-evoked glutamate release in rat cerebrocortical nerve terminals (synaptosomes). Echinacoside inhibited Ca
2+
-dependent, but not Ca
2+
-independent, 4-aminopyridine-evoked glutamate release in a concentration-dependent manner. Echinacoside also reduced the 4-aminopyridine-evoked increase in cytoplasmic free Ca
2+
concentration but did not alter the synaptosomal membrane potential. The inhibitory effect of echinacoside on 4-aminopyridine-evoked glutamate release was prevented by ω-conotoxin MVIIC, a wide-spectrum blocker of Cav2.2 (N-type) and Cav2.1 (P/Q-type) channels, but was insensitive to the intracellular Ca
2+
release-inhibitors dantrolene and 7-chloro-5-(2-chloropheny)-1,5-dihydro-4,1-benzothiazepin-2(3H)-one (CGP37157). Furthermore, echinacoside decreased the 4-aminopyridine-induced phosphorylation of protein kinase C, and protein kinase C inhibitors abolished the effect of echinacoside on glutamate release. According to these results, we suggest that the inhibitory effect of echinacoside on evoked glutamate release is associated with reduced voltage-dependent Ca
2+
entry and subsequent suppression of protein kinase C activity.
View Full-Text
►

▼

Figures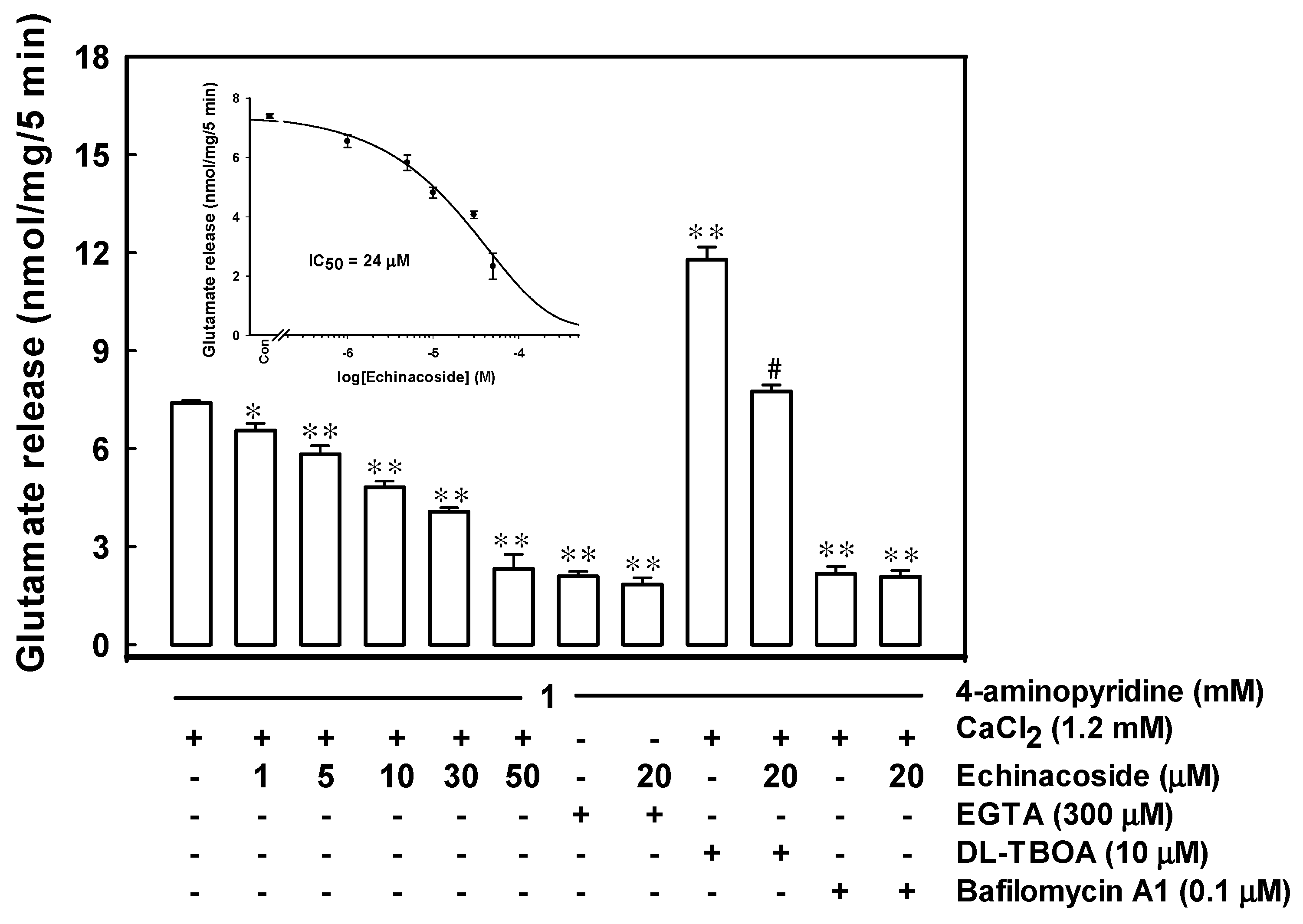 Figure 1
This is an open access article distributed under the
Creative Commons Attribution License
which permits unrestricted use, distribution, and reproduction in any medium, provided the original work is properly cited (CC BY 4.0).

Share & Cite This Article
MDPI and ACS Style
Lu, C.W.; Lin, T.Y.; Huang, S.K.; Wang, S.J. Echinacoside Inhibits Glutamate Release by Suppressing Voltage-Dependent Ca2+ Entry and Protein Kinase C in Rat Cerebrocortical Nerve Terminals. Int. J. Mol. Sci. 2016, 17, 1006.
Note that from the first issue of 2016, MDPI journals use article numbers instead of page numbers. See further details here.
Related Articles
Comments
[Return to top]