The Transcription Factor OsWRKY45 Negatively Modulates the Resistance of Rice to the Brown Planthopper
Nilaparvata lugens
State Key Laboratory of Rice Biology, Institute of Insect Sciences, Zhejiang University, Hangzhou 310058, China
*
Author to whom correspondence should be addressed.
Academic Editor: Marcello Iriti
Received: 24 March 2016 / Revised: 25 April 2016 / Accepted: 29 April 2016 / Published: 31 May 2016
Abstract
WRKY transcription factors play a central role not only in plant growth and development but also in plant stress responses. However, the role of WRKY transcription factors in herbivore-induced plant defenses and their underlying mechanisms, especially in rice, remains largely unclear. Here, we cloned a rice WRKY gene
OsWRKY45
, whose expression was induced by mechanical wounding, by infestation of the brown planthopper (BPH,
Nilaparvata lugens
) and by treatment with jasmonic acid (JA) or salicylic acid (SA). The antisense expression of
OsWRKY45
(as-
wrky
) enhanced BPH-induced levels of H
2
O
2
and ethylene, reduced feeding and oviposition preference as well as the survival rate of BPH, and delayed the development of BPH nymphs. Consistently, lower population densities of BPH on as-
wrky
lines, compared to those on wild-type (WT) plants, were observed in field experiments. On the other hand, as-
wrky
lines in the field had lower susceptibility to sheath blight (caused by
Rhizoctonia solani)
but higher susceptibility to rice blast (caused by
Magnaporthe oryzae
) than did WT plants. These findings suggest that OsWRKY45 plays important but contrasting roles in regulating the resistance of rice to pathogens and herbivores, and attention should be paid if OsWRKY45 is used to develop disease or herbivore-resistant rice.
View Full-Text
►

▼

Figures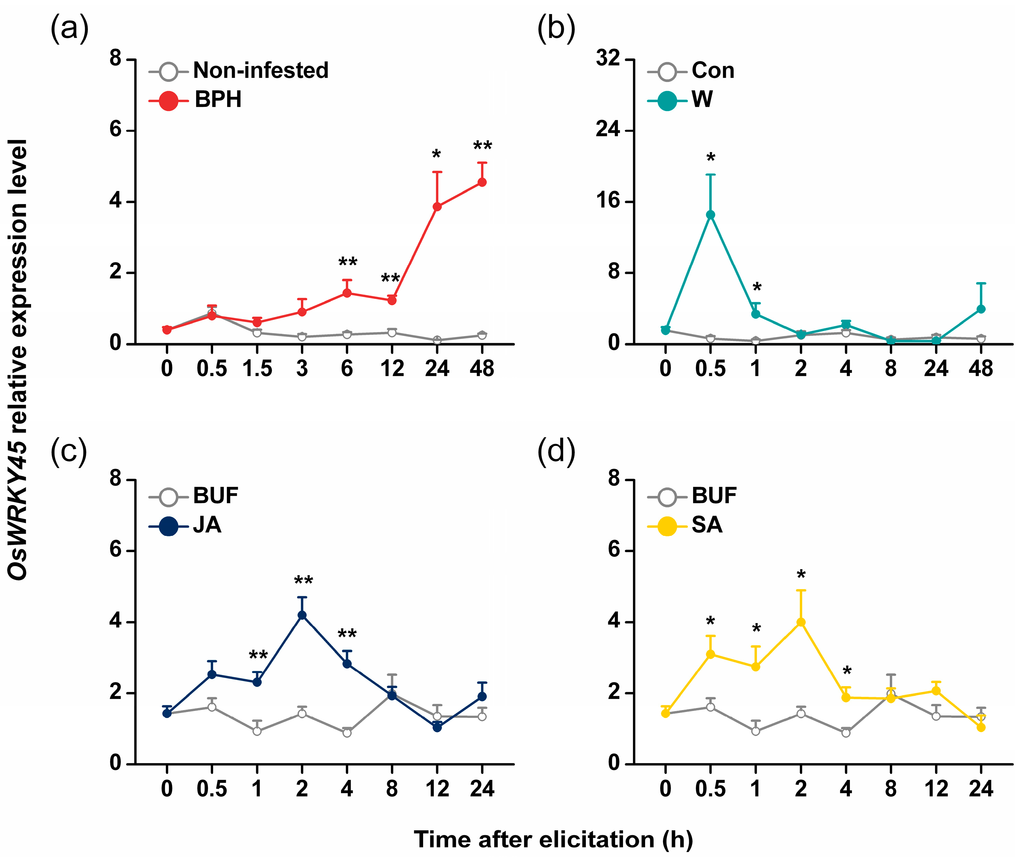 Figure 1
This is an open access article distributed under the
Creative Commons Attribution License
which permits unrestricted use, distribution, and reproduction in any medium, provided the original work is properly cited (CC BY 4.0).

Share & Cite This Article
MDPI and ACS Style
Huangfu, J.; Li, J.; Li, R.; Ye, M.; Kuai, P.; Zhang, T.; Lou, Y. The Transcription Factor OsWRKY45 Negatively Modulates the Resistance of Rice to the Brown Planthopper Nilaparvata lugens. Int. J. Mol. Sci. 2016, 17, 697.
Note that from the first issue of 2016, MDPI journals use article numbers instead of page numbers. See further details here.
Related Articles
Comments
[Return to top]