Thrombin Receptor-Activating Protein (TRAP)-Activated Akt Is Involved in the Release of Phosphorylated-HSP27 (HSPB1) from Platelets in DM Patients
1
Department of Clinical Laboratory, National Center for Geriatrics and Gerontology, 7-430 Morioka, Obu, Aichi 474-8511, Japan
2
Department of Pharmacology, Gifu University Graduate School of Medicine, 1-1 Yanagido, Gifu 501-1194, Japan
3
Department of Orthopedic Surgery, Nagoya City University Graduate School of Medical Sciences, 1-Kawasumi, Nagoya 467-8601, Japan
4
Department of Neurosurgery, Gifu University Graduate School of Medicine, 1-1 Yanagido, Gifu 501-1194, Japan
5
Department of Anesthesiology and Critical Care Medicine, Chuno Kosei Hospital, 5-1 Wakakusa, Seki, Gifu 501-6062, Japan
6
Department of Anesthesiology and Pain Medicine, Gifu University Graduate School of Medicine, 1-1 Yanagido, Gifu 501-1194, Japan
7
Department of Emergency and Disaster Medicine, Gifu University Graduate School of Medicine, 1-1 Yanagido, Gifu 501-1194, Japan
*
Author to whom correspondence should be addressed.
Academic Editor: Toshiro Arai
Received: 31 March 2016 / Revised: 9 May 2016 / Accepted: 10 May 2016 / Published: 14 May 2016
Abstract
It is generally known that heat shock protein 27 (HSP27) is phosphorylated through p38 mitogen-activated protein (MAP) kinase. We have previously reported that HSP27 is released from human platelets associated with collagen-induced phosphorylation. In the present study, we conducted an investigation into the effect of thrombin receptor-activating protein (TRAP) on the release of HSP27 in platelets in type 2 diabetes mellitus (DM) patients. The phosphorylated-HSP27 levels induced by TRAP were directly proportional to the aggregation of platelets. The levels of phosphorylated-HSP27 (Ser-78) were correlated with the levels of phosphorylated-p38 MAP kinase and phosphorylated-Akt in the platelets stimulated by 10 µM TRAP but not with those of phosphorylated-p44/p42 MAP kinase. The levels of HSP27 released from the TRAP (10 µM)-stimulated platelets were correlated with the levels of phosphorylated-HSP27 in the platelets. The released platelet-derived growth factor-AB (PDGF-AB) levels were in parallel with the HSP27 levels released from the platelets stimulated by 10 µM TRAP. Although the area under the curve (AUC) of small aggregates (9–25 µm) induced by 10 µM TRAP showed no significant correlation with the released HSP27 levels, AUC of medium aggregates (25–50 µm), large aggregates (50–70 µm) and light transmittance were significantly correlated with the released HSP27 levels. TRAP-induced phosphorylation of HSP27 was truly suppressed by deguelin, an inhibitor of Akt, in the platelets from a healthy subject. These results strongly suggest that TRAP-induced activation of Akt in addition to p38 MAP kinase positively regulates the release of phosphorylated-HSP27 from human platelets, which is closely related to the platelet hyper-aggregation in type 2 DM patients.
View Full-Text
►

▼

Figures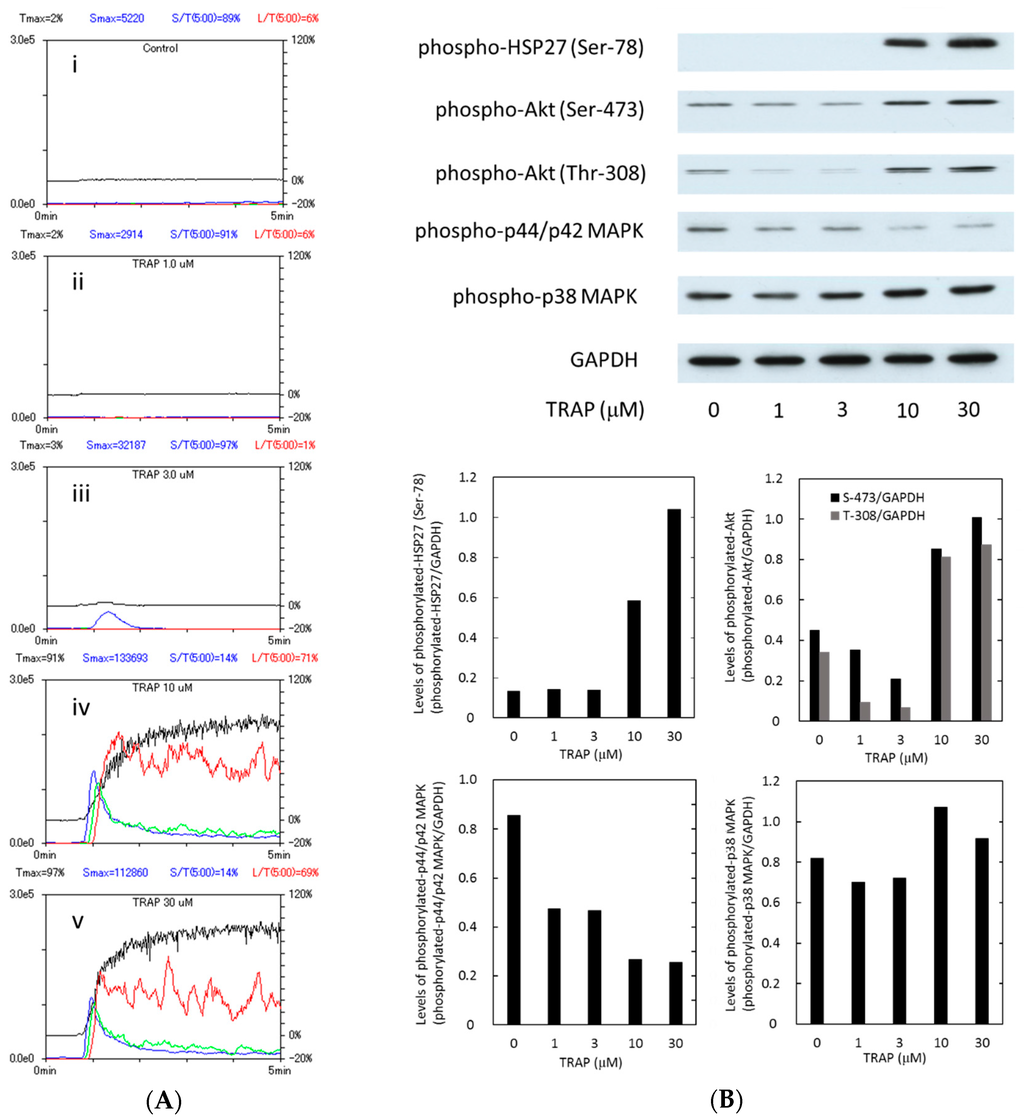 Figure 1
This is an open access article distributed under the
Creative Commons Attribution License
which permits unrestricted use, distribution, and reproduction in any medium, provided the original work is properly cited (CC BY 4.0).

Share & Cite This Article
MDPI and ACS Style
Tokuda, H.; Kuroyanagi, G.; Tsujimoto, M.; Matsushima-Nishiwaki, R.; Akamatsu, S.; Enomoto, Y.; Iida, H.; Otsuka, T.; Ogura, S.; Iwama, T.; Kojima, K.; Kozawa, O. Thrombin Receptor-Activating Protein (TRAP)-Activated Akt Is Involved in the Release of Phosphorylated-HSP27 (HSPB1) from Platelets in DM Patients. Int. J. Mol. Sci. 2016, 17, 737.
Note that from the first issue of 2016, MDPI journals use article numbers instead of page numbers. See further details here.
Related Articles
Comments
[Return to top]