Open Access This article is
freely available
re-usable
Review
Understanding the Functions of Long Non-Coding RNAs through Their Higher-Order Structures
Department of Food Biotechnology, College of Food Science and Nutritional Engineering, China Agricultural University, Beijing 100083, China
*
Author to whom correspondence should be addressed.
Academic Editor: Martin Pichler
Received: 15 March 2016 / Accepted: 4 May 2016 / Published: 17 May 2016
Abstract
:
Although thousands of long non-coding RNAs (lncRNAs) have been discovered in eukaryotes, very few molecular mechanisms have been characterized due to an insufficient understanding of lncRNA structure. Therefore, investigations of lncRNA structure and subsequent elucidation of the regulatory mechanisms are urgently needed. However, since lncRNA are high molecular weight molecules, which makes their crystallization difficult, obtaining information about their structure is extremely challenging, and the structures of only several lncRNAs have been determined so far. Here, we review the structure–function relationships of the widely studied lncRNAs found in the animal and plant kingdoms, focusing on the principles and applications of both
in vitro
and
in vivo
technologies for the study of RNA structures, including dimethyl sulfate-sequencing (DMS-seq), selective 2′-hydroxyl acylation analyzed by primer extension-sequencing (SHAPE-seq), parallel analysis of RNA structure (PARS), and fragmentation sequencing (FragSeq). The aim of this review is to provide a better understanding of lncRNA biological functions by studying them at the structural level.
Keywords:
long non-coding RNA; molecular mechanisms; structure; function; technologies
Acknowledgments
We wish to thank Yong-Fang Yang and Tian Wang for stimulating discussions and critical review of the manuscript. This work was supported by grants from the National Natural Sciences Foundation of China (91540118 and 31471921) and the Chinese Universities Scientific Fund (2016QC037) and Great Northern Agriculture Education Fund (1061-2415003) to Hongliang Zhu.
Author Contributions
Rui Li and Hongliang Zhu planned the manuscript outline. Rui Li wrote the draft and generated the figures; Hongliang Zhu and Yunbo Luo revised and did proofreading. All authors read and approved the final manuscript.
Conflicts of Interest
The authors declared no conflict of interests.
Abbreviations
ncRNA: non-coding RNA; snRNA: small nuclear RNA; snoRNA: small nucleolar RNA; SRA: steroid receptor RNA activator; NMR: nuclear magnetic resonance; XCI: X-chromosome inactivation; PRC2: polycomb repressive 2; H3K27me3: histone H3 lysine K27 trimethylation CRISPR/Cas9: Clustered regularly interspaced short palindromic repeats (CRISPR)-associated endonuclease 9; roX1: RNA on the X 1; roX2: RNA on the X 2; HAS: high-affinity sites; H4K16ac: histone H4 on lysine16 acetylation; MSL: Male-lethal specific; MLE: maleless; MSL2: male-specific lethal 2 homolog; LSD1: lysine-specific demethylase 1; HOTAIR:HOX antisense intergenic RNA; minHOTAIR: minimal binding motif of HOTAIR; MALAT1: Metastasis associated lung adenocarcinoma transcript 1; mascRNA: MALAT1-associated small cytoplasmic RNA; NEAT2: nuclear enriched abundant transcript 2; Gas5: growth arrest-specific 5; GR: glucocorticoid receptor; GC: glucocorticoid; IPS1: Induced by Phosphate Starvation 1; eTM: endogenous target mimicry mechanism; FLC: Flowering locus C; COOLAIR: Cold Induced Long Antisense Intergenic noncoding RNA; COLDAIR: Cold Assisted Intronic noncoding RNA; LDMAR: long-day-specific male-fertility-associated lincRNA; PSMS: photoperiod-sensitive male sterility; NK 58S: Nongken 58S; NK 58N: Nongken 58N; RdDM: RNA-dependent DNA methylation; RBP: RNA binding proteins; MtRBP1: Medicago truncatula RNA Binding Protein 1; DMS: dimethyl sulfate; SHAPE: selective 2'-hydroxyl acylation analyzed by primer extension; CMCT: 1-cyclohexyl-(2-morpholinoethyl) carbodiimidemetho-p-toluene sulfonate; RNase: ribonuclease; PARS: Parallel analysis of RNA structure; Frag-Seq: fragmentation sequencing; icSHAPE:
In Vivo
Click SHAPE; CLASH : Crosslinking Ligation and Sequencing Hybrids; hiCLIP : RNA hybrid and individual-nucleotide resolution UV cross-linking and immunoprecipitation; RPL : RNA Proximity Ligation.
Figure 1. Differences in the structure and sequence between mRNA and lncRNA. The mRNA primary coding sequence (CDS) plays a significant role in the translation, while lncRNAs regulate target gene expression through the interactions between their higher-order structures and major partner proteins.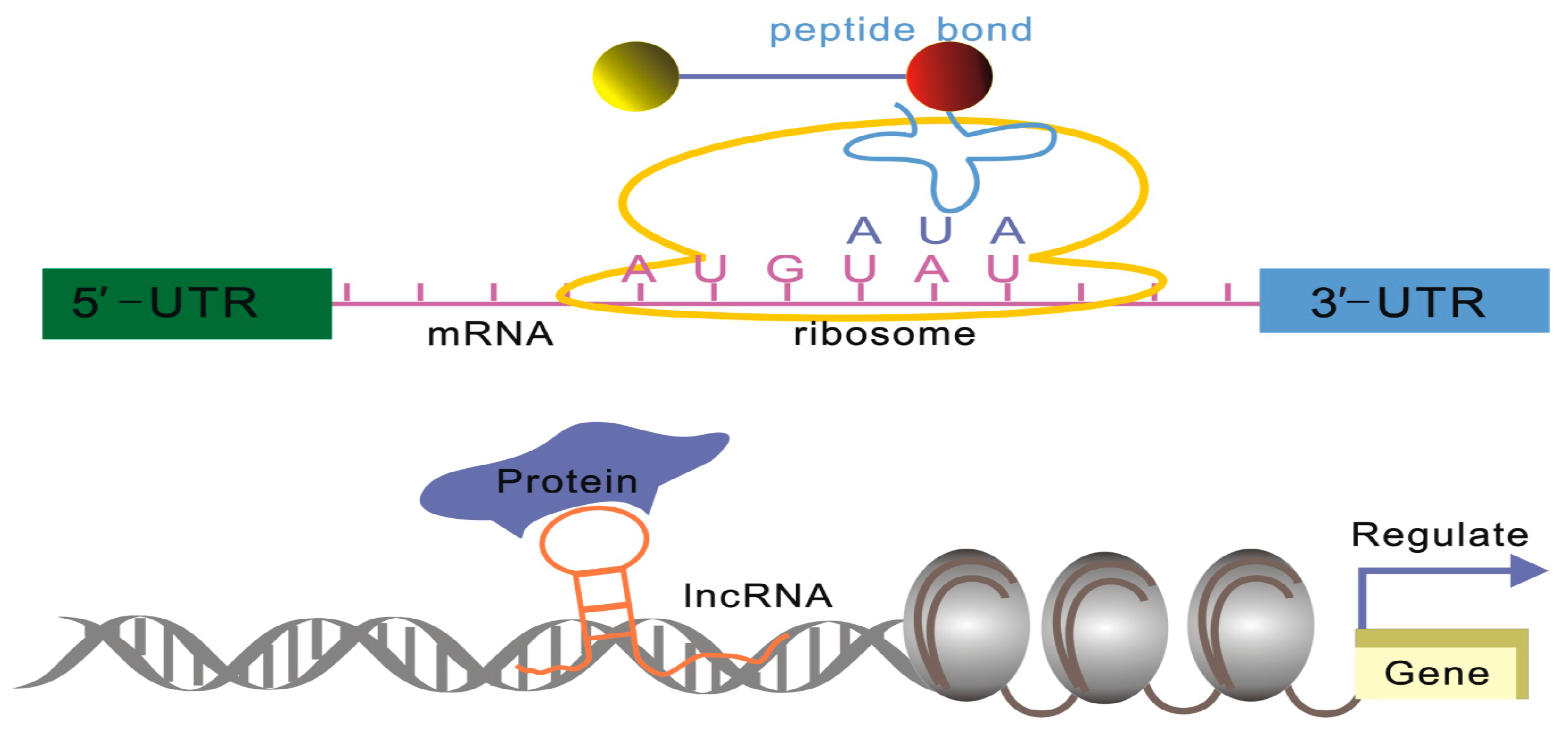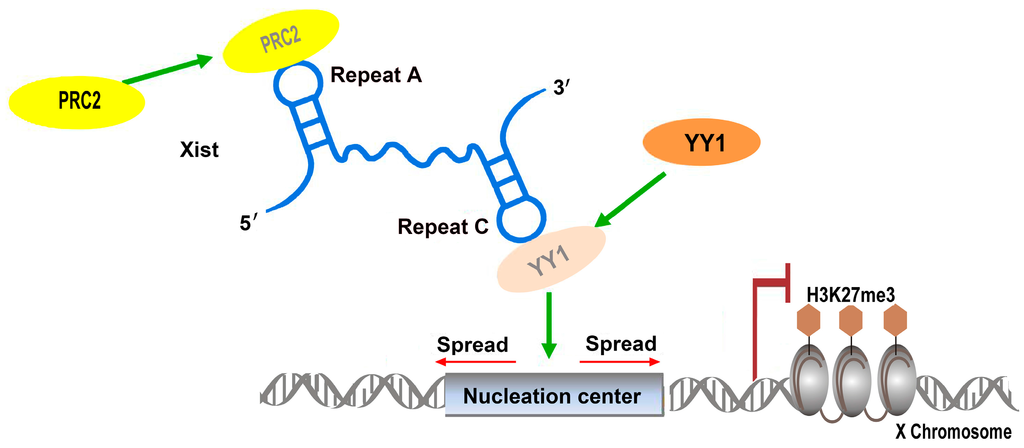 Figure 2. Xist repetitive element functions during X-chromosome inactivation. A-repeat, which contains two long stem-loop structures, is involved in PRC2 binding, while C-repeat binds YY1, assisting Xist-PRC2 complex in targeting the specific sites on Xi, and inducing histone H3 lysine K27 trimethylation (H3K27me3) and X-linked gene silencing.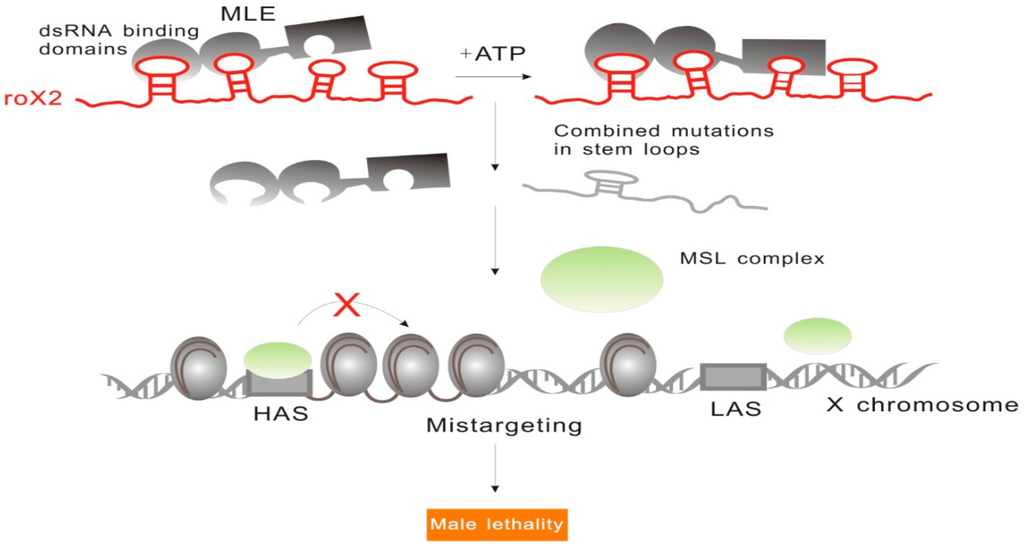 Figure 3. RoX2 tandem stem-loops are involved in MSL complex assembly. RoX2 tandem stem-loops are highly conserved. MLE binding to the different parts of tandem stem-loops has different ATP requirements. MLE binding to the first half of roX2 does not require ATP, while binding to the second half is ATP-dependent. Only when combinatorial mutations occur in stem loops, roX2 is no longer able to recruit MSL, which results in the loss of dosage compensation and male lethality.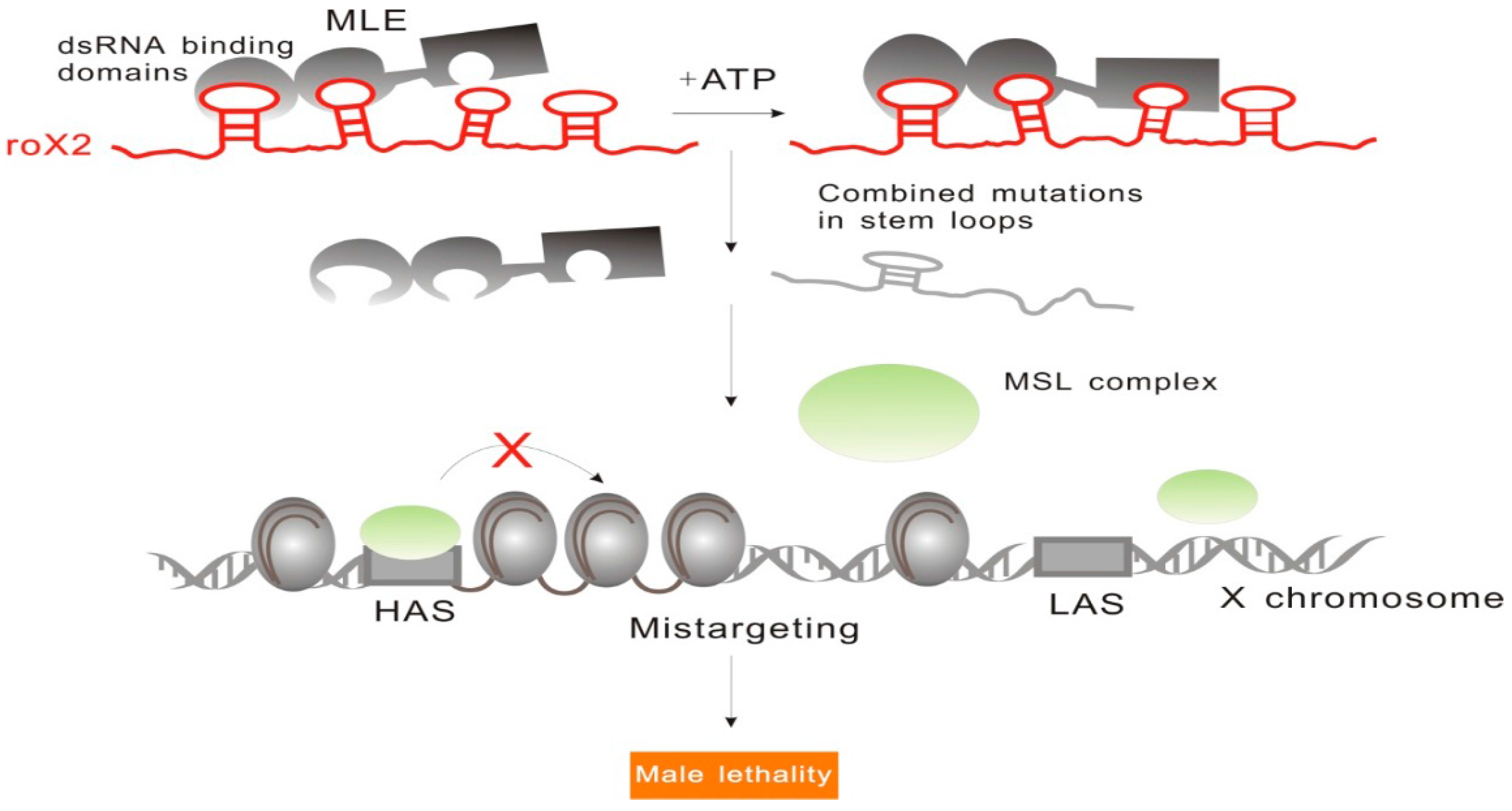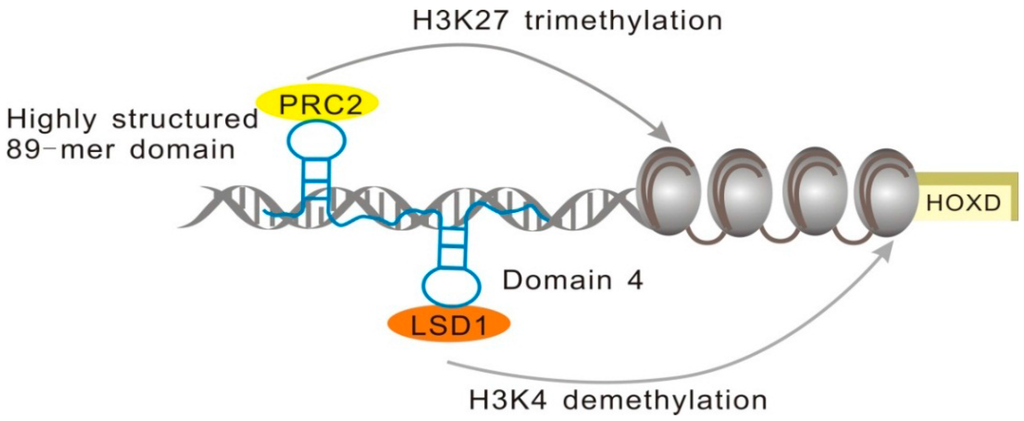 Figure 4.
minHOTAIR and D4 regions of HOTAIR recruit PRC2 and LSD1, respectively, in order to regulate
HOXD
expression.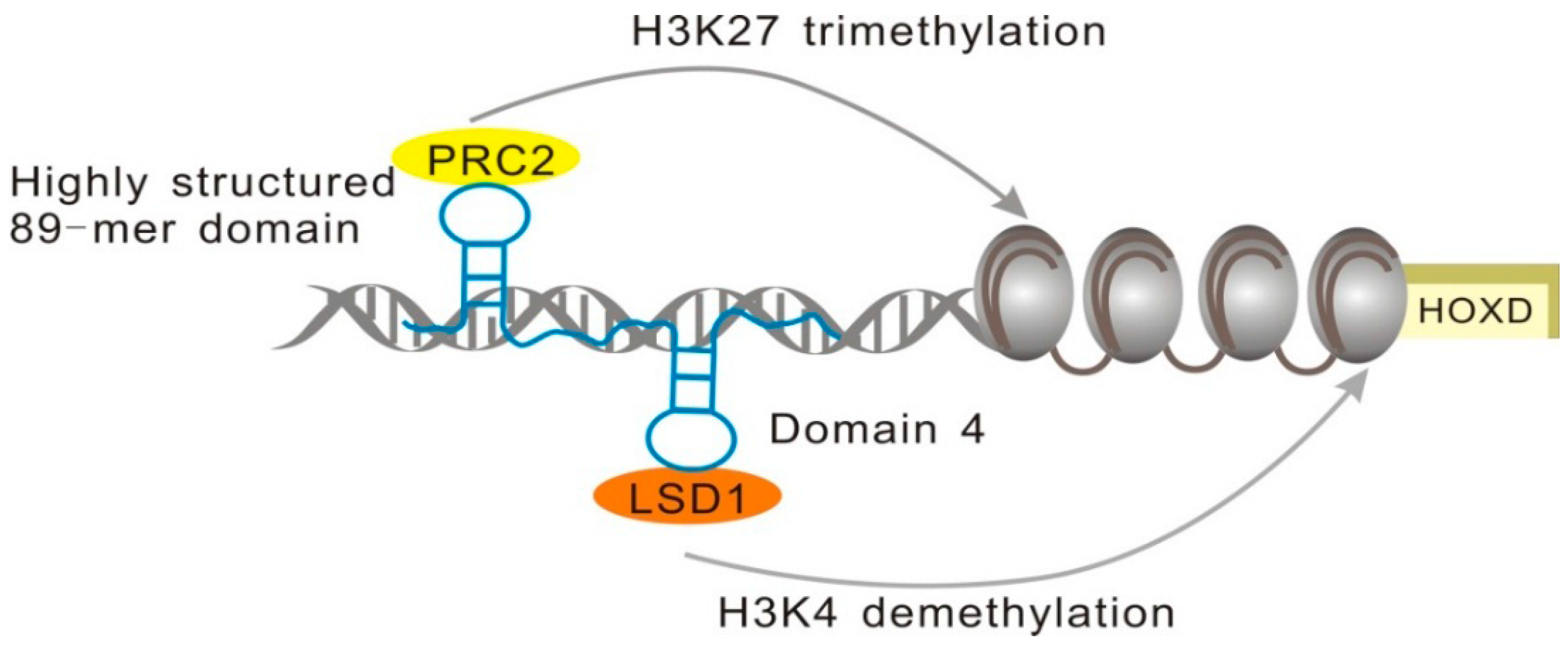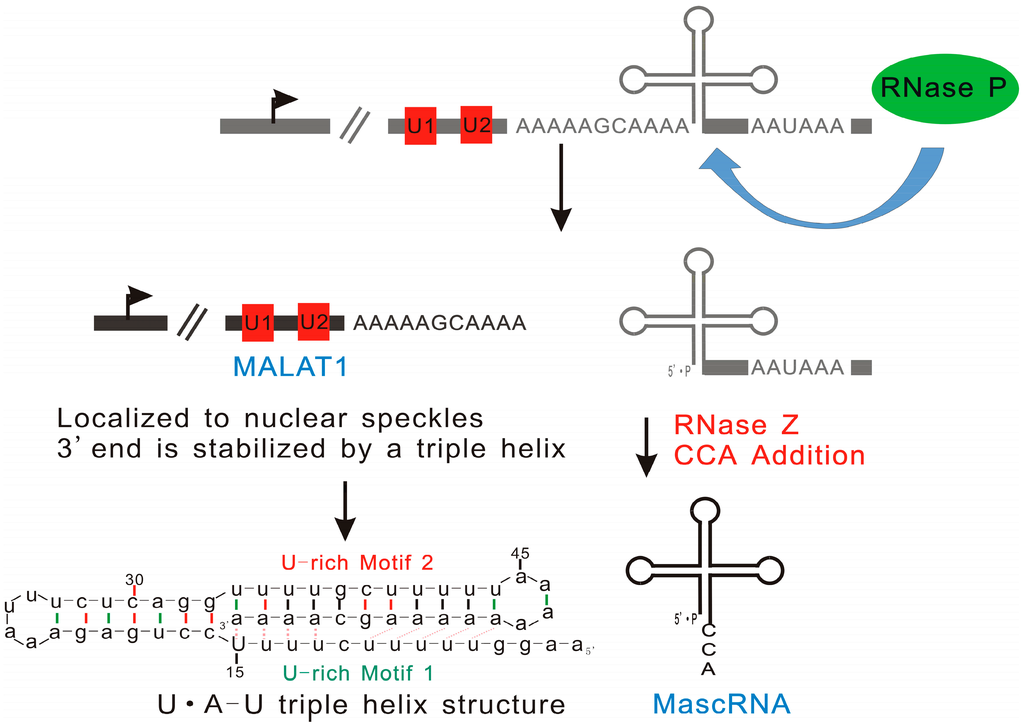 Figure 5. Triple helix structure of MALAT1 explains its high stability. RNase P is involved in the generation of the 3' end of MALAT1 and the 5' end of tRNA-like cytoplasmic RNA designated as mascRNA. A triple helix (U•A-U) formed by the conserved poly(A)- and its flanking U-rich motifs prevents the degradation of MALAT1 by exonucleases.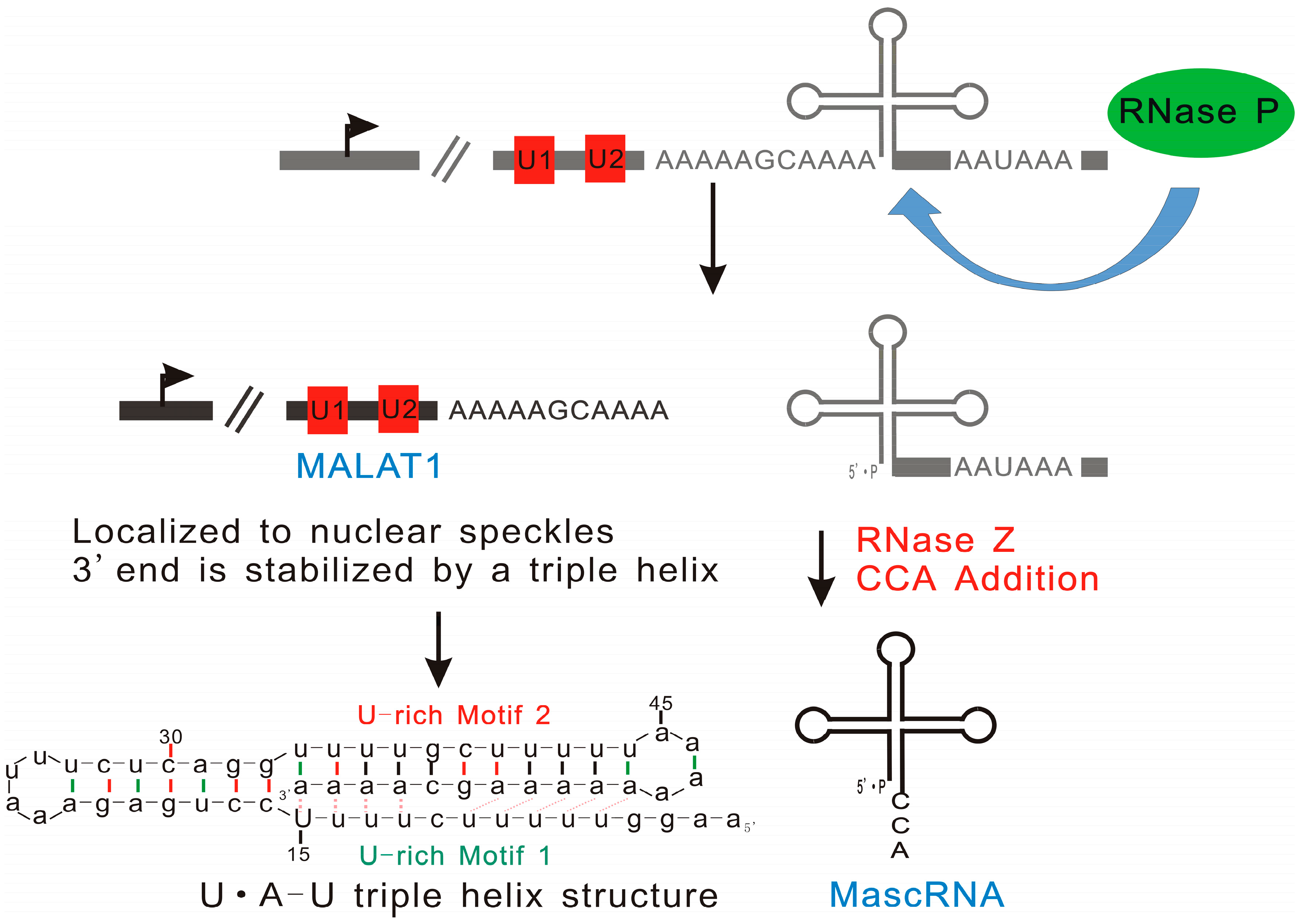 Figure 6. The role of Gas5 secondary structure transformation in glucocorticoid signal transduction. Gas5 serves as a decoy for GR and removes it from the signaling pathway by changing its secondary structure. POL: Polymerase.


Figure 7. IPS1 functions as an endogenous target mimic through a 23-nucleotide (nt)-long conserved motif. The conserved 23-nt-long motif of IPS1, which shows imperfect complementarity with miR399, ensures binding with miR399. This leads to an increased expression of miR399 target genes and changes in phosphate content, since miR399 can no longer affect its targets.


Figure 8.
R-loop structures covering the COOLAIR promoter repress COOLAIR transcription.
FLC
:
Flowering Locus C
.

Figure 9. Enzymatic synthesis and purification of lncRNA. T7 RNA polymerase system is used for RNA synthesis, followed by the addition of DNase enzyme for the digestion of DNA template, and by the addition of proteinase K, which is responsible for the proteolysis of enzymes. The desired RNA is obtained by ultrafiltration and purified using size-exclusion chromatography. FPLC: Fast Protein Liquid Chromatography.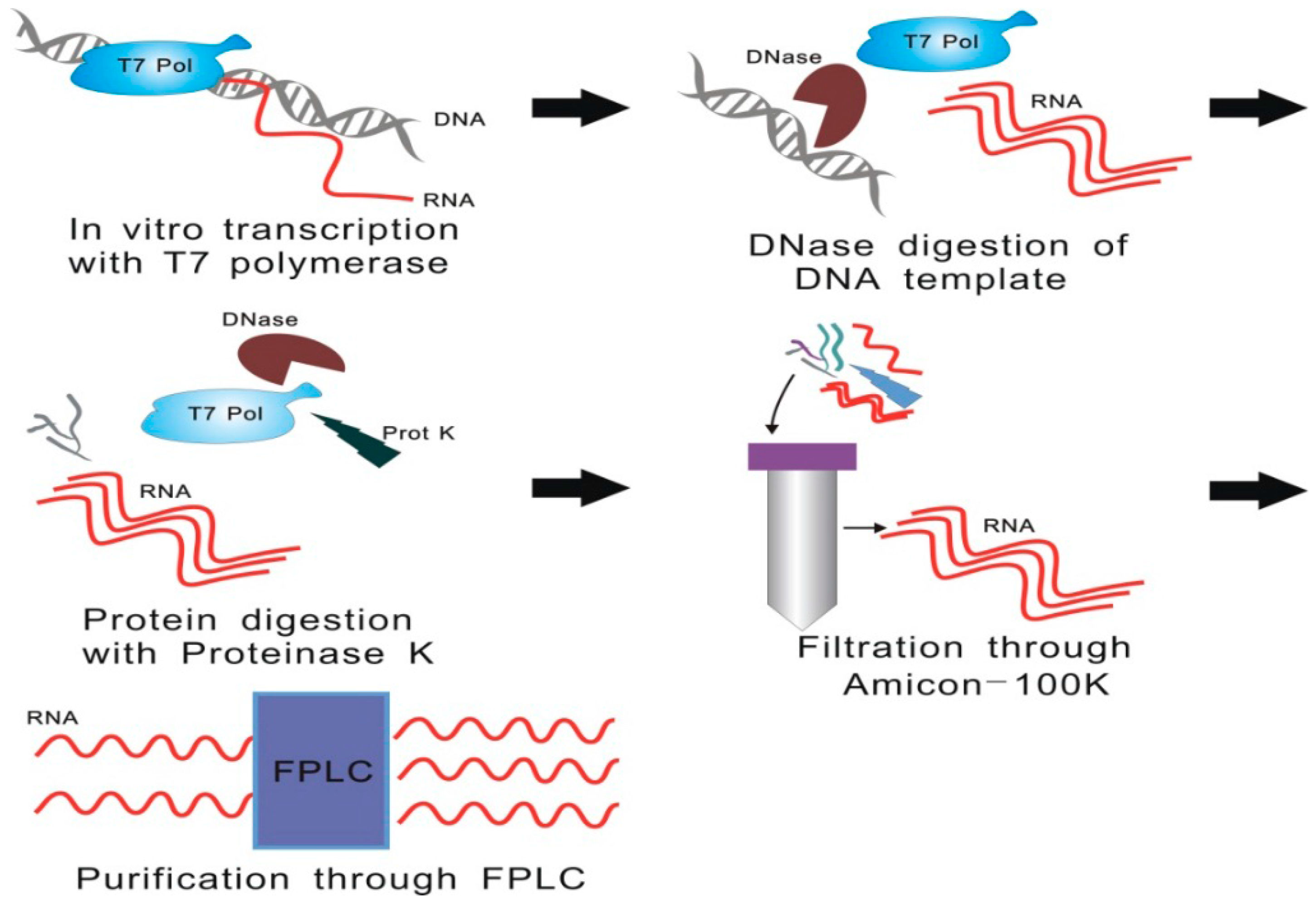 Table 1. Summary of RNA structural probing methods.
Methods
Application to Date
Probe
Data
References
SHAPE-seq

In vitro

1M7, NMIA
1D
[87]
SHAPE-MAP

In vitro

1M7
1D
[88]
RING-Map

In vitro

DMS
1D
[89]
PARS

In vitro

RNase S1 (ssRNA);
RNase V1 (dsRNA)
1D
[91]
Fragseq

In vitro

RNase P1 (ssRNA)
1D
[95]
ss/dsRNA-seq

In vitro

RNase I (ssRNA);
RNase V1 (dsRNA)
1D
[90,97]
Mod-seq

In vivo

DMS
1D
[102,103]
DMS-seq

In vivo

DMS
1D
[104]
Structural-seq

In vivo

DMS
1D
[105]
icSHAPE

In vivo

NAI-N3
1D
[107,108]
CLASH

In vivo

UV crosslinking
2D
[109,110]
hiCLIP

In vivo

UV crosslinking
2D
[111]
RPL

In vivo

No crosslinking
2D
[112]
© 2016 by the authors; licensee MDPI, Basel, Switzerland. This article is an open access article distributed under the terms and conditions of the Creative Commons Attribution (CC-BY) license (http://creativecommons.org/licenses/by/4.0/).