Open Access This article is
freely available
re-usable
Review
Melatonin: A Mitochondrial Targeting Molecule Involving Mitochondrial Protection and Dynamics
Department of Cell System and Anatomy, The University of Texas Health Science Center, San Antonio, TX 78229, USA
*
Authors to whom correspondence should be addressed.
Academic Editor: Rosa M. Lamuela-Raventós
Received: 19 October 2016 / Accepted: 7 December 2016 / Published: 16 December 2016
Abstract
:
Melatonin has been speculated to be mainly synthesized by mitochondria. This speculation is supported by the recent discovery that aralkylamine
N
-acetyltransferase/serotonin
N
-acetyltransferase (AANAT/SNAT) is localized in mitochondria of oocytes and the isolated mitochondria generate melatonin. We have also speculated that melatonin is a mitochondria-targeted antioxidant. It accumulates in mitochondria with high concentration against a concentration gradient. This is probably achieved by an active transportation via mitochondrial melatonin transporter(s). Melatonin protects mitochondria by scavenging reactive oxygen species (ROS), inhibiting the mitochondrial permeability transition pore (MPTP), and activating uncoupling proteins (UCPs). Thus, melatonin maintains the optimal mitochondrial membrane potential and preserves mitochondrial functions. In addition, mitochondrial biogenesis and dynamics is also regulated by melatonin. In most cases, melatonin reduces mitochondrial fission and elevates their fusion. Mitochondrial dynamics exhibit an oscillatory pattern which matches the melatonin circadian secretory rhythm in pinealeocytes and probably in other cells. Recently, melatonin has been found to promote mitophagy and improve homeostasis of mitochondria.
Keywords:
melatonin; antioxidant; mitochondria; mitophagy; mitochondrial dynamics
2. Mitochondria: The Major Sites for Melatonin Synthesis and Metabolism
3. Melatonin: A Potent Protector of Mitochondria
4. Melatonin Regulates Mitochondrial Dynamics
The functions of mitochondria exhibit significant circadian rhythms, which help mitochondria to cope with alterations in nutrient availability, energy supply, and cellular remodeling, that naturally occur throughout the day. This also involves mitochondrial biogenesis, fission, fusion, and mitophagy. All these maintain mitochondrial and cellular functions. Collectively, these processes are referred to as mitochondrial dynamics [
176
,
177
]. The daily oscillations of mitochondria are believed to be dependent on the clock proteins Period1 and Period2 (PER1/2) since they are blunted in mice lacking these proteins [
178
]. PER1/2 are well known to be regulated by melatonin [
179
,
180
]. For example, melatonin induces a rise in the expression of PER1/2 [
181
]. The regulation of PER1/2 by melatonin not only occurs centrally in the suprachiasmatic nucleus (SCN) but also peripherally, that is, it occurs in peripheral cells [
182
]. This provides an opportunity for melatonin to directly regulate the mitochondrial oscillations via PER1/2 which are present in peripheral cells [
183
]. This is supported by the daily changes of mitochondrial morphology which is well coordinated with the melatonin synthetic peak in pinealocytes [
91
,
93
]. By carefully studying the daily morphological changes of mitochondria in pinealocytes, Krakowski and Cieciura [
90
] identified three types of mitochondrial configurations, that is, a condensed state, the second intermediate state, and the third intermediate state (
Figure 3
A–C). These three states of mitochondria were rhythmically changed over a 24 h period in pinealocytes. This is apparent in the comparison with mitochondrial images obtained from the recent publications that the observations of Krakowski and Cieciura [
90
] may be the first evidence to show that the mitochondrial biogenesis (fission/fusion) in pinealocytes exhibits oscillations throughout the day. (
Figure 3
).
The condensed state resembles mitochondrial fission; the second intermediate state is similar to the transit of mitochondrial from fission to fusion; the third intermediate state represents mitochondrial fusion. Since the pinealocytes may specifically synthesize melatonin, these alterations of mitochondria are more than likely regulated by the melatonin concentrations in these cells. Most notably, the mitochondrial fusion (third intermediate state) was always accompanied by the melatonin secretory peak either in the 12/12 h light exposure or in constant darkness conditions. It is difficult to distinguish whether the fused mitochondria produce more melatonin or the high level of melatonin promotes mitochondrial fusion in this study. The point is that mitochondrial biogenesis exhibits a strong association with the melatonin circadian rhythm in pinealocytes. In addition to pinealocytes, melatonin was also reported to regulate the mitochondrial fission/fusion in other cell types [
186
,
187
]. The mitochondrial fission/fusion machinery is involved in generating young mitochondria, while eliminating old, damaged, and non-repairable ones. Fission is generally related to the cellular injury and apoptosis and fusion is associated with healthy cells. Under most conditions, an elevated melatonin concentration results in decreased mitochondrial fission but elevated mitochondrial fusion [
138
,
184
,
185
,
186
,
187
,
188
,
189
]. Mechanistically, melatonin attenuates the mitochondrial translocation of mitochondrial fission proteins mitochondrial fission 1 protein (Fis1), dynamin-related protein 1 (Drp1) and the pro-apoptotic protein, Bax, as well as upregulating mitochondrial fusion proteins (mitofusins 1 and 2 (Mfn1/2)) and optic atrophy 1 (Opa1). Most Drp1 is soluble in the cytosol of cells from where it attaches to the mitochondrial outer membrane [
190
] where it binds with Fis1. The Drp1 complex assembles into spirals at division sites around the outer mitochondrial membrane to drive the fission process [
191
]. Melatonin suppresses the translocation of Fis1 and Drp1 to the outer mitochondrial membrane, thus reducing fission. The mechanisms by which melatonin regulates mitochondrial fusion proteins is highly complex. Melatonin may upregulate the expression of
Mfn1
via Notch1 signaling [
192
] or it could downregulate
Mfn1
and
Opa1
[
187
]. More studies are required to clarify these processes.
Mitochondrial biogenesis also requires mitophagy. Mitophagy is an autophagic process specifically targeting mitochondria. It cleans up the damaged and non-repairable mitochondria and preserves healthy ones. This process plays a crucial role in the wellbeing of cells, since their autophagic delivery to lysosomes is the major degradative pathway in mitochondrial turnover [
193
]. The association of melatonin with autophagy is well documented. Majority of the studies report that melatonin suppresses autophagy in cells and organisms which are exposed to different stressors, therefore reducing their injury and improving their recovery. Some reports document that melatonin may also induce or enhance autophagy [
143
,
194
,
195
,
196
,
197
,
198
,
199
]. The influence of melatonin on autophagy seems well conserved since this association also has been found in plants [
200
,
201
]. Based on published data, Coto-Montes et al. [
202
] speculated that a specific autophagy, i.e., mitophagy, could also be influenced by melatonin. This speculation is supported by the observations summarized herein that melatonin indeed targets the process of mitophagy. Melatonin mainly enhances mitophagy and improves mitochondrial biogenesis [
203
,
204
,
205
]. The exact mechanisms by which melatonin targets mitophagy are not currently available. It seems that this process is mediated by melatonin receptors that activate adenosine 5′-monophosphate-activated protein kinase (AMPK). An activation of AMPK suppresses the mammalian target of rapamycin (mTOR) pathway and elicits mitophagic responses, while AMPK initiates mitochondrial biogenesis via sirtuin1 (SIRT1) dependent deacetylation of peroxisome proliferator-activated receptor γ coactivator 1-α (PGC-1α) or upregulation of PGC-1α expression [
203
].
5. Conclusions
Mitochondria are important organelles. They not only provide the chemical energy to power the cell, but also regulate cellular homeostasis of calcium, apoptosis, and cellular metabolism. Preservation of the structural and functional integrity of mitochondria is essential for a healthy cell. One of the mitochondrial-targeted molecules is melatonin. Melatonin may be synthesized by mitochondria, a capacity that was inherited from bacteria, the precursors of mitochondria. As a result, all cells with mitochondria likely have the capacity to produce melatonin. This is strongly supported by the observations that the products of AANAT are exclusively located in mitochondria of pinealocytes, the AANAT/SNAT has been identified in the mitochondria of oocytes and the suitable substrate (acetyl CoA) availability for AANAT in mitochondria. In addition, the high level of melatonin is detected in the medium of cultured mitochondria. The protective effects of melatonin on mitochondria depend on its accumulation in these organelles. To achieve this, it requires an active melatonin transport against a concentration gradient. Melatonin mitochondrial carriers have been reported recently, and their levels in mitochondria were positively associated with mitochondrial melatonin concentration. An important protective mechanism of melatonin on mitochondria is that melatonin influences the mitochondrial membrane potential (Δψ). Melatonin blocks MPTP to preserve the Δψ under stressful conditions and activates the UCPs to slightly reduce the Δψ in normal condition. These activities are not in conflict with each other. Blockage of MPTP prevents the Δψ collapse and cellular apoptosis. Activation of UCPs reduces ROS formation because a slight lowering of Δψ accelerates the electron transportation and reduces electron leakage. Activation of UCPs seems not to reduce ATP production as expected. A potential mechanism is that the fewer leaked electrons under the UCP activation contribute their energy to ATP production. A balanced Δψ is ideal for the function of mitochondria. The detailed information as to the mechanisms is summarized in
Figure 4
. In addition to mitochondrial protection, melatonin also influences mitochondrial dynamics. The daily oscillations of mitochondrial functions as well as the morphology seem to fit well with the melatonin circadian rhythm. Melatonin reduces mitochondrial fission and increases their fusion, thereby preserving their normal function. Recently, it has been reported that melatonin modified mitophagy by either the enhancement or the reduction of this process, depending on conditions and cell types. The exact mechanisms require further investigation.
Conflicts of Interest
The authors declare no conflict of interest.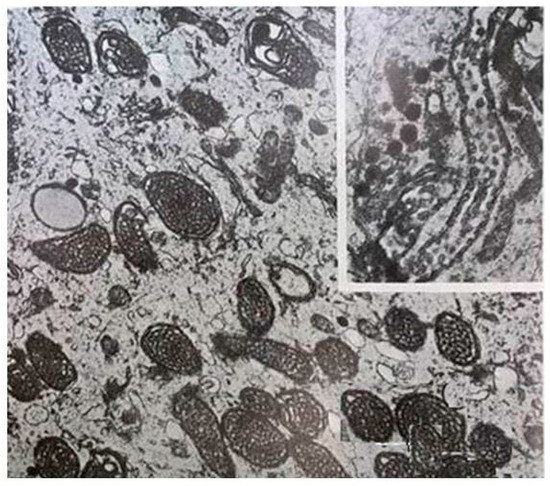 Figure 1.
Large amounts of mitochondria are present in pinealocytes of the Syrian hamster (34,000×). Inset shows a longitudinal section of mitochondrion with cristae arranged like a string of beads (44,500×). Modified from Bucana et al. [
89
].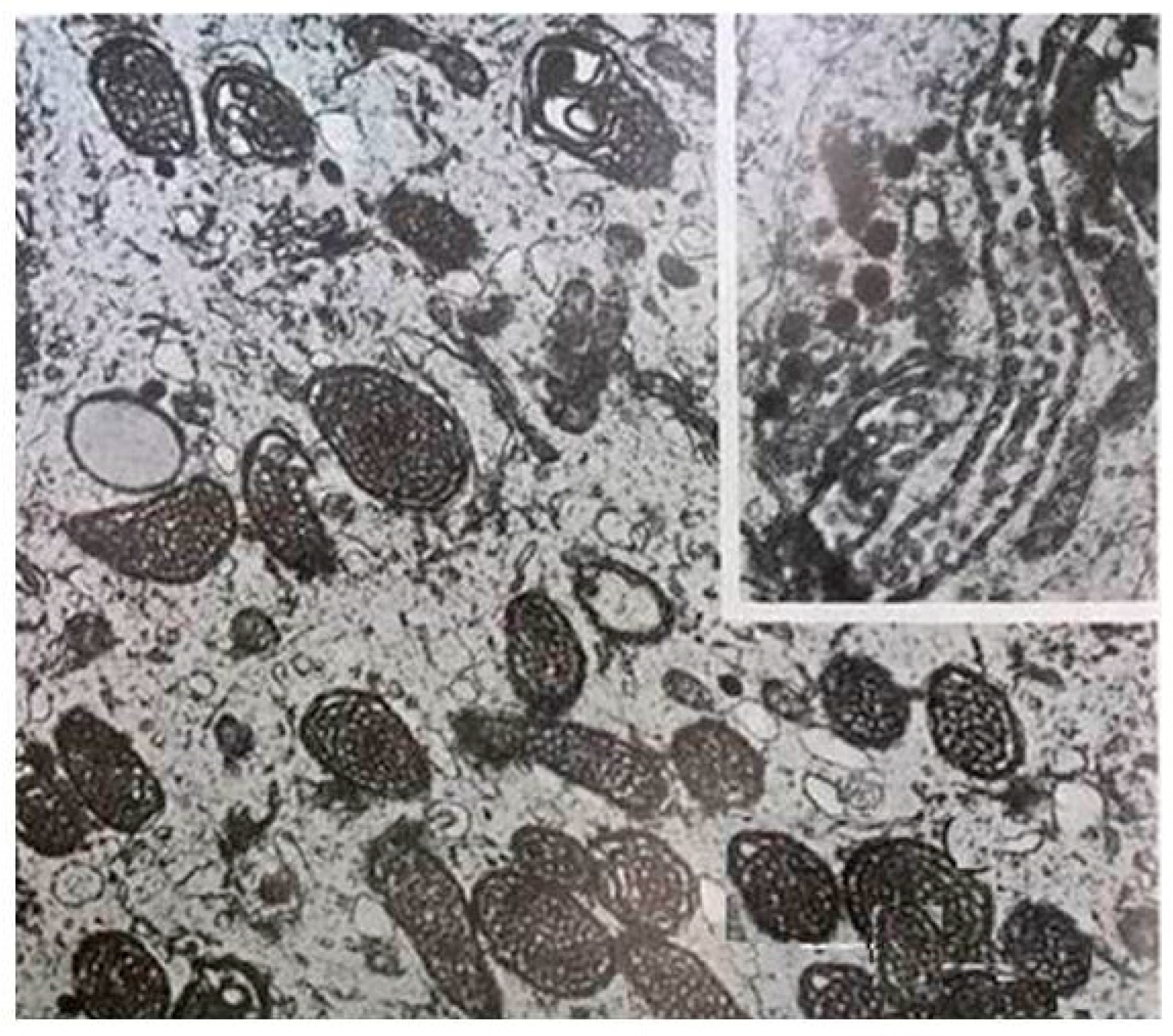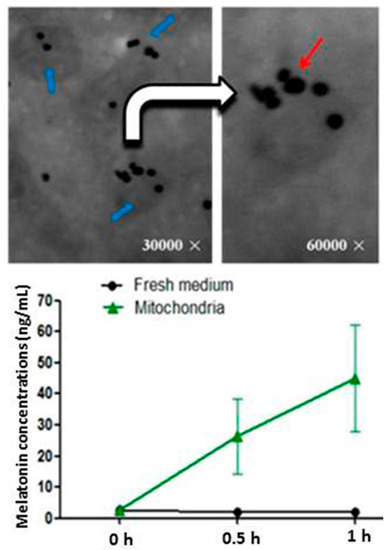 Figure 2.
Upper
panel: The localization of the SNAT. Blue arrows: The mitochondria isolated from the oocytes of mice. White arrow: enlarged image from left side of the arrow tail. Red arrow: SNAT staining (black dot). SNAT: serotonin
N
-acetyltransferase;
Low
panel: Melatonin concentrations in mitochondrial culture media with 10
−4
M serotonin (mean ± SEM) modified from He et al. [
112
].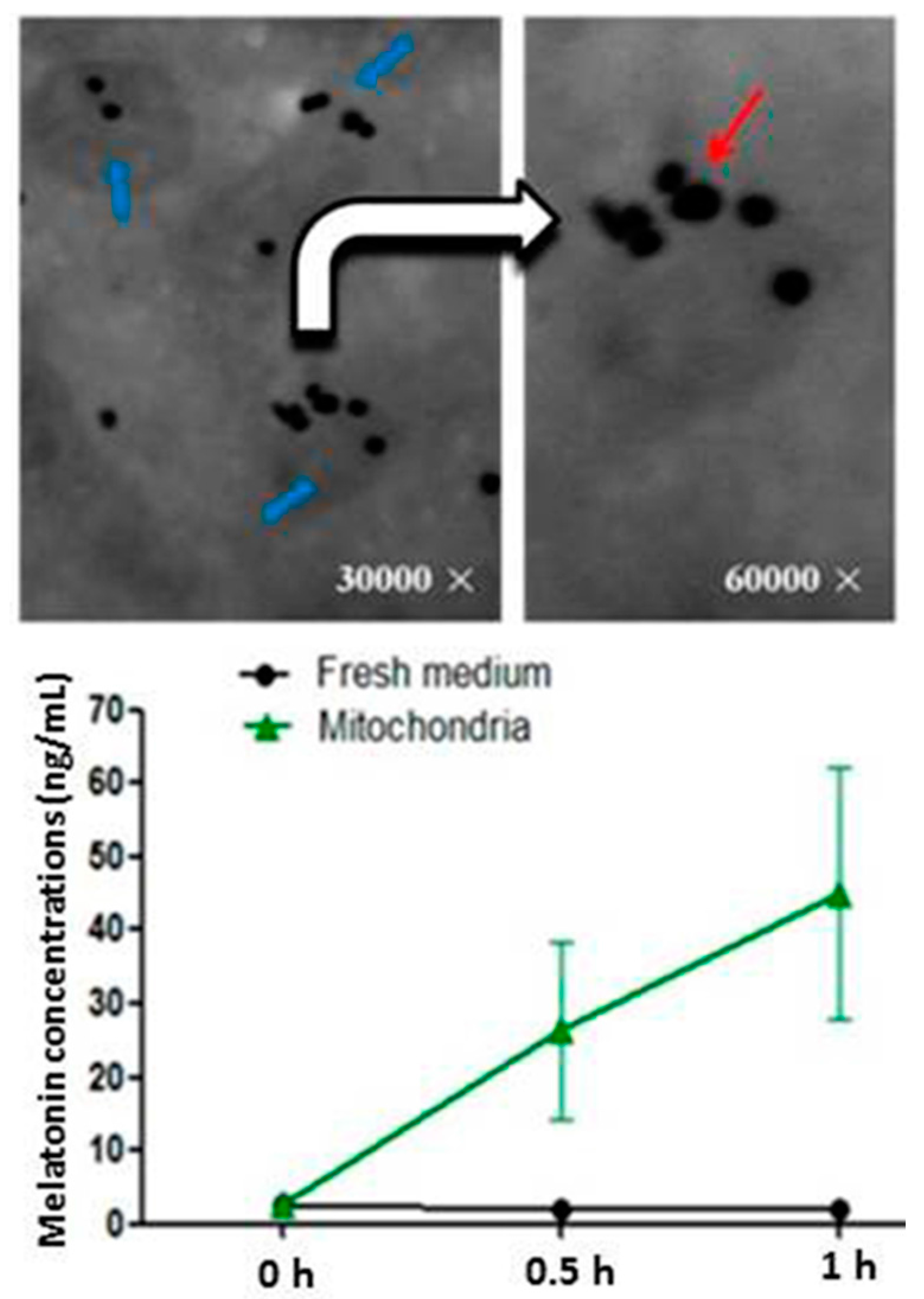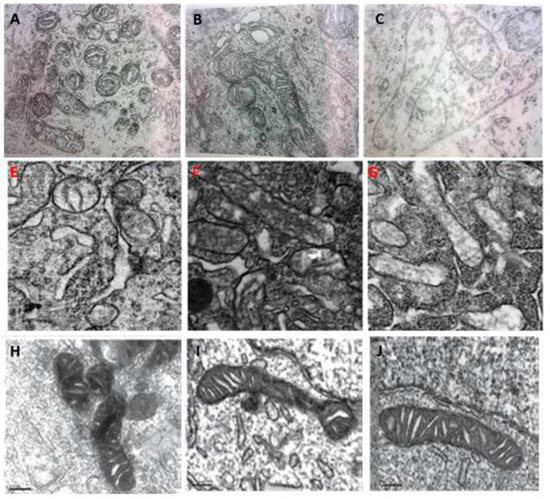 Figure 3.
The similarities of mitochondrial dynamics in pinealocytes, brain neurons and cultured SH-SY5Y cells.
Upper
panel: Mitochondrial dynamics in pinealocytes (27,000×). (
A
) Condensed state; (
B
) Second intermediate state; (
C
) Third intermediate state;
Middle
panel: Mitochondrial dynamics in brain neurons of mice. (
E
) Mitochondrial fission induced by cadmium treatment; (
F
) The transition of mitochondrial fission and fusion in the animal treated with cadmium plus melatonin; (
G
) Mitochondrial fusion in control healthy animal;
Lower
panel: Mitochondrial dynamics in cultured SH-SY5Y cells (60,000×). (
H
) Mitochondrial fission induced by methamphetamine; (
I
) The transition of mitochondrial fission and fusion in cells treated with methamphetamine plus melatonin; (
J
) Mitochondrial fusion in control cells. The similarities of
A
,
E
and
H
;
B
,
F
and
I
;
C
,
G
and
J
are obvious. Mordified from [
90
,
184
,
185
].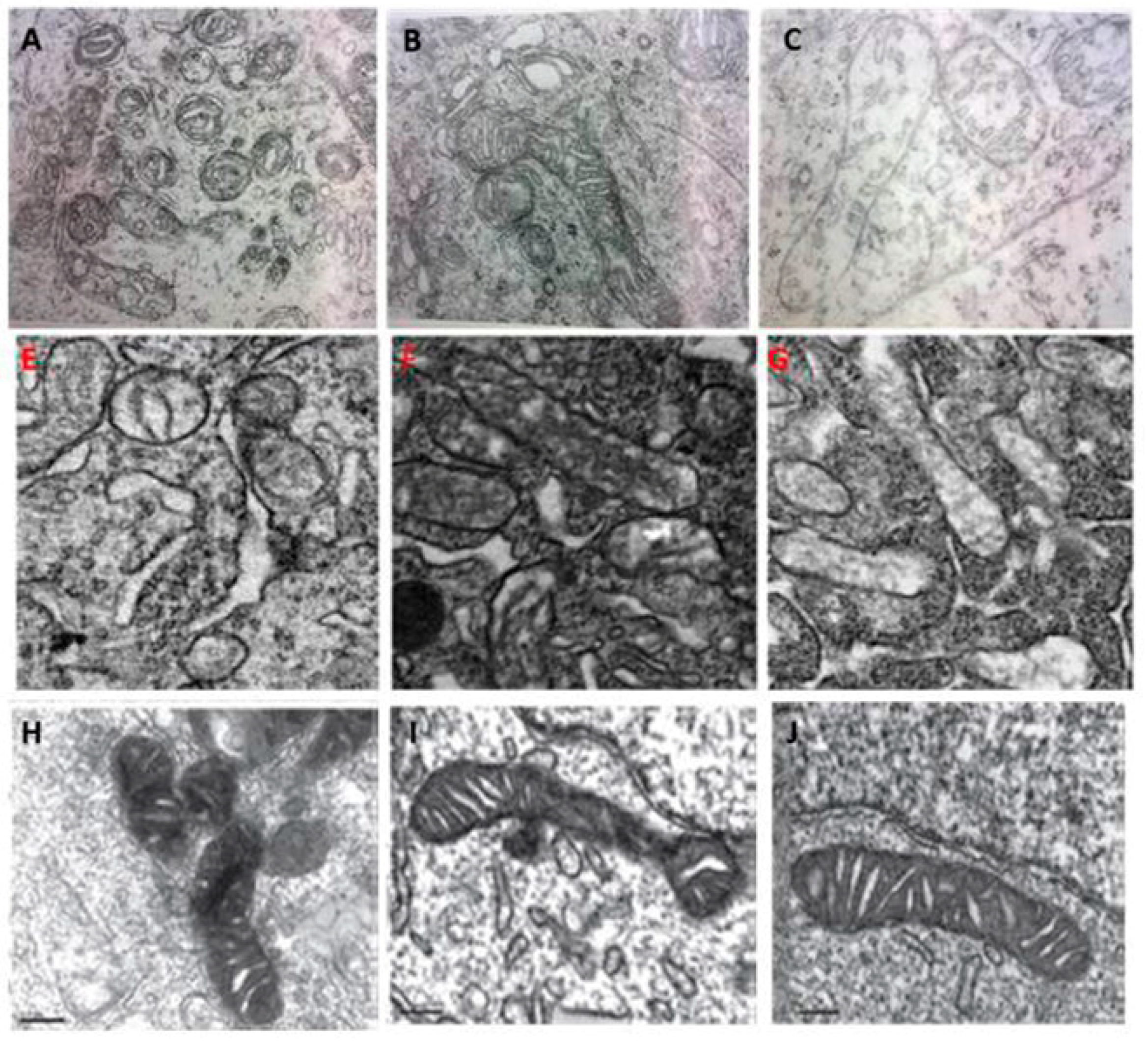 Figure 4.
A summary of the potential effects of melatonin on a mitochondrion. MPTP: mitochondrial permeability transition pore; UCP: uncoupling protein; ROS: reactive oxygen species; ETC: electron transport chain; Cyto C: cytochrome C; AFMK: a melatonin metabolite,
N
1
-acetyl-
N
2
-fomyl-5-methoxykynuramine, which is also a potent antioxidant. Melatonin is metabolized to AFMK by cytochrome C via pseudo-enzymatic process [
77
].
Upper
panel: The targeting sites of melatonin on mitochondrion; green lines: inhibition; red arrows: activation; red dash arrows: the directions of the multiple steps of reactions; black arrows: directions;
Lower
panel: Summary of the outcomes induced by melatonin's action on mitochondrion; upward arrowhead: activation; downward arrowhead: inhibition; horizontal arrowhead: preservation; connecting lines indicate hierarches of the events.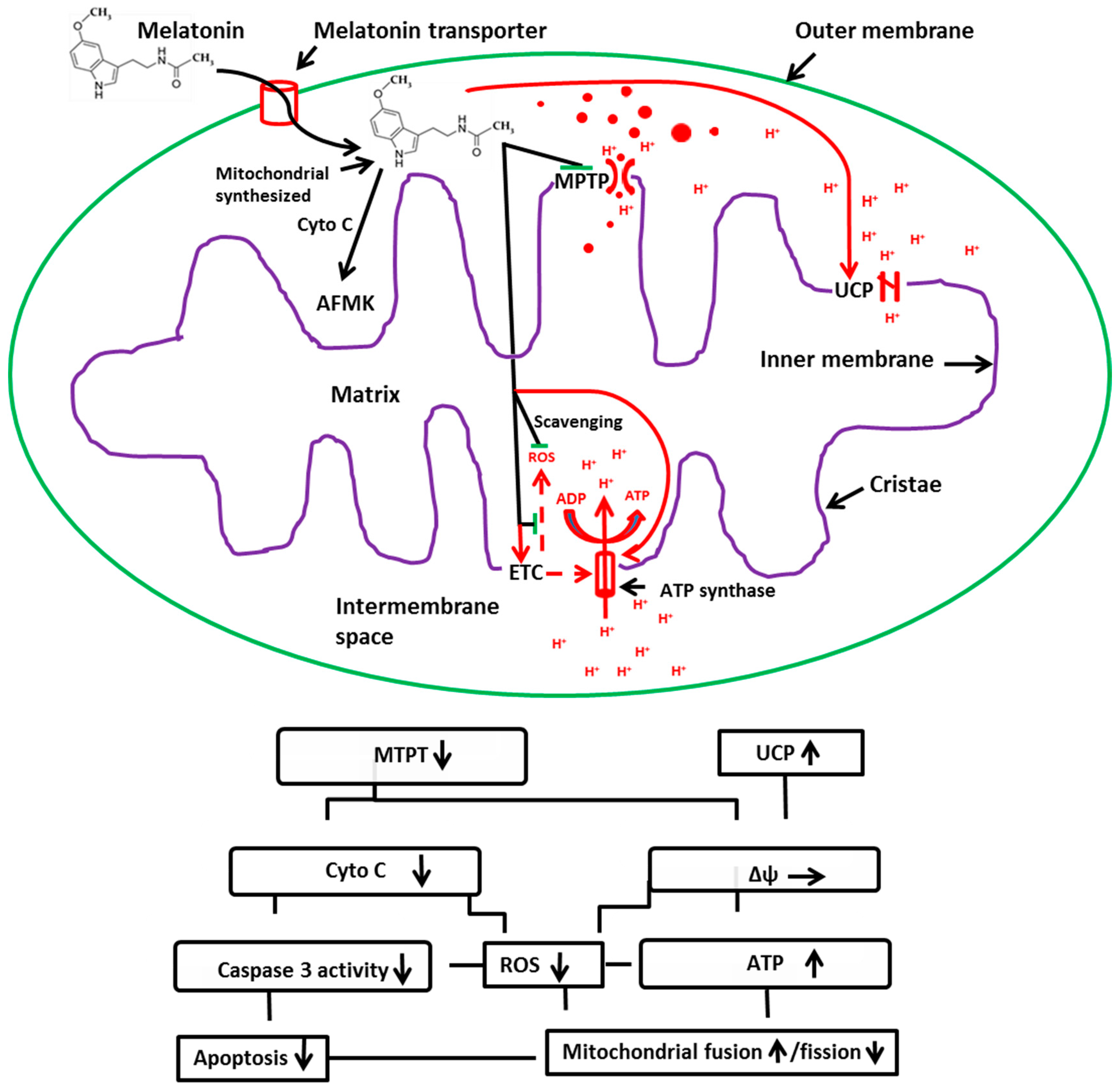 © 2016 by the authors; licensee MDPI, Basel, Switzerland. This article is an open access article distributed under the terms and conditions of the Creative Commons Attribution (CC-BY) license (http://creativecommons.org/licenses/by/4.0/).