Dendritic Cell-Based Immunotherapies to Fight HIV: How Far from a Success Story? A Systematic Review and Meta-Analysis
1
Department of Genetics, Federal University of Pernambuco, Avenida da Engenharia, Cidade Universitária, Recife 50740-600, Brazil
2
Laboratory of Immunopathology Keizo Asami (LIKA), Federal University of Pernambuco, Avenida da Engenharia, Cidade Universitária, Recife 50740-600, Brazil
3
Department of Pathology, Federal University of Pernambuco, Avenida Prof. Moraes Rego, 1235, Cidade Universitária, Recife 50670-901, Brazil
4
Department of Tropical Medicine, Federal University of Pernambuco. Avenida Prof. Moraes Rego, 1235, Cidade Universitária, Recife 50670-901, Brazil
5
Instituto de Medicina Integral Professor Fernando Figueira (IMIP), Boa Vista, Recife 50070-550, Brazil
6
IRCCS Burlo Garofolo and University of Trieste, Via dell' Istria 65/1, Trieste 34137, Italy
*
Author to whom correspondence should be addressed.
Academic Editor: Brian Wigdahl
Received: 23 September 2016 / Revised: 18 November 2016 / Accepted: 22 November 2016 / Published: 26 November 2016
Abstract
The scientific community still faces the challenge of developing strategies to cure HIV-1. One of these pursued strategies is the development of immunotherapeutic vaccines based on dendritic cells (DCs), pulsed with the virus, that aim to boost HIV-1 specific immune response. We aimed to review DCs-based therapeutic vaccines reports and critically assess evidence to gain insights for the improvement of these strategies. We performed a systematic review, followed by meta-analysis and meta-regression, of clinical trial reports. Twelve studies were selected for meta-analysis. The experimental vaccines had low efficiency, with an overall success rate around 38% (95% confidence interval = 26.7%–51.3%). Protocols differed according to antigen choice, DC culture method, and doses, although multivariate analysis did not show an influence of any of them on overall success rate. The DC-based vaccines elicited at least some immunogenicity, that was sometimes associated with plasmatic viral load transient control. The protocols included both naïve and antiretroviral therapy (ART)-experienced individuals, and used different criteria for assessing vaccine efficacy. Although the vaccines did not work as expected, they are proof of concept that immune responses can be boosted against HIV-1. Protocol standardization and use of auxiliary approaches, such as latent HIV-1 reservoir activation and patient genomics are paramount for fine-tuning future HIV-1 cure strategies.
View Full-Text
►

▼

Figures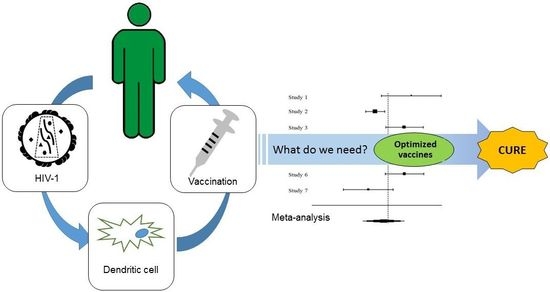 Graphical abstract
This is an open access article distributed under the
Creative Commons Attribution License
which permits unrestricted use, distribution, and reproduction in any medium, provided the original work is properly cited (CC BY 4.0).

Share & Cite This Article
MDPI and ACS Style
Coelho, A.V.C.; De Moura, R.R.; Kamada, A.J.; Da Silva, R.C.; Guimarães, R.L.; Brandão, L.A.C.; De Alencar, L.C.A.; Crovella, S. Dendritic Cell-Based Immunotherapies to Fight HIV: How Far from a Success Story? A Systematic Review and Meta-Analysis. Int. J. Mol. Sci. 2016, 17, 1985.
Note that from the first issue of 2016, MDPI journals use article numbers instead of page numbers. See further details here.
Related Articles
Comments
[Return to top]