Optical Coherence Tomography and Magnetic Resonance Imaging in Multiple Sclerosis and Neuromyelitis Optica Spectrum Disorder
1
Neuroimmunology and Multiple Sclerosis Research, Department of Neurology, University Hospital Zürich and University of Zurich, Frauenklinikstrasse 26, 8091 Zurich, Switzerland
2
Department of Ophthalmology, University Hospital Zurich and University of Zurich, Frauenklinikstrasse 24, 8091 Zurich, Switzerland
*
Author to whom correspondence should be addressed.
Academic Editors: Christoph Kleinschnitz and Sven Meuth
Received: 17 September 2016 / Revised: 4 November 2016 / Accepted: 6 November 2016 / Published: 15 November 2016
Abstract
Irreversible disability in multiple sclerosis (MS) and neuromyelitis optica spectrum disorder (NMOSD) is largely attributed to neuronal and axonal degeneration, which, along with inflammation, is one of the major pathological hallmarks of these diseases. Optical coherence tomography (OCT) is a non-invasive imaging tool that has been used in MS, NMOSD, and other diseases to quantify damage to the retina, including the ganglion cells and their axons. The fact that these are the only unmyelinated axons within the central nervous system (CNS) renders the afferent visual pathway an ideal model for studying axonal and neuronal degeneration in neurodegenerative diseases. Structural magnetic resonance imaging (MRI) can be used to obtain anatomical information about the CNS and to quantify evolving pathology in MS and NMOSD, both globally and in specific regions of the visual pathway including the optic nerve, optic radiations and visual cortex. Therefore, correlations between brain or optic nerve abnormalities on MRI, and retinal pathology using OCT, may shed light on how damage to one part of the CNS can affect others. In addition, these imaging techniques can help identify important differences between MS and NMOSD such as disease-specific damage to the visual pathway, trans-synaptic degeneration, or pathological changes independent of the underlying disease process. This review focuses on the current knowledge of the role of the visual pathway using OCT and MRI in patients with MS and NMOSD. Emphasis is placed on studies that employ both MRI and OCT to investigate damage to the visual system in these diseases.
View Full-Text
►

▼

Figures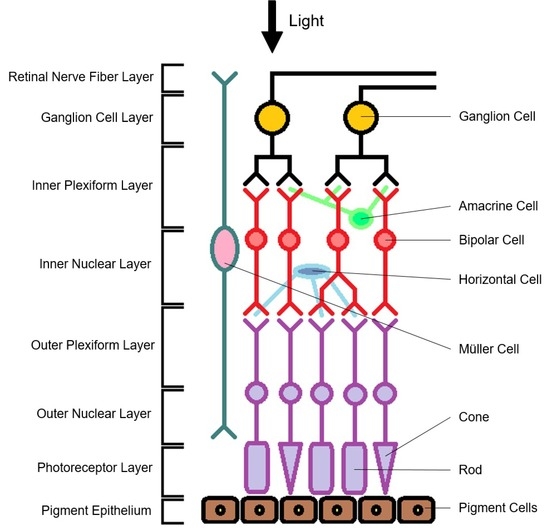 Figure 1
This is an open access article distributed under the
Creative Commons Attribution License
which permits unrestricted use, distribution, and reproduction in any medium, provided the original work is properly cited (CC BY 4.0).

Share & Cite This Article
MDPI and ACS Style
Manogaran, P.; Hanson, J.V.M.; Olbert, E.D.; Egger, C.; Wicki, C.; Gerth-Kahlert, C.; Landau, K.; Schippling, S. Optical Coherence Tomography and Magnetic Resonance Imaging in Multiple Sclerosis and Neuromyelitis Optica Spectrum Disorder. Int. J. Mol. Sci. 2016, 17, 1894.
Note that from the first issue of 2016, MDPI journals use article numbers instead of page numbers. See further details here.
Related Articles
Comments
[Return to top]