MMP-3 Deficiency Alleviates Endotoxin-Induced Acute Inflammation in the Posterior Eye Segment
1
Neural Circuit Development and Regeneration Research Group, Department of Biology, Katholieke Universiteit Leuven (KU Leuven), B-3000 Leuven, Belgium
2
Laboratory of Experimental Ophthalmology, Department of Neurosciences, KU Leuven, B-3000 Leuven, Belgium
3
Inflammation Research Center, VIB, B-9052 Ghent, Belgium
4
Department of Biomedical Molecular Biology, Ghent University, B-9052 Ghent, Belgium
*
Author to whom correspondence should be addressed.
†
These authors contributed equally to this work.
Academic Editor: Masatoshi Maki
Received: 29 September 2016 / Revised: 20 October 2016 / Accepted: 25 October 2016 / Published: 1 November 2016
Abstract
Matrix metalloproteinase-3 (MMP-3) is known to mediate neuroinflammatory processes by activating microglia, disrupting blood–central nervous system barriers and supporting neutrophil influx into the brain. In addition, the posterior part of the eye, more specifically the retina, the retinal pigment epithelium (RPE) and the blood–retinal barrier, is affected upon neuroinflammation, but a role for MMP-3 during ocular inflammation remains elusive. We investigated whether MMP-3 contributes to acute inflammation in the eye using the endotoxin-induced uveitis (EIU) model. Systemic administration of lipopolysaccharide induced an increase in MMP-3 mRNA and protein expression level in the posterior part of the eye. MMP-3 deficiency or knockdown suppressed retinal leukocyte adhesion and leukocyte infiltration into the vitreous cavity in mice subjected to EIU. Moreover, retinal and RPE mRNA levels of intercellular adhesion molecule 1 (
Icam1
), interleukin 6 (
Il6
), cytokine-inducible nitrogen oxide synthase (
Nos2
) and tumor necrosis factor α (
Tnfα
), which are key molecules involved in EIU, were clearly reduced in MMP-3 deficient mice. In addition, loss of MMP-3 repressed the upregulation of the chemokines monocyte chemoattractant protein (MCP)-1 and (C-X-C motif) ligand 1 (CXCL1). These findings suggest a contribution of MMP-3 during EIU, and its potential use as a therapeutic drug target in reducing ocular inflammation.
View Full-Text
►

▼

Figures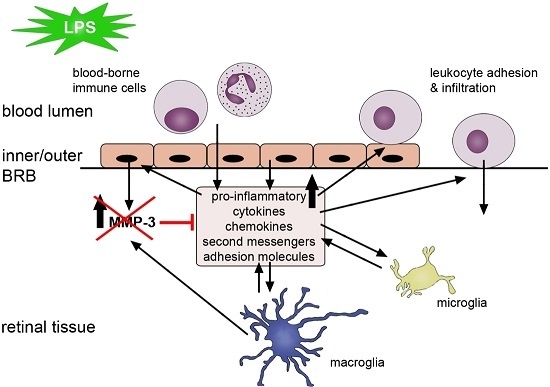 Graphical abstract
This is an open access article distributed under the
Creative Commons Attribution License
which permits unrestricted use, distribution, and reproduction in any medium, provided the original work is properly cited (CC BY 4.0).

Share & Cite This Article
MDPI and ACS Style
Van Hove, I.; Lefevere, E.; De Groef, L.; Sergeys, J.; Salinas-Navarro, M.; Libert, C.; Vandenbroucke, R.; Moons, L. MMP-3 Deficiency Alleviates Endotoxin-Induced Acute Inflammation in the Posterior Eye Segment. Int. J. Mol. Sci. 2016, 17, 1825.
Note that from the first issue of 2016, MDPI journals use article numbers instead of page numbers. See further details here.
Related Articles
Comments
[Return to top]