Assessing Heterogeneity of Osteolytic Lesions in Multiple Myeloma by 1H HR-MAS NMR Metabolomics
1
Biomolecular NMR Unit, Division of Genetics and Cell Biology, San Raffaele Scientific Institute, 20132 Milano, Italy
2
Protein Transport and Secretion Unit, Division of Genetics and Cell Biology, San Raffaele Scientific Institute, 20132 Milano, Italy
3
Università Vita-Salute San Raffaele, 20132 Milano, Italy
4
Age Related Diseases Unit, Division of Genetics and Cell Biology, San Raffaele Scientific Institute, 20132 Milano, Italy
5
Centro Interdipartimentale Grandi Apparecchiature, Università di Milano, 20132 Milano, Italy
6
Department of Orthopaedics and Traumatology, Orthopaedics, San Raffaele Scientific Institute, 20132 Milano, Italy
7
Department of Oncohematology, Hematology and Bone Marrow Transplantation Unit, San Raffaele Scientific Institute, 20132 Milano, Italy
*
Authors to whom correspondence should be addressed.
†
These authors contributed equally to this paper.
‡
Present address: Department of Medicine, Division of Bone and Mineral Diseases, Musculoskeletal Research Center, Washington University School of Medicine, St. Louis, MO 63110, USA
§
Present address: Center for Translational Genomics and Bioinformatics, San Raffaele Scientific Institute, 20132 Milano, Italy
‖
Present address: Mestrelab Research S.L., 15706 Santiago de Compostela, Spain
¶
These corresponding authors contributed equally to this paper.
Academic Editor: Maria Alfonsina Desiderio
Received: 1 August 2016 / Revised: 5 October 2016 / Accepted: 20 October 2016 / Published: 31 October 2016
Abstract
Multiple myeloma (MM) is a malignancy of plasma cells characterized by multifocal osteolytic bone lesions. Macroscopic and genetic heterogeneity has been documented within MM lesions. Understanding the bases of such heterogeneity may unveil relevant features of MM pathobiology. To this aim, we deployed unbiased
1
H high-resolution magic-angle spinning (HR-MAS) nuclear magnetic resonance (NMR) metabolomics to analyze multiple biopsy specimens of osteolytic lesions from one case of pathological fracture caused by MM. Multivariate analyses on normalized metabolite peak integrals allowed clusterization of samples in accordance with a posteriori histological findings. We investigated the relationship between morphological and NMR features by merging morphological data and metabolite profiling into a single correlation matrix. Data-merging addressed tissue heterogeneity, and greatly facilitated the mapping of lesions and nearby healthy tissues. Our proof-of-principle study reveals integrated metabolomics and histomorphology as a promising approach for the targeted study of osteolytic lesions.
View Full-Text
►

▼

Figures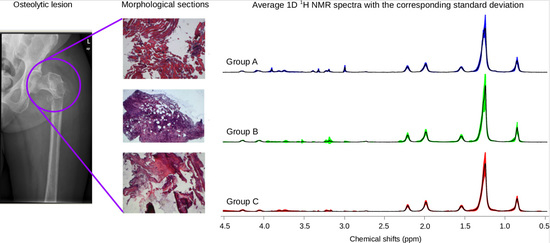 Graphical abstract
This is an open access article distributed under the
Creative Commons Attribution License
which permits unrestricted use, distribution, and reproduction in any medium, provided the original work is properly cited (CC BY 4.0).

Share & Cite This Article
MDPI and ACS Style
Tavel, L.; Fontana, F.; Garcia Manteiga, J.M.; Mari, S.; Mariani, E.; Caneva, E.; Sitia, R.; Camnasio, F.; Marcatti, M.; Cenci, S.; Musco, G. Assessing Heterogeneity of Osteolytic Lesions in Multiple Myeloma by 1H HR-MAS NMR Metabolomics. Int. J. Mol. Sci. 2016, 17, 1814.
Note that from the first issue of 2016, MDPI journals use article numbers instead of page numbers. See further details here.
Related Articles
Comments
[Return to top]