Tocotrienol Affects Oxidative Stress, Cholesterol Homeostasis and the Amyloidogenic Pathway in Neuroblastoma Cells: Consequences for Alzheimer's Disease
1
Experimental Neurology, Saarland University, Kirrberger Straße 1, 66421 Homburg/Saar, Germany
2
Neurodegeneration and Neurobiology, Saarland University, Kirrberger Straße 1, 66421 Homburg/Saar, Germany
3
Deutsches Institut für DemenzPrävention (DIDP), Saarland University, Kirrberger Straße 1, 66421 Homburg/Saar, Germany
4
Institute of Bioanalytical Chemistry, Saarland University, 66123 Saarbrücken, Germany
5
Department of Psychiatry and Psychotherapy, Clinical Research Group, University Medical Centre Johannes Gutenberg-University Mainz, Untere Zahlbacher Straße 8, 55131 Mainz, Germany
*
Author to whom correspondence should be addressed.
†
These authors contributed equally to this work.
Academic Editors: Maria Laura Colombo, Laura Di Renzo and Rafat A. Siddiqui
Received: 31 August 2016 / Revised: 18 October 2016 / Accepted: 21 October 2016 / Published: 29 October 2016
Abstract
One of the characteristics of Alzheimer´s disease (AD) is an increased amyloid load and an enhanced level of reactive oxidative species (ROS). Vitamin E has known beneficial neuroprotective effects, and previously, some studies suggested that vitamin E is associated with a reduced risk of AD due to its antioxidative properties. However, epidemiological studies and nutritional approaches of vitamin E treatment are controversial. Here, we investigate the effect of α-tocotrienol, which belongs to the group of vitamin E, on AD-relevant processes in neuronal cell lines. In line with the literature, α-tocotrienol reduced the ROS level in SH-SY5Y cells. In the presence of tocotrienols, cholesterol and cholesterol esters, which have been shown to be risk factors in AD, were decreased. Besides the unambiguous positive effects of tocotrienol, amyloid-β (Aβ) levels were increased accompanied by an increase in the activity of enzymes responsible for Aβ production. Proteins and gene expression of the secretases and their components remained unchanged, whereas tocotrienol accelerates enzyme activity in cell-free assays. Besides enhanced Aβ production, tocotrienols inhibited Aβ degradation in neuro 2a (N2a)-cells. Our results might help to understand the controversial findings of vitamin E studies and demonstrate that besides the known positive neuroprotective properties, tocotrienols also have negative characteristics with respect to AD.
View Full-Text
►

▼

Figures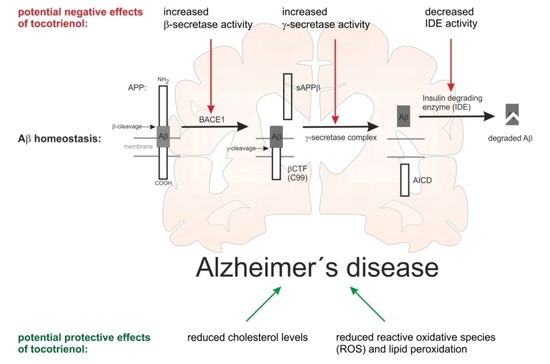 Graphical abstract
This is an open access article distributed under the
Creative Commons Attribution License
which permits unrestricted use, distribution, and reproduction in any medium, provided the original work is properly cited (CC BY 4.0).

Share & Cite This Article
MDPI and ACS Style
Grimm, M.O.W.; Regner, L.; Mett, J.; Stahlmann, C.P.; Schorr, P.; Nelke, C.; Streidenberger, O.; Stoetzel, H.; Winkler, J.; Zaidan, S.R.; Thiel, A.; Endres, K.; Grimm, H.S.; Volmer, D.A.; Hartmann, T. Tocotrienol Affects Oxidative Stress, Cholesterol Homeostasis and the Amyloidogenic Pathway in Neuroblastoma Cells: Consequences for Alzheimer's Disease. Int. J. Mol. Sci. 2016, 17, 1809.
Note that from the first issue of 2016, MDPI journals use article numbers instead of page numbers. See further details here.
Related Articles
Comments
[Return to top]