MicroRNA in Control of Gene Expression: An Overview of Nuclear Functions
Department of Cellular Biotechnologies and Hematology, University of Rome Sapienza, Rome 00179, Italy
*
Authors to whom correspondence should be addressed.
†
These authors contributed equally to this work.
Academic Editor: Y-h. Taguchi
Received: 26 August 2016 / Revised: 4 October 2016 / Accepted: 7 October 2016 / Published: 13 October 2016
Abstract
The finding that small non-coding RNAs (ncRNAs) are able to control gene expression in a sequence specific manner has had a massive impact on biology. Recent improvements in high throughput sequencing and computational prediction methods have allowed the discovery and classification of several types of ncRNAs. Based on their precursor structures, biogenesis pathways and modes of action, ncRNAs are classified as small interfering RNAs (siRNAs), microRNAs (miRNAs), PIWI-interacting RNAs (piRNAs), endogenous small interfering RNAs (endo-siRNAs or esiRNAs), promoter associate RNAs (pRNAs), small nucleolar RNAs (snoRNAs) and sno-derived RNAs. Among these, miRNAs appear as important cytoplasmic regulators of gene expression. miRNAs act as post-transcriptional regulators of their messenger RNA (mRNA) targets via mRNA degradation and/or translational repression. However, it is becoming evident that miRNAs also have specific nuclear functions. Among these, the most studied and debated activity is the miRNA-guided transcriptional control of gene expression. Although available data detail quite precisely the effectors of this activity, the mechanisms by which miRNAs identify their gene targets to control transcription are still a matter of debate. Here, we focus on nuclear functions of miRNAs and on alternative mechanisms of target recognition, at the promoter lavel, by miRNAs in carrying out transcriptional gene silencing.
View Full-Text
►

▼

Figures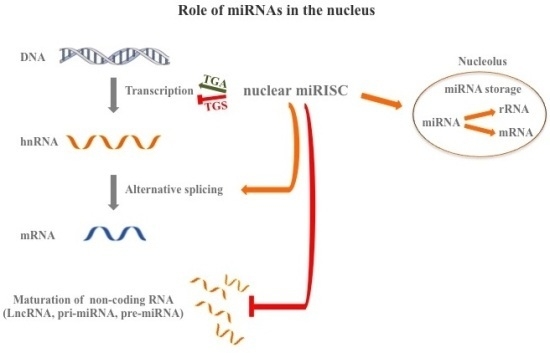 Graphical abstract
This is an open access article distributed under the
Creative Commons Attribution License
which permits unrestricted use, distribution, and reproduction in any medium, provided the original work is properly cited (CC BY 4.0).

Share & Cite This Article
MDPI and ACS Style
Catalanotto, C.; Cogoni, C.; Zardo, G. MicroRNA in Control of Gene Expression: An Overview of Nuclear Functions. Int. J. Mol. Sci. 2016, 17, 1712.
Note that from the first issue of 2016, MDPI journals use article numbers instead of page numbers. See further details here.
Related Articles
Comments
[Return to top]