Probiotics Differently Affect Gut-Associated Lymphoid Tissue Indolamine-2,3-Dioxygenase mRNA and Cerebrospinal Fluid Neopterin Levels in Antiretroviral-Treated HIV-1 Infected Patients: A Pilot Study
1
Istituto Pasteur Italia, Fondazione Cenci Bolognetti, Viale Regina Elena 291, 00161 Rome, Italy
2
Department of Molecular Medicine, Laboratory of Virology, Sapienza University of Rome, Viale di Porta Tiburtina 28, 00185 Rome, Italy
3
Department of Public Health and Infectious Diseases, Sapienza University of Rome, Viale del Policlinico 155, 00161 Rome, Italy
4
Department of Emergency Surgery, Emergency Endoscopic Unit, Policlinico Umberto I, Sapienza University of Rome, Viale del Policlinico 155, 00161 Rome, Italy
*
Author to whom correspondence should be addressed.
Academic Editor: Vera Sau-Fong Chan
Received: 27 July 2016 / Revised: 7 September 2016 / Accepted: 20 September 2016 / Published: 27 September 2016
Abstract
Recently the tryptophan pathway has been considered an important determinant of HIV-1 infected patients' quality of life, due to the toxic effects of its metabolites on the central nervous system (CNS). Since the dysbiosis described in HIV-1 patients might be responsible for the microbial translocation, the chronic immune activation, and the altered utilization of tryptophan observed in these individuals, we speculated a correlation between high levels of immune activation markers in the cerebrospinal fluid (CSF) of HIV-1 infected patients and the over-expression of indolamine-2,3-dioxygenase (IDO) at the gut mucosal surface. In order to evaluate this issue, we measured the levels of neopterin in CSF, and the expression of IDO mRNA in gut-associated lymphoid tissue (GALT), in HIV-1-infected patients on effective combined antiretroviral therapy (cART), at baseline and after six months of probiotic dietary management. We found a significant reduction of neopterin and IDO mRNA levels after the supplementation with probiotic. Since the results for the use of adjunctive therapies to reduce the levels of immune activation markers in CSF have been disappointing so far, our pilot study showing the efficacy of this specific probiotic product should be followed by a larger confirmatory trial.
View Full-Text
►

▼

Figures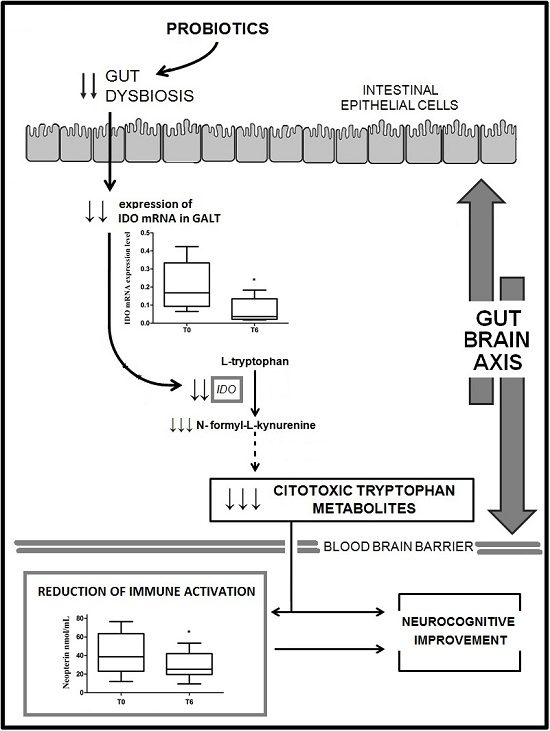 Graphical abstract
This is an open access article distributed under the
Creative Commons Attribution License
which permits unrestricted use, distribution, and reproduction in any medium, provided the original work is properly cited (CC BY 4.0).

Share & Cite This Article
MDPI and ACS Style
Scagnolari, C.; Corano Scheri, G.; Selvaggi, C.; Schietroma, I.; Najafi Fard, S.; Mastrangelo, A.; Giustini, N.; Serafino, S.; Pinacchio, C.; Pavone, P.; Fanello, G.; Ceccarelli, G.; Vullo, V.; D'Ettorre, G. Probiotics Differently Affect Gut-Associated Lymphoid Tissue Indolamine-2,3-Dioxygenase mRNA and Cerebrospinal Fluid Neopterin Levels in Antiretroviral-Treated HIV-1 Infected Patients: A Pilot Study. Int. J. Mol. Sci. 2016, 17, 1639.
Note that from the first issue of 2016, MDPI journals use article numbers instead of page numbers. See further details here.
Related Articles
Comments
[Return to top]