NLRP3 Upregulation in Retinal Pigment Epithelium in Age-Related Macular Degeneration
1
Immunopathology Section, Laboratory of Immunology, National Eye Institute, National Institutes of Health, Bethesda, MD 20892, USA
2
State Key Laboratory of Ophthalmology, Zhongshan Ophthalmic Center, Sun Yat-sen University, Guangzhou 510060, China
3
Department of Cell and Molecular Biology, Tulane University, New Orleans, LA 70118, USA
4
Histopathology Core, National Eye Institute, National Institutes of Health, Bethesda, MD 20892, USA
5
Unit on Retinal Neurophysiology, National Eye Institute, National Institutes of Health, Bethesda, MD 20892, USA
6
Experimental Immunology Section, Laboratory of Immunology, National Eye Institute, National Institutes of Health, Bethesda, MD 20892, USA
*
Author to whom correspondence should be addressed.
Academic Editor: Irmgard Tegeder
Received: 13 July 2015 / Revised: 29 December 2015 / Accepted: 30 December 2015 / Published: 8 January 2016
Abstract
Inflammation and oxidative stress are involved in age-related macular degeneration (AMD) and possibly associated with an activation of neuronal apoptosis inhibitor protein/class II transcription activator of the Major Histocompatibility Complex (MHC)/heterokaryon incompatibility/telomerase-associated protein 1, leucine-rich repeat or nucleotide-binding domain, leucine-rich repeat-containing family, and pyrin domain-containing 3 (NLRP3) inflammasome. In the present study, we used a translational approach to address this hypothesis. In patients with AMD, we observed increased mRNA levels of
NLRP3
,
pro-interleukin-1 beta
(
IL-1β
) and pro-
IL-18
in AMD lesions of the retinal pigment epithelium (RPE) and photoreceptor.
In vitro
, a similar increase was evoked by oxidative stress or lipopolysaccharide (LPS) stimulation in the adult retinal pigment epithelium (ARPE-19) cell line, and the increase was reduced in siRNA transfected cells to knockdown NLRP3. Ultrastructural studies of ARPE-19 cells showed a swelling of the cytoplasm, mitochondrial damage, and occurrence of autophagosome-like structures. NLRP3 positive dots were detected within autophagosome-like structures or in the extracellular space. Next, we used a mouse model of AMD,
Ccl2/Cx3cr1
double knockout on
rd8
background (DKO
rd8
) to ascertain the
in vivo
relevance. Ultrastructural studies of the RPE of these mice showed damaged mitochondria, autophagosome-like structures, and cytoplasmic vacuoles, which are reminiscent of the pathology seen in stressed ARPE-19 cells. The data suggest that the NLRP3 inflammasome may contribute in AMD pathogenesis.
View Full-Text
►

▼

Figures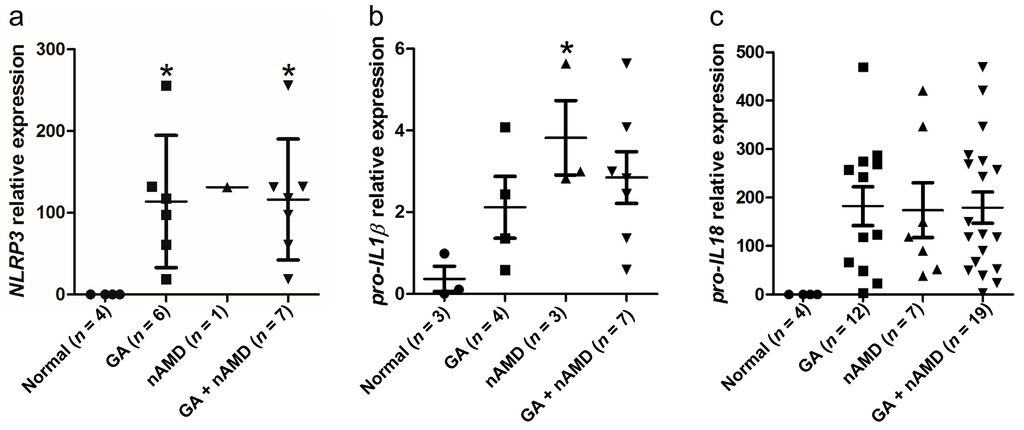 Figure 1
This is an open access article distributed under the
Creative Commons Attribution License
which permits unrestricted use, distribution, and reproduction in any medium, provided the original work is properly cited (CC BY 4.0).

Share & Cite This Article
MDPI and ACS Style
Wang, Y.; Hanus, J.W.; Abu-Asab, M.S.; Shen, D.; Ogilvy, A.; Ou, J.; Chu, X.K.; Shi, G.; Li, W.; Wang, S.; Chan, C.-C. NLRP3 Upregulation in Retinal Pigment Epithelium in Age-Related Macular Degeneration. Int. J. Mol. Sci. 2016, 17, 73.
Note that from the first issue of 2016, MDPI journals use article numbers instead of page numbers. See further details here.
Related Articles
Comments
[Return to top]