Biliverdin Reductase A (BVRA) Mediates Macrophage Expression of Interleukin-10 in Injured Kidney
1
Division of Nephrology, Tongji Hospital, Tongji Medical College, Huazhong University of Science and Technology, 1095 Jiefang Ave, Wuhan 430030, Hubei, China
2
Department of Geriatrics, Tongji Hospital, Tongji Medical College, Huazhong University of Science and Technology, 1095 Jiefang Ave, Wuhan 430030, Hubei, China
*
Authors to whom correspondence should be addressed.
Academic Editor: Terrence Piva
Received: 17 July 2015 / Revised: 2 September 2015 / Accepted: 8 September 2015 / Published: 18 September 2015
Abstract
Biliverdin reductase A is an enzyme, with serine/threonine/tyrosine kinase activation, converting biliverdin (BV) to bilirubin (BR) in heme degradation pathway. It has been reported to have anti-inflammatory and antioxidant effect in monocytes and human glioblastoma. However, the function of BVRA in polarized macrophage was unknown. This study aimed to investigate the effect of BVRA on macrophage activation and polarization in injured renal microenvironment. Classically activated macrophages (M1macrophages) and alternative activation of macrophages (M2 macrophages) polarization of murine bone marrow derived macrophage was induced by GM-CSF and M-CSF. M1 polarization was associated with a significant down-regulation of BVRA and Interleukin-10 (IL-10), and increased secretion of TNF-α. We also found IL-10 expression was increased in BVRA over-expressed macrophages, while it decreased in BVRA knockdown macrophages. In contrast, BVRA over-expressed or knockdown macrophages had no effect on TNF-α expression level, indicating BVRA mediated IL-10 expression in macrophages. Furthermore, we observed in macrophages infected with recombinant adenoviruses BVRA gene, which BVRA over-expressed enhanced both INOS and ARG-1 mRNA expression, resulting in a specific macrophage phenotype. Through
in vivo
study, we found BVRA positive macrophages largely existed in mice renal ischemia perfusion injury. With the treatment of the regular cytokines GM-CSF, M-CSF or LPS, excreted in the injured renal microenvironment, IL-10 secretion was significantly increased in BVRA over-expressed macrophages. In conclusion, the BVRA positive macrophage is a source of anti-inflammatory cytokine IL-10 in injured kidney, which may provide a potential target for treatment of kidney disease.
View Full-Text
►

▼

Figures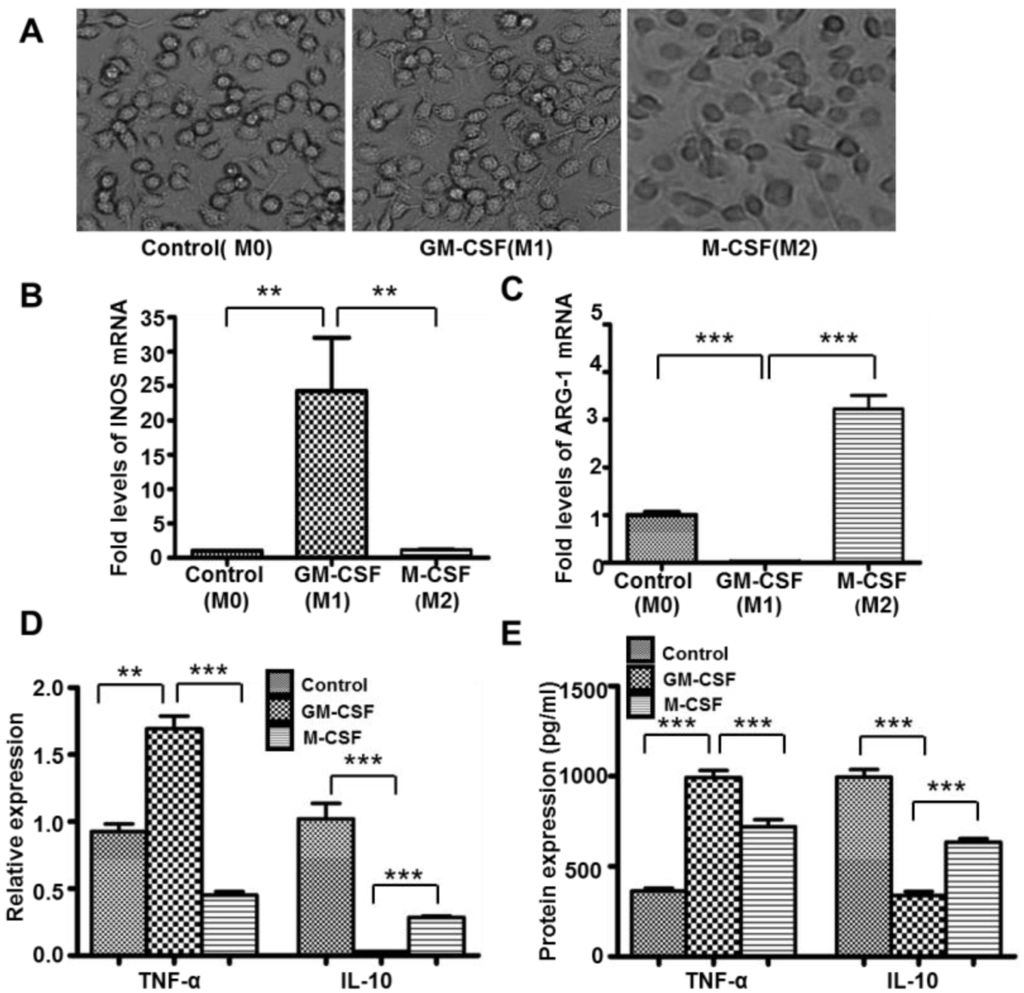 Figure 1
This is an open access article distributed under the
Creative Commons Attribution License
which permits unrestricted use, distribution, and reproduction in any medium, provided the original work is properly cited (CC BY 4.0).

Share & Cite This Article
MDPI and ACS Style
Hu, Z.; Pei, G.; Wang, P.; Yang, J.; Zhu, F.; Guo, Y.; Wang, M.; Yao, Y.; Zeng, R.; Liao, W.; Xu, G. Biliverdin Reductase A (BVRA) Mediates Macrophage Expression of Interleukin-10 in Injured Kidney. Int. J. Mol. Sci. 2015, 16, 22621-22635.
Related Articles
Comments
[Return to top]