Interferon-Beta Therapy of Multiple Sclerosis Patients Improves the Responsiveness of T Cells for Immune Suppression by Regulatory T Cells
1
Department of Dermatology, University Medical Center of the Johannes Gutenberg-University, Langenbeckstr. 1, 55131 Mainz, Germany
2
Department of Neurology, University Medical Center of the Johannes Gutenberg-University, Langenbeckstr. 1, 55131 Mainz, Germany
3
Department of Neurology-Inflammatory Disorders of the Nervous System and Neurooncology, University of Muenster, Schlossplatz 2, 48149 Muenster, Germany
*
Author to whom correspondence should be addressed.
Academic Editor: Christoph Kleinschnitz
Received: 11 May 2015 / Revised: 10 June 2015 / Accepted: 6 July 2015 / Published: 17 July 2015
Abstract
Multiple sclerosis (MS) is an inflammatory autoimmune disease characterized by imbalanced immune regulatory networks, and MS patient-derived T effector cells are inefficiently suppressed through regulatory T cells (Treg), a phenomenon known as Treg resistance. In the current study we investigated T cell function in MS patients before and after interferon-beta therapy. We compared cytokine profile, responsiveness for Treg-mediated suppression
ex vivo
and evaluated reactivity of T cells
in vivo
using a humanized mouse model. We found that CD4
+
and CD8
+
T cells of therapy-naive MS patients were resistant to Treg-mediated suppression. Treg resistance is associated with an augmented IL-6 production, enhanced IL-6 receptor expression, and increased PKB/c-Akt phosphorylation. These parameters as well as responsiveness of T cells to Treg-mediated suppression were restored after interferon-beta therapy of MS patients. Following transfer into immunodeficient mice, MS T cells induced a lethal graft
versus
host disease (GvHD) and in contrast to T cells of healthy volunteers, this aggressive T cell response could not be controlled by Treg, but was abolished by anti-IL-6 receptor antibodies. However, magnitude and lethality of GvHD induced by MS T cells was significantly decreased after interferon-beta therapy and the reaction was prevented by Treg activation
in vivo
. Our data reveals that interferon-beta therapy improves the immunoregulation of autoaggressive T effector cells in MS patients by changing the IL-6 signal transduction pathway, thus restoring their sensitivity to Treg-mediated suppression.
View Full-Text
►

▼

Figures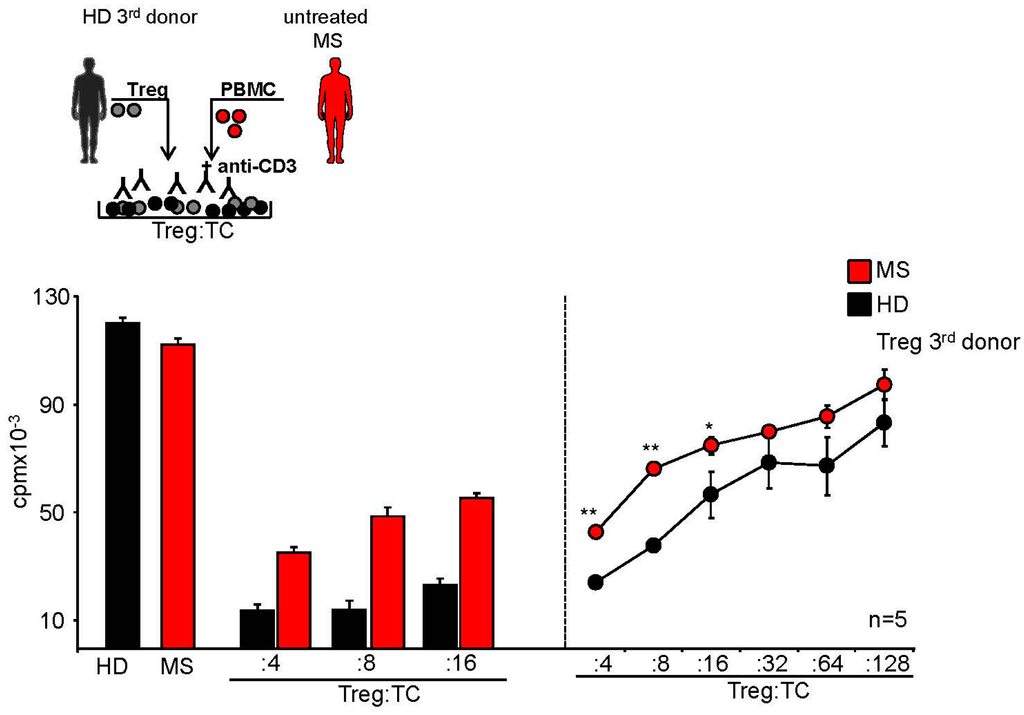 Figure 1
This is an open access article distributed under the
Creative Commons Attribution License
which permits unrestricted use, distribution, and reproduction in any medium, provided the original work is properly cited (CC BY 4.0).

Share & Cite This Article
MDPI and ACS Style
Trinschek, B.; Luessi, F.; Gross, C.C.; Wiendl, H.; Jonuleit, H. Interferon-Beta Therapy of Multiple Sclerosis Patients Improves the Responsiveness of T Cells for Immune Suppression by Regulatory T Cells. Int. J. Mol. Sci. 2015, 16, 16330-16346.
Related Articles
Comments
[Return to top]