Chromium-Induced Ultrastructural Changes and Oxidative Stress in Roots of
Arabidopsis thaliana
Department of Botany, School of Biology, Aristotle University of Thessaloniki, 54124 Thessaloniki, Greece
*
Author to whom correspondence should be addressed.
Academic Editor: Lam-Son Phan Tran
Received: 18 May 2015 / Revised: 23 June 2015 / Accepted: 9 July 2015 / Published: 13 July 2015
Abstract
Chromium (Cr) is an abundant heavy metal in nature, toxic to living organisms. As it is widely used in industry and leather tanning, it may accumulate locally at high concentrations, raising concerns for human health hazards. Though Cr effects have extensively been investigated in animals and mammals, in plants they are poorly understood. The present study was then undertaken to determine the ultrastructural malformations induced by hexavalent chromium [Cr(VI)], the most toxic form provided as 100 μM potassium dichromate (K
2
Cr
2
O
7
), in the root tip cells of the model plant
Arabidopsis thaliana
. A concentration-dependent decrease of root growth and a time-dependent increase of dead cells, callose deposition, hydrogen peroxide (H
2
O
2
) production and peroxidase activity were found in Cr(VI)-treated seedlings, mostly at the transition root zone. In the same zone, nuclei remained ultrastructurally unaffected, but in the meristematic zone some nuclei displayed bulbous outgrowths or contained tubular structures. Endoplasmic reticulum (ER) was less affected under Cr(VI) stress, but Golgi bodies appeared severely disintegrated. Moreover, mitochondria and plastids became spherical and displayed translucent stroma with diminished internal membranes, but noteworthy is that their double-membrane envelopes remained structurally intact. Starch grains and electron dense deposits occurred in the plastids. Amorphous material was also deposited in the cell walls, the middle lamella and the vacuoles. Some vacuoles were collapsed, but the tonoplast appeared integral. The plasma membrane was structurally unaffected and the cytoplasm contained opaque lipid droplets and dense electron deposits. All electron dense deposits presumably consisted of Cr that is sequestered from sensitive sites, thus contributing to metal tolerance. It is concluded that the ultrastructural changes are reactive oxygen species (ROS)-correlated and the malformations observed are organelle specific.
View Full-Text
►

▼

Figures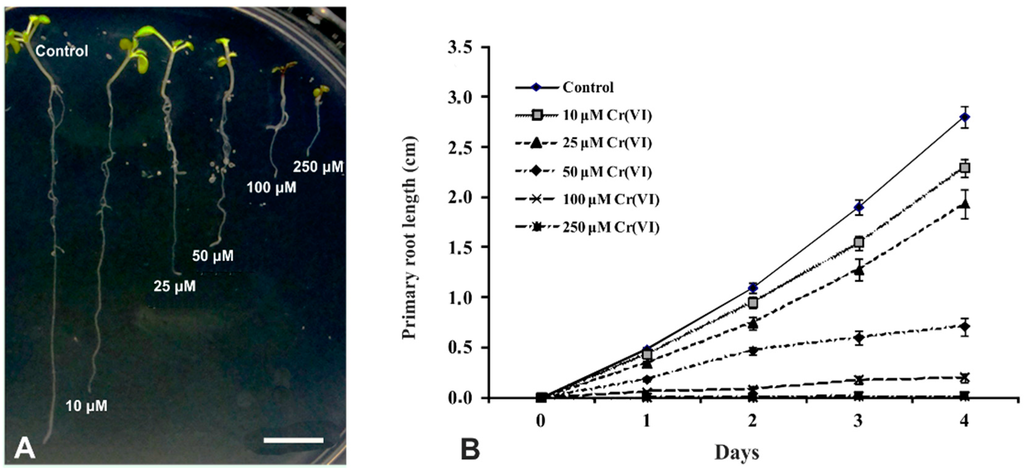 Figure 1
This is an open access article distributed under the
Creative Commons Attribution License
which permits unrestricted use, distribution, and reproduction in any medium, provided the original work is properly cited (CC BY 4.0).

Share & Cite This Article
MDPI and ACS Style
Eleftheriou, E.P.; Adamakis, I.-D.S.; Panteris, E.; Fatsiou, M. Chromium-Induced Ultrastructural Changes and Oxidative Stress in Roots of Arabidopsis thaliana. Int. J. Mol. Sci. 2015, 16, 15852-15871.
Related Articles
Comments
[Return to top]