3D-Printed ABS and PLA Scaffolds for Cartilage and Nucleus Pulposus Tissue Regeneration
1
The Orthopedics Research Lab, Department of Surgery, McGill University, Montreal, QC H3G 1A4, Canada
2
McGill Scoliosis & Spine Group, Department of Surgery, McGill University, Montreal, QC H3G 1A4, Canada
3
McGill University Health Centre, Department of Surgery, Montreal General Hospital, Room C10.148.2, 1650 Cedar Ave, Montreal, QC H3G 1A4, Canada
*
Author to whom correspondence should be addressed.
Academic Editor: Bing Yan
Received: 25 April 2015 / Revised: 3 June 2015 / Accepted: 30 June 2015 / Published: 3 July 2015
Abstract
Painful degeneration of soft tissues accounts for high socioeconomic costs. Tissue engineering aims to provide biomimetics recapitulating native tissues. Biocompatible thermoplastics for 3D printing can generate high-resolution structures resembling tissue extracellular matrix. Large-pore 3D-printed acrylonitrile butadiene styrene (ABS) and polylactic acid (PLA) scaffolds were compared for cell ingrowth, viability, and tissue generation. Primary articular chondrocytes and nucleus pulposus (NP) cells were cultured on ABS and PLA scaffolds for three weeks. Both cell types proliferated well, showed high viability, and produced ample amounts of proteoglycan and collagen type II on both scaffolds. NP generated more matrix than chondrocytes; however, no difference was observed between scaffold types. Mechanical testing revealed sustained scaffold stability. This study demonstrates that chondrocytes and NP cells can proliferate on both ABS and PLA scaffolds printed with a simplistic, inexpensive desktop 3D printer. Moreover, NP cells produced more proteoglycan than chondrocytes, irrespective of thermoplastic type, indicating that cells maintain individual phenotype over the three-week culture period. Future scaffold designs covering larger pore sizes and better mimicking native tissue structure combined with more flexible or resorbable materials may provide implantable constructs with the proper structure, function, and cellularity necessary for potential cartilage and disc tissue repair
in vivo.
View Full-Text
►

▼

Figures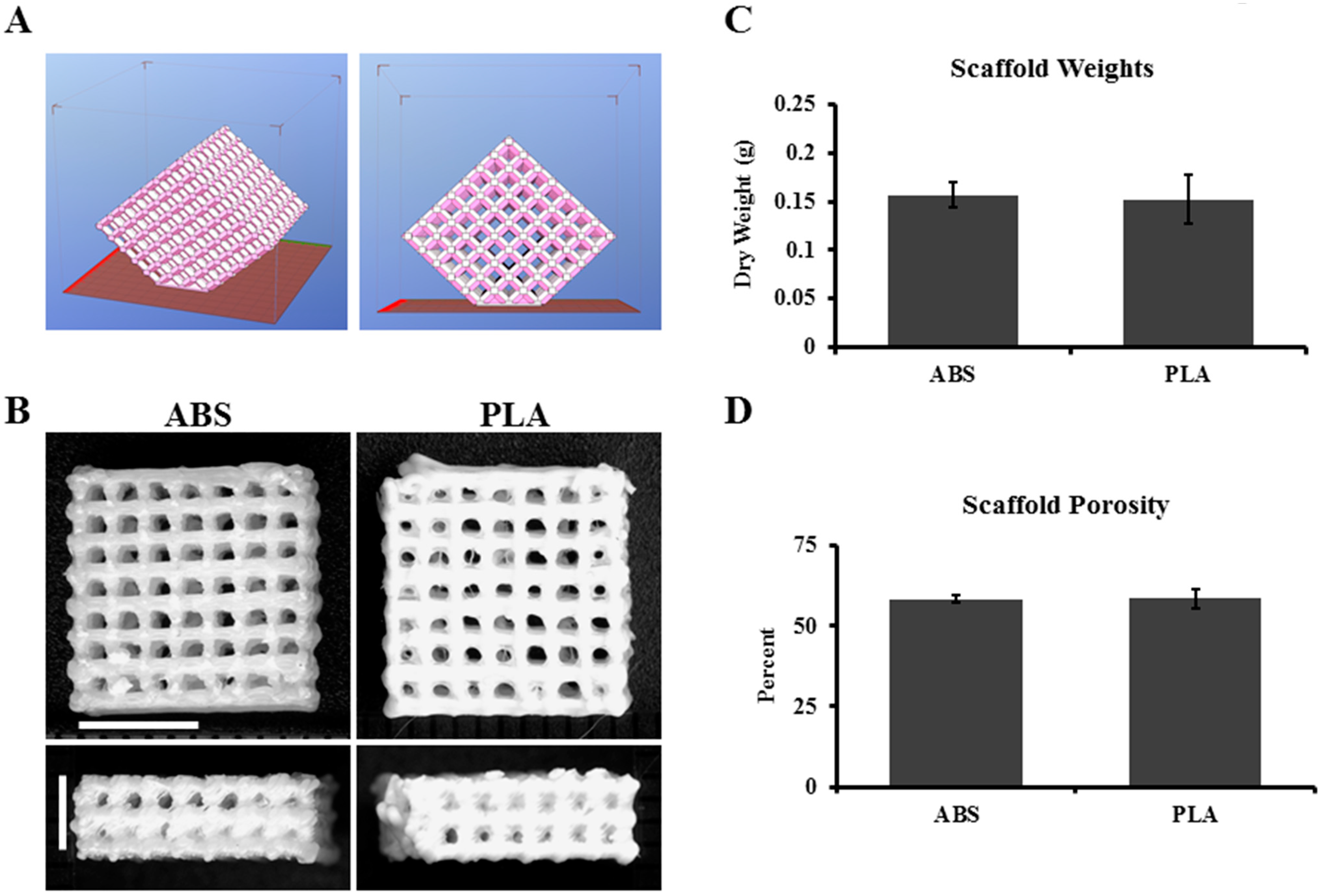 Figure 1
This is an open access article distributed under the
Creative Commons Attribution License
which permits unrestricted use, distribution, and reproduction in any medium, provided the original work is properly cited (CC BY 4.0).

Share & Cite This Article
MDPI and ACS Style
Rosenzweig, D.H.; Carelli, E.; Steffen, T.; Jarzem, P.; Haglund, L. 3D-Printed ABS and PLA Scaffolds for Cartilage and Nucleus Pulposus Tissue Regeneration. Int. J. Mol. Sci. 2015, 16, 15118-15135.
Related Articles
Comments
[Return to top]