Supramolecular Phase-Selective Gelation by Peptides Bearing Side-Chain Azobenzenes: Effect of Ultrasound and Potential for Dye Removal and Oil Spill Remediation
1
Institut für Organische Chemie, Universität Regensburg, Universitätsstr. 31, Regensburg 93053, Germany
2
Instituto de Síntesis Química y Catálisis Homogénea (ISQCH), CSIC-University of Zaragoza, 50009 Zaragoza, Spain
3
Departamento de Química Orgánica, IUBO, "Antonio González", Universidad de La Laguna, Astrofísico Francisco Sánchez 2, 38206 La Laguna, Spain
4
IQAC-CSIC, Jordi Girona 18-26, 08034 Barcelona, Spain
*
Author to whom correspondence should be addressed.
Academic Editors: John George Hardy and Max von Delius
Received: 28 April 2015 / Revised: 13 May 2015 / Accepted: 15 May 2015 / Published: 22 May 2015
Abstract
Phase selective gelation (PSG) of organic phases from their non-miscible mixtures with water was achieved using tetrapeptides bearing a side-chain azobenzene moiety. The presence of the chromophore allowed PSG at the same concentration as the minimum gelation concentration (MGC) necessary to obtain the gels in pure organic phases. Remarkably, the presence of the water phase during PSG did not impact the thermal, mechanical, and morphological properties of the corresponding organogels. In the case of miscible oil/water mixtures, the entire mixture was gelled, resulting in the formation of quasi-hydrogels. Importantly, PSG could be triggered at room temperature by ultrasound treatment of the mixture or by adding ultrasound-aided concentrated solution of the peptide in an oil-phase to a mixture of the same oil and water. Moreover, the PSG was not affected by the presence of salts or impurities existing in water from natural sources. The process could be scaled-up, and the oil phases (e.g., aromatic solvents, gasoline, diesel fuel) recovered almost quantitatively after a simple distillation process, which also allowed the recovery and reuse of the gelator. Finally, these peptidic gelators could be used to quantitatively remove toxic dyes from aqueous solutions.
View Full-Text
►

▼

Figures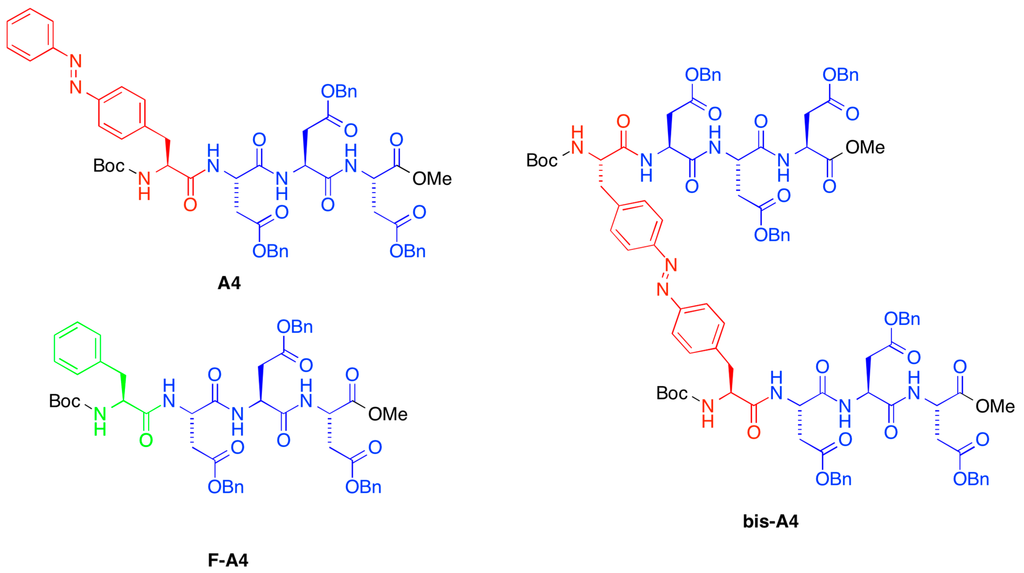 Figure 1
This is an open access article distributed under the
Creative Commons Attribution License
which permits unrestricted use, distribution, and reproduction in any medium, provided the original work is properly cited (CC BY 4.0).

Share & Cite This Article
MDPI and ACS Style
Bachl, J.; Oehm, S.; Mayr, J.; Cativiela, C.; Marrero-Tellado, J.J.; Díaz Díaz, D. Supramolecular Phase-Selective Gelation by Peptides Bearing Side-Chain Azobenzenes: Effect of Ultrasound and Potential for Dye Removal and Oil Spill Remediation. Int. J. Mol. Sci. 2015, 16, 11766-11784.
Related Articles
Comments
[Return to top]