Interleukin-1 Receptor Antagonist Reduces Neonatal Lipopolysaccharide-Induced Long-Lasting Neurobehavioral Deficits and Dopaminergic Neuronal Injury in Adult Rats
1
Department of Pediatrics, Division of Newborn Medicine, University of Mississippi Medical Center, Jackson, MS 39216, USA
2
School of Medicine, Fu Jen Catholic University, Xinzhuang Dist, New Taipei City 24205, Taiwan
*
Author to whom correspondence should be addressed.
Academic Editor: G. Jean Harry
Received: 26 January 2015 / Revised: 31 March 2015 / Accepted: 10 April 2015 / Published: 17 April 2015
Abstract
Our previous study showed that a single lipopolysaccharide (LPS) treatment to neonatal rats could induce a long-lasting neuroinflammatory response and dopaminergic system injury late in life. This is evidenced by a sustained activation of microglia and elevated interleukin-1β (IL-1β) levels, as well as reduced tyrosine hydroxylase (TH) expression in the substantia nigra (SN) of P70 rat brain. The object of the current study was to test whether co-administration of IL-1 receptor antagonist (IL-1ra) protects against LPS-induced neurological dysfunction later in life. LPS (1 mg/kg) with or without IL-1ra (0.1 mg/kg), or sterile saline was injected intracerebrally into postnatal day 5 (P5) Sprague-Dawley male rat pups. Motor behavioral tests were carried out from P7 to P70 with subsequent examination of brain injury. Our results showed that neonatal administration of IL-1ra significantly attenuated LPS-induced motor behavioral deficits, loss of TH immunoreactive neurons, as well as microglia activation in the SN of P70 rats. These data suggest that IL-1β may play a pivotal role in mediating a chronic neuroinflammation status by a single LPS exposure in early postnatal life, and blockading IL-1β might be a novel approach to protect the dopaminergic system against perinatal infection/inflammation exposure.
View Full-Text
►

▼

Figures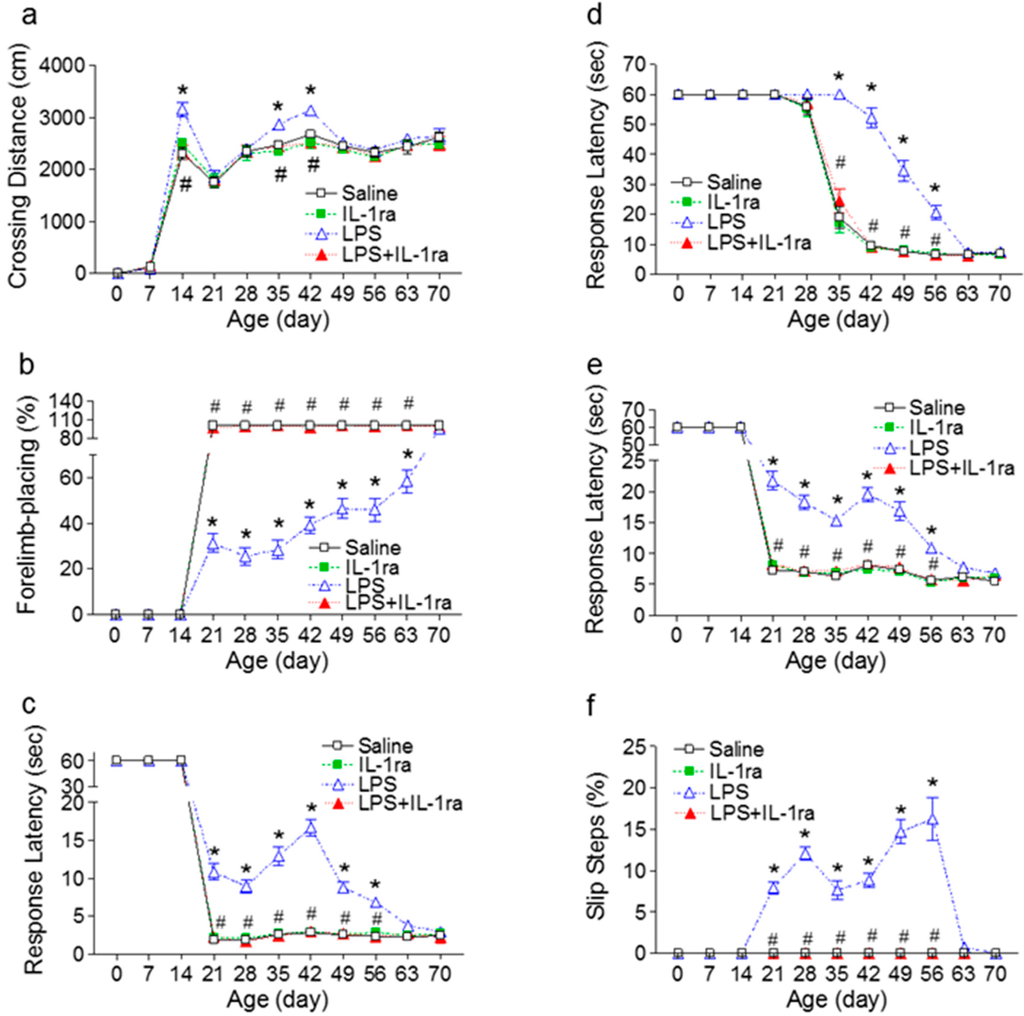 Figure 1
This is an open access article distributed under the
Creative Commons Attribution License
which permits unrestricted use, distribution, and reproduction in any medium, provided the original work is properly cited (CC BY 4.0).

Share & Cite This Article
MDPI and ACS Style
Pang, Y.; Tien, L.-T.; Zhu, H.; Shen, J.; Wright, C.F.; Jones, T.K.; Mamoon, S.A.; Bhatt, A.J.; Cai, Z.; Fan, L.-W. Interleukin-1 Receptor Antagonist Reduces Neonatal Lipopolysaccharide-Induced Long-Lasting Neurobehavioral Deficits and Dopaminergic Neuronal Injury in Adult Rats. Int. J. Mol. Sci. 2015, 16, 8635-8654.
Related Articles
Comments
[Return to top]