tRNA Biology in Mitochondria
1
Institut de Biologie Moléculaire des Plantes, CNRS and Université de Strasbourg, 12 rue du Général Zimmer, F-67084 Strasbourg Cedex, France
2
Institut de Biologie Moléculaire et Cellulaire, CNRS and Université de Strasbourg, 15 rue René Descartes, F-67084 Strasbourg Cedex, France
*
Author to whom correspondence should be addressed.
†
These authors contributed equally to this work.
Academic Editor: Michael Ibba
Received: 19 November 2014 / Revised: 23 January 2015 / Accepted: 29 January 2015 / Published: 27 February 2015
Abstract
Mitochondria are the powerhouses of eukaryotic cells. They are considered as semi-autonomous because they have retained genomes inherited from their prokaryotic ancestor and host fully functional gene expression machineries. These organelles have attracted considerable attention because they combine bacterial-like traits with novel features that evolved in the host cell. Among them, mitochondria use many specific pathways to obtain complete and functional sets of tRNAs as required for translation. In some instances, tRNA genes have been partially or entirely transferred to the nucleus and mitochondria require precise import systems to attain their pool of tRNAs. Still, tRNA genes have also often been maintained in mitochondria. Their genetic arrangement is more diverse than previously envisaged. The expression and maturation of mitochondrial tRNAs often use specific enzymes that evolved during eukaryote history. For instance many mitochondria use a eukaryote-specific RNase P enzyme devoid of RNA. The structure itself of mitochondrial encoded tRNAs is also very diverse, as e.g., in Metazoan, where tRNAs often show non canonical or truncated structures. As a result, the translational machinery in mitochondria evolved adapted strategies to accommodate the peculiarities of these tRNAs, in particular simplified identity rules for their aminoacylation. Here, we review the specific features of tRNA biology in mitochondria from model species representing the major eukaryotic groups, with an emphasis on recent research on tRNA import, maturation and aminoacylation.
View Full-Text
►

▼

Figures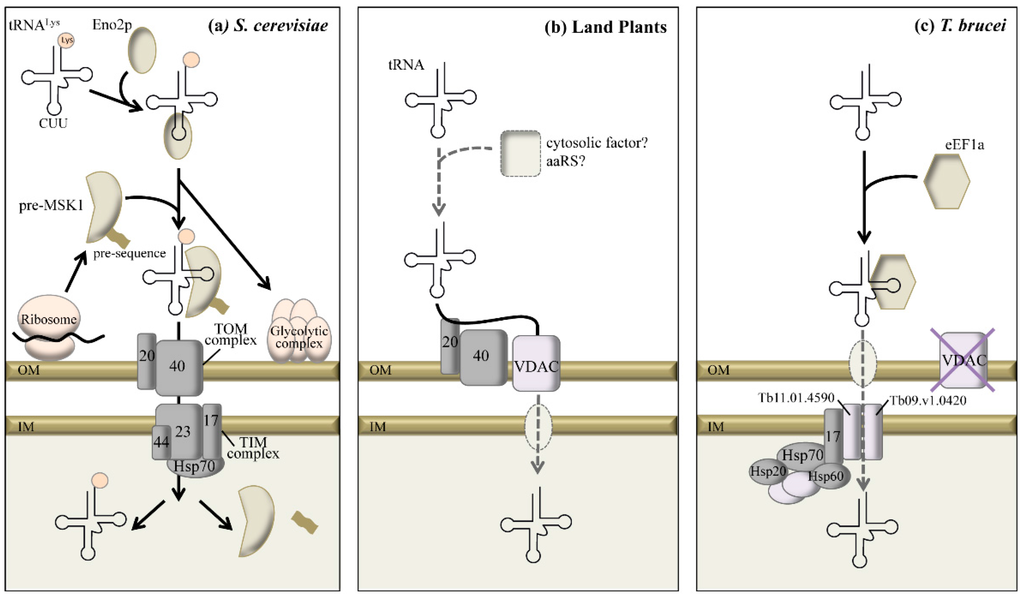 Figure 1
This is an open access article distributed under the
Creative Commons Attribution License
which permits unrestricted use, distribution, and reproduction in any medium, provided the original work is properly cited (CC BY 4.0).

Share & Cite This Article
MDPI and ACS Style
Salinas-Giegé, T.; Giegé, R.; Giegé, P. tRNA Biology in Mitochondria. Int. J. Mol. Sci. 2015, 16, 4518-4559.
Related Articles
Comments
[Return to top]