Open Access This article is
freely available
re-usable
Review
Cyclic nucleotide signalling in kidney fibrosis
Pharmacology and Toxicology, University Regensburg, Regensburg 93053, Germany
*
Author to whom correspondence should be addressed.
Academic Editor: Ritva Tikkanen
Received: 24 October 2014 / Accepted: 14 January 2015 / Published: 22 January 2015
Abstract
:
Kidney fibrosis is an important factor for the progression of kidney diseases, e.g., diabetes mellitus induced kidney failure, glomerulosclerosis and nephritis resulting in chronic kidney disease or end-stage renal disease. Cyclic adenosine monophosphate (cAMP) and cyclic guanosine monophosphate (cGMP) were implicated to suppress several of the above mentioned renal diseases. In this review article, identified effects and mechanisms of cGMP and cAMP regarding renal fibrosis are summarized. These mechanisms include several signalling pathways of nitric oxide/ANP/guanylyl cyclases/cGMP-dependent protein kinase and cAMP/Epac/adenylyl cyclases/cAMP-dependent protein kinase. Furthermore, diverse possible drugs activating these pathways are discussed. From these diverse mechanisms it is expected that new pharmacological treatments will evolve for the therapy or even prevention of kidney failure.
Keywords:
signalling; cyclic nucleotides; cyclic guanosine monophosphate; cyclic adenosine monophosphate; kidney fibrosis
1. Renal Fibrosis and Involved Signalling Pathways
Cyclic nucleotides cyclic adenosine monophosphate (cAMP) and cyclic guanosine monophosphate (cGMP) are important second messengers regulating chronic kidney disease. These signalling molecules act in a different manner upon various chronic kidney diseases (CKDs) which result from diverse causes. Disorders which often generate CKD comprise diabetic nephropathy, glomerulosclerosis and nephritis.
1.1. Fibrotic Kidney Diseases
1.2. Renal Fibrotic Models
Transgenic or knockout animals, particularly mice, in combination with disease models for diverse renal fibrotic diseases are beneficial for understanding the diverse mechanisms in chronic kidney diseases. Knockout (KO) of genes in the AC/cAMP or natriuretic peptide/NO/cGMP signalling pathways (e.g., eNOS−/−, sGC−/−, GCA−/− or PKG1−/− mice) or overexpression of proteins (e.g., PKG transgenic mice) are important tools for studying the various diseases. The use of these mice for the analysis of renal fibrotic diseases will be presented in the diverse parts of this article (see chapter 2). siRNA is also used for examination of cellular signalling pathways, e.g., in Madin-Darby canine kidney epithelial (MDCK) or fibroblast cells.
Several models of diabetic nephropathy exist which are validated for the clinical features of human DN regarding e.g., decrease of kidney function, albuminuria and interstitial fibrosis [
18
]. However, none of the available models resemble all of these criteria. It is important to note that the induction of DN is dependent on the murine strain used. Furthermore, murine models often reveal only early stages of DN because the induction of interstitial fibrosis is less observed than in human DN. Common models for type 1 diabetes are mice injected with streptozotocin or genetic models e.g., OVE26 mice which carry a transgene overexpressing calmodulin in pancreatic β cells resulting in early onset of type I diabetes, in combination with unilateral nephrectomy [
39
]. For type 2 diabetes, e.g., ob/ob mice in combination with eNOS
−/−
mice are used. Furthermore, hypertension e.g., induced with renin,
ATII or aldosterone
is an important factor enhancing DN and therefore to evaluate its renal effects [
10
,
40
]. Deoxycorticosterone acetate (DOCA)-salt hypertensive rats are often analyzed (DOCA and sodium chloride applied to uninephrectomised rats) which develop oxidative stress and inflammation. The effects of cGMP and cAMP modulators on diabetic nephropathy tested with these models will be discussed in the respective parts of
Section 2.1.1
. and
Section 2.2.1
.
Unilateral ureteral ligation (UUO) is a common surgery for the analysis of interstitial kidney fibrosis. This model is versatile for the elucidation of fibrotic disease mechanisms, resembles the various factors of interstitial fibrosis, is highly predictable [
41
] and often applied in the analysis of cyclic nucleotide signalling (see
Section 2.2
). The outcome is very rapid (between 3 and 14 days) and, therefore, it is discussed whether it features all phases of chronic kidney disease.
Renal ischemia/reperfusion is a preferred model for studying acute kidney injury [
42
]. It leads to lesions of tubular epithelial cells, inflammation and tubulointerstitial fibrosis. These responses are often not reversible and, therefore, might lead to CKD and kidney dysfunction. This model was used to study effects of tadalafil and CNP in acute kidney injury (see Section PDE Inhibitors and Natriuretic peptides).
Renal injury upon 5/6 nephrectomy is a valuable model for the analysis of mechanisms associated with renal dysfunction of the remnant kidney [
41
]. Apoptosis, inflammation and fibrosis via tubulointerstitial injury are main factors caused by renal ablation. Notably, there are differences in the responses of diverse murine strains. Furthermore, the analysis of the damaged tissue is limited by the small size of the remnant kidney. Several studies using this model revealed the suppressive effect of the PDE5 inhibitor sildenafil in fibrosis mechanisms (see Section PDE Inhibitors).
cAMP and cGMP are suppressive in several fibrotic diseases which will be explained explicitly in this review. The concentration of these cyclic nucleotides cAMP or cGMP is enhanced by adenylyl cyclases (AC) or guanylyl cyclases (GC), respectively, and modulated by several phosphodiesterases (PDEs). Examples regarding modulators of cyclic nucleotides cAMP or cGMP in renal fibrotic diseases and pharmacological treatments will be given in
Section 2.1
. and
Section 2.2
. of this article.
Table 1. Renal fibrotic diseases and its actual or clinically tested treatments.

| Renal Fibrotic Disease | Causes | Profibrotic Signalling Pathways | Actual or Clinically Tested Treatments | Literature |
| --- | --- | --- | --- | --- |
| Diabetic nephropathy | Hyperglykaemia; Hypertension | DM I, II; RAAS; JAK/STAT eNOS-dysfunction TGFβ | RAAS blockade Pirfenidone | [16,21] |
| Glomerulo-sclerosis (e.g., FSGS) | DN, Hypertension; Nephrotic syndrome; (FSGS) | e.g., DM I, II; RAAS; suPAR (FSGS) | RAAS blockade, Pirfenidone, FSGS: Glucocorticoids, Cytostatics, ACTH, Rituximab | [25,26,29,30,43] |
| Lupus nephritis | Autoimmune antibodies; Expansion of inflammatory cells [44] | TWEAK/Fn14 | Steroids, Belimumab, Cytostatics: Azathioprin, Cyclophosphamide Hydroxychloroquine | [35,36,37,45] |
DN: Diabetic nephropathy; DM: Diabetes mellitus; FSGS: Focal segmental glomeruloclerosis; RAAS: Renin angiotensin aldosterone system; suPAR: Serum soluble urokinase receptor; TWEAK/Fn14: TNF-like weak inducer of apoptosis/Fibroblast growth factor-inducible 14 system.
2. Cyclic Nucleotide Signalling Pathways and Their Potential as Therapeutic Options in Renal Fibrosis
Renal failure is a very common consequence of the above mentioned diseases. As the incidence of renal failure is rising worldwide, the prevention or delaying of renal dysfunction that leads to end-stage renal failure is the most important goal for pharmacological treatment of CKD [
46
]. Cyclic nucleotide modulation could be a therapeutic approach. This review focuses on the most relevant cyclic nucleotide signalling pathways in renal fibrosis as well as diverse drugs involved in cAMP or cGMP pathways which could be useful in the treatment of CKD.
2.1. Cyclic Adenosine Monophosphate (cAMP) Pathway
The cAMP pathway exerts antifbrotic actions which include inhibition of EMT blockade of fibroblast proliferation and activation of the death of fibroblasts. These effects can arise in response to an increase in cAMP by AC activators, PDE inhibitors, cAMP analogues or pharmacological agents like Gs-linked G protein coupled receptors (GPCR) agonists and Gi-linked GPCR antagonists. Increased cAMP levels exert their effects through activation of protein kinase A (PKA) which is the classical signalling pathway. Thereby, cAMP binds to the regulatory subunit of PKA leading to dissociation of the catalytic subunit which subsequently phosphorylates target proteins. Stimulated PKA causes inter alia phosphorylation of cAMP response element binding (CREB) and subsequent CREB-mediated gene transcription. Detailled signalling mechanisms of cAMP are shown in
Figure 1
.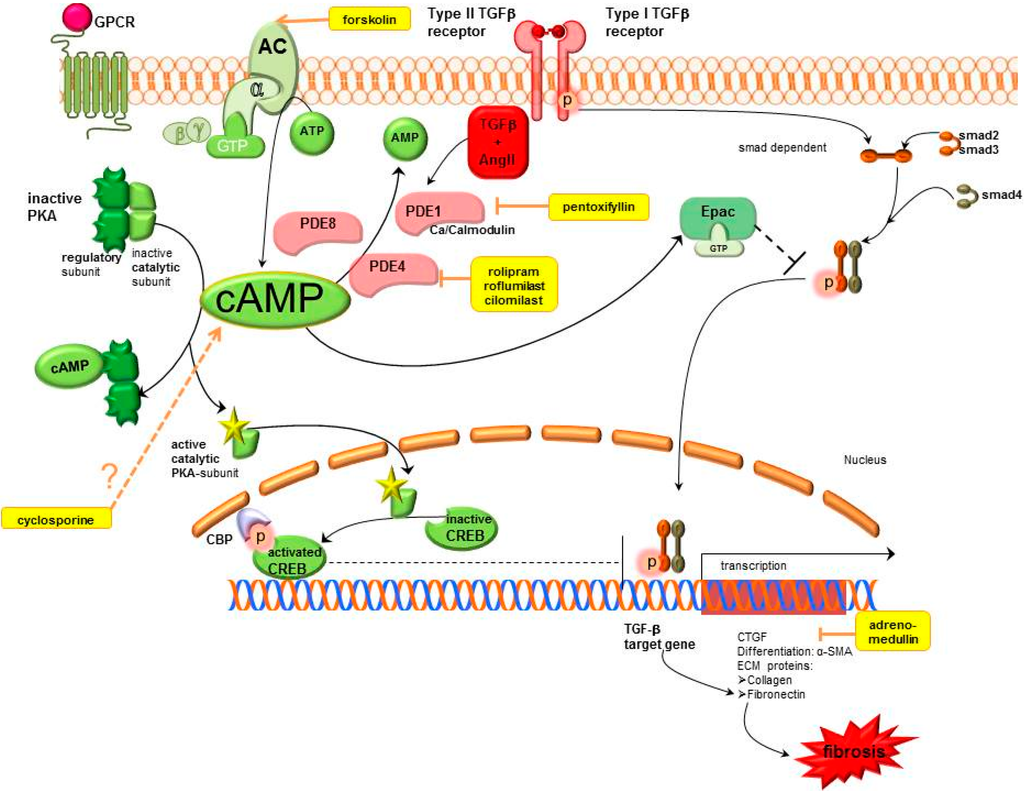 Figure 1. Cyclic adenosine monophosphate signalling pathways in kidney fibrosis including pharmacological treatment options. AC, adenylyl cyclase; AMP, adenosine monophosphate; ATP, adenosine triphosphate; cAMP, cyclic adenosine monophosphate; CBP, CREB binding protein; CREB, cAMP response element binding protein; CTGF, connective tissue growth factor; ECM, extracellular matrix; Epac, exchange protein directly activated by cAMP; GPCR, G protein coupled receptor; GTP, guanosine triphosphate; PDE, phosphodiesterase; PKA, protein kinase A; SMA, smooth muscle actin; smad, small mothers against decapentaplegic protein, TGFβ, transforming growth factor β.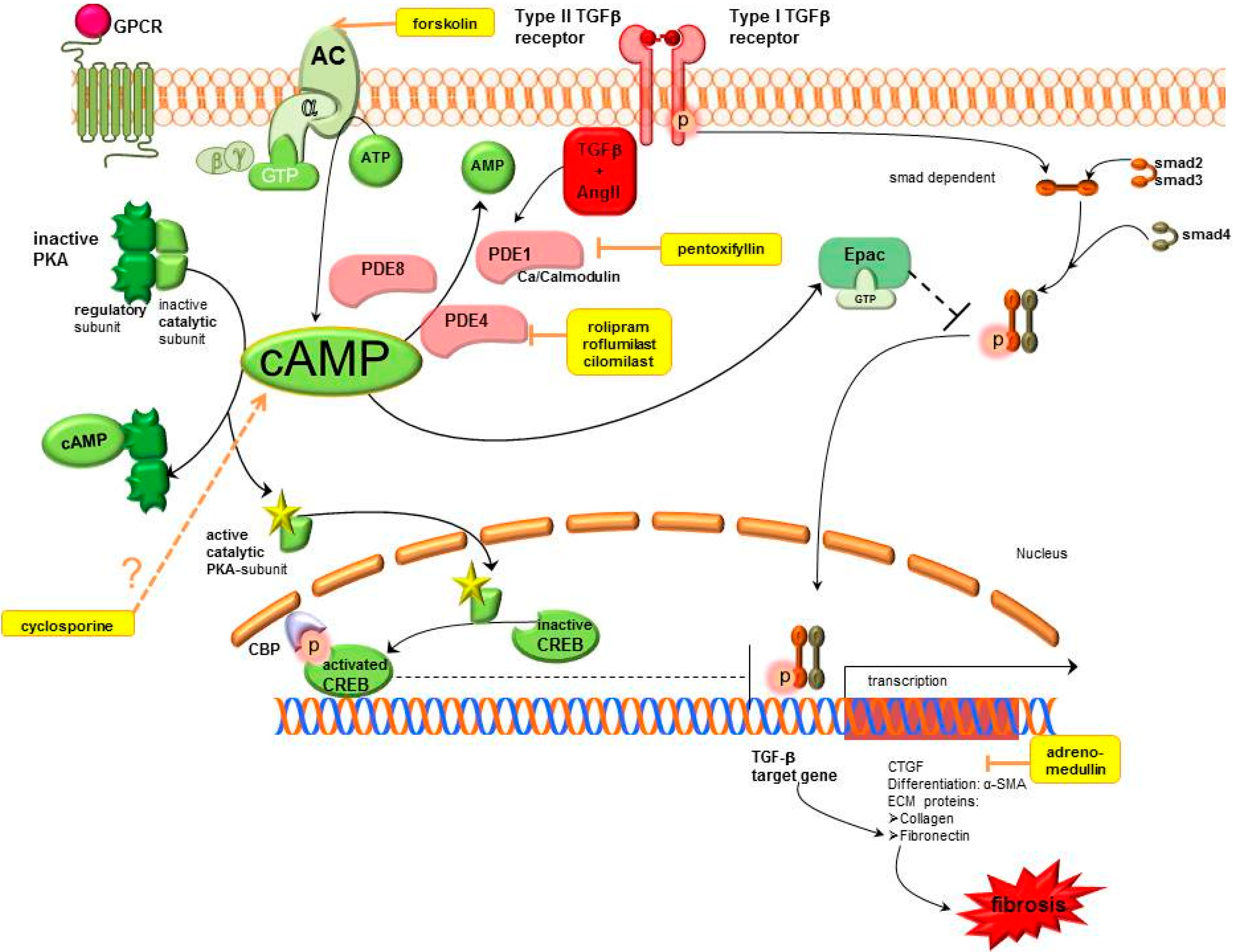 cAMP exerts antifibrotic effects in fibrosis, which are mediated by stimulation of PKA and activated CREB that thus blocks TGFβ mediated gene transcription. Furthermore, it activates Epac which blocks TGFβ mediated smad dependent gene transcription. Therapeutic options which enhance cAMP are AC stimulators, PDE inhibitors, cyclosporine and adrenomedullin (shown in yellow). Motifolio PPT Drawing Toolkit was used for designing the figure.
2.1.1. cAMP Modulation
Adenylyl Cyclase (AC)
Adenylyl cyclases are enzymes which convert ATP into cAMP. At least nine isoforms of AC—AC1-9—and two splice variants of AC8 are known [
47
].
Previous studies have shown antifibrotic effects by an increase of AC5/6 expression in cardiac and pulmonary fibroblasts which prevents the differentiation of cardiac fibroblasts [
48
] and pulmonary fibroblasts to pathophysiological changed myofibroblasts [
49
]. This is not yet studied in renal fibroblasts, but AC5 expression was also shown in the kidney [
50
].
Forskolin is an AC activator which increases intracellular cAMP levels by activation of membrane bound AC. Clinical data about the usage of AC activators are not yet available. As many disorders, e.g., cardiovascular diseases, glaucoma, asthma
etc.
, are discussed for the application of forskolin, the risk-benefit ratio is not yet fully evaluated [
51
]. Nevertheless, antifibrotic effects of forskolin in renal mesangial cell cultures were already observed by reducing glomerular mesangial cell growth [
52
] or inhibiting
CTGF
gene expression by forskolin [
53
]. CTGF is a growth factor which is not present in healthy kidne but which is induced in fibrotic pathological condition, like glomerulosclerosis or diabetic nephropathy.
Phosphodiesterases (PDEs).
2.1.2. cAMP Effectors
Protein Kinase A-cAMP Response Element Binding (PKA-CREB)
In human epidermal HaCat keratinocytes, it was shown that cAMP elevating agents such as the AC activator forskolin prevent TGFβ2 signalling via PKA [
80
]. TGFβ transduces intracellular signals through type1 (TGFβ-R1) and type2 (TGFβ-R2) receptors. Receptor associated smad (R-smads) proteins, such as smad2 and smad3 are phosphorylated and activated by type1 receptors of TGFβ. Upon phosphorylation, the R-smads build a complex with smad4 which is a common mediator for all receptor activated smads. R-smad/smad4 complexes are then translocated into the nucleus where they modulate the transcription of many genes [
81
,
82
]. However, the cAMP/PKA/cAMP response element binding (CREB) cascade blocks TGFβ specific smad-dependent transcription. cAMP elevating agents abolished interactions of the TGFβ2 induced smad3/4 complex with the transcription co-activators CREB protein in a PKA dependent manner. Thereby, the smad translocation into the nucleus in response to TGFβ was not affected by cAMP in the examined HaCat keratinocytes [
80
]. These results are in accordance with Lin
et al.
, that increased cAMP accompanied by PKA induced CREB phosphorylation attenuated renal tubulointerstitial fibrosis. Thereby, increased cAMP levels were achieved by pentoxifylline—A general inhibitor of cAMP dependent PDEs—Which leads to a block of TGFβ induced smad3/4 dependent gene transcription. In this study, the inhibition of the profibrogenic CTGF was shown. However, smad activation and nuclear translocation were also not affected by cAMP/PKA [
76
].
CREB effects were shown by modulating cAMP via pentoxifylline or forskolin as direct modulators of CREB are lacking.
Exchange Protein Directly Activated by cAMP (Epac)
cAMP is able to stimulate PKA-independent Epac which is a guanine nucleotide exchange protein for the small GTPase Rap1. Activation of Epac by cAMP leads to release of the guanine nucleotide GDP and binding to GTP [
83
]. Epac regulates different functions like migration, proliferation and apoptosis via Rap1 [
84
]. It was shown that fibrosis inhibits Epac expression. Therefore, activation of Epac acts antifibrotically by inhibition of collagen type I- and collagen type III expression. Moreover, Epac interacts with TGFβ-R1 resulting in inhibition of phosphorylation of smad2 and transcriptional activation [
85
]. The importance of the cAMP-Epac-Rap signalling for modulating myofibroblast stimulation and ECM production was also described in the heart by Miller
et al.
[
58
].
A model to study EMT, which is a mechanism of tissue fibrosis, is the use of renal epithelial cells such as MDCK cells treated with TGFβ. MDCK cells base on epithelial phenotype with high E-cadherin expression and low α-SMA expression. TGFβ induces EMT by increasing α-SMA (and proteins characteristic of fibroblasts such as collagens) and decreasing E-cadherin expression (and other proteins characteristic of epithelial cells). Treating these MDCK cells with cAMP-derivative inhibits the upregulation of α-SMA via Epac. Therefore, Epac acts antifibrotically via inhibition of profibrotic TGFβ signalling [
86
].
A recent study by Stolman
et al.
, demonstrated that Epac/Rap stimulation ROS production in the kidney [
87
]. Uncontrolled production of ROS mediated cellular injury and also occured during renal fibrosis [
88
].
Thus, activation of Epac/Rap signalling may protect against renal fibrosis, but data about pharmacological modulation of kidney fibrosis are lacking.
2.1.3. Further cAMP Influencing Systems
Adrenomedullin particularly is a vasodilatory agent which was demonstrated to augment NO. Its antifibrotic effects are mediated through cAMP-mediated decrease of CTGF induction and Erk phosphorylation in renal interstitial fibrosis [
89
]. The renoprotective effects were observed in diverse hypertensive models, e.g., in Dahl salt-sensitive rats or in the DOCA-salt model [
90
,
91
].
Cyclosporine is widely used for the treatment of FSGS. Its renoprotective effects are partly mediated through hemodynamic effects by decreasing glomerular perfusion rate and by decreasing intracellular pressure, but also through reduction of T cell mediated cytokines. Presumably, an increase in glomerular cAMP levels following cyclosporine treatment is responsible for the improved permeability characteristics of the glomerular filtration barrier [
31
].
2.2. Cyclic Guanosine Monophosphate (cGMP) Pathway
Chronic organ injury, particularly kidney fibrosis, degrades NO producing cells, such as endothelial cells. The decreased availability of NO leads to reduced cGMP levels. Many studies report that enhanced cGMP levels have an effective antifibrotic benefit in various organs including the kidney [
17
].
Nitric oxide synthases (NOS) produce NO which activates the soluble guanylyl cyclase (sGC). sGC is the NO receptor mediating the downstream signalling by the generation of cGMP. Increased cGMP levels lead to activation of cGMP dependent protein kinases (PKG). cGMP can also be produced by natriuretic peptides (ANP/BNP) which stimulate the particulate guanylyl cyclase (pGC). The degradation of cGMP is mediated by PDEs. Detailled signalling of cGMP is shown in
Figure 2
.
cGMP mediates its antifibrotic action (shown in green) via activation of PKG which is able to inhibit the profibrotic TGFβ signalling (shown in red). TGFβ signalling is mediated via a smad dependent pathway to increase target gene transcription, or a smad independent pathway which activates Erk1/2 and RhoA/ROCK signalling. Therapeutic options which enhance cGMP are serelaxin, sGC modulation, organic nitrates, PDE inhibitors or natriuretic peptide analogues or their modulators (shown in yellow). Motifolio PPT Drawing Toolkit was used for designing the figure.
Some treatment options are in development for the augmentation of the cGMP pool [
92
]. The aim of these agents is to ameliorate or prevent the progression of fibrotic tissue.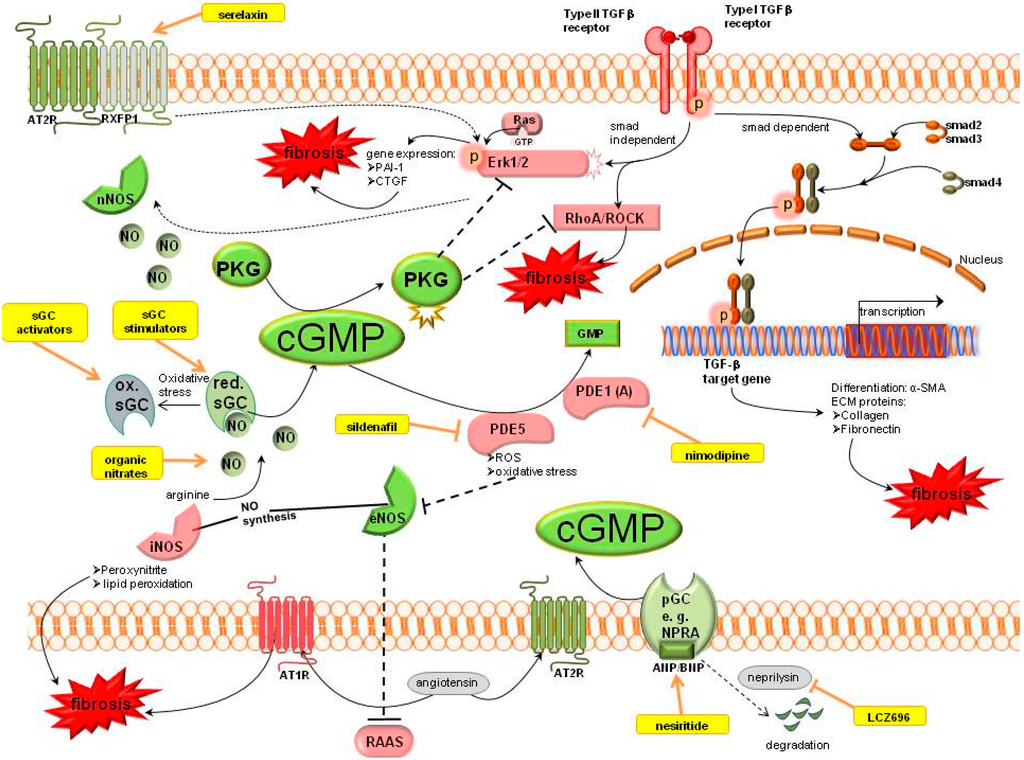 Figure 2. Cyclic guanosine monophosphate signalling pathways in kidney fibrosis including pharmacological treatment options. ANP, atrial natriuretic peptide; AT1R, angiotensin II receptor type 1; AT2R, angiotensin II receptor type 2; BNP, brain natriuretic peptide; cGMP, cyclic guanosine monophosphate; CNP-c, type natriuretic peptide; CTGF, connective tissue growth factor; ECM, extracellular matrix; eNOS, endothelial NO synthase; ERK1/2, extracellular-signal regulated kinase; GMP, guanosine monophosphate; GTP, guanosine triphosphate; iNOS, inducible NO synthase; nNOS, neuronal NO synthase; NO, nitric oxide; NPRA, natriuretic peptide receptor A; PAI-1, plasminogen activator inhibitor 1; PDE, phosphodiesterase; pGC, particulate guanylyl cyclase; PKG, cGMP dependent protein kinases; RAAS, renin angiotensin aldosterone system; Ras, Rat sarcoma protein, RhoA, particular Rho protein; ROCK, Rho associated protein kinase; ROS, reactive oxygen species; RXFP1, relaxin family peptide receptor 1; sGC, soluble guanylyl cyclase; SMA, smooth muscle actin; smad, small mothers against decapentaplegic protein; TGFβ, transforming growth factor β.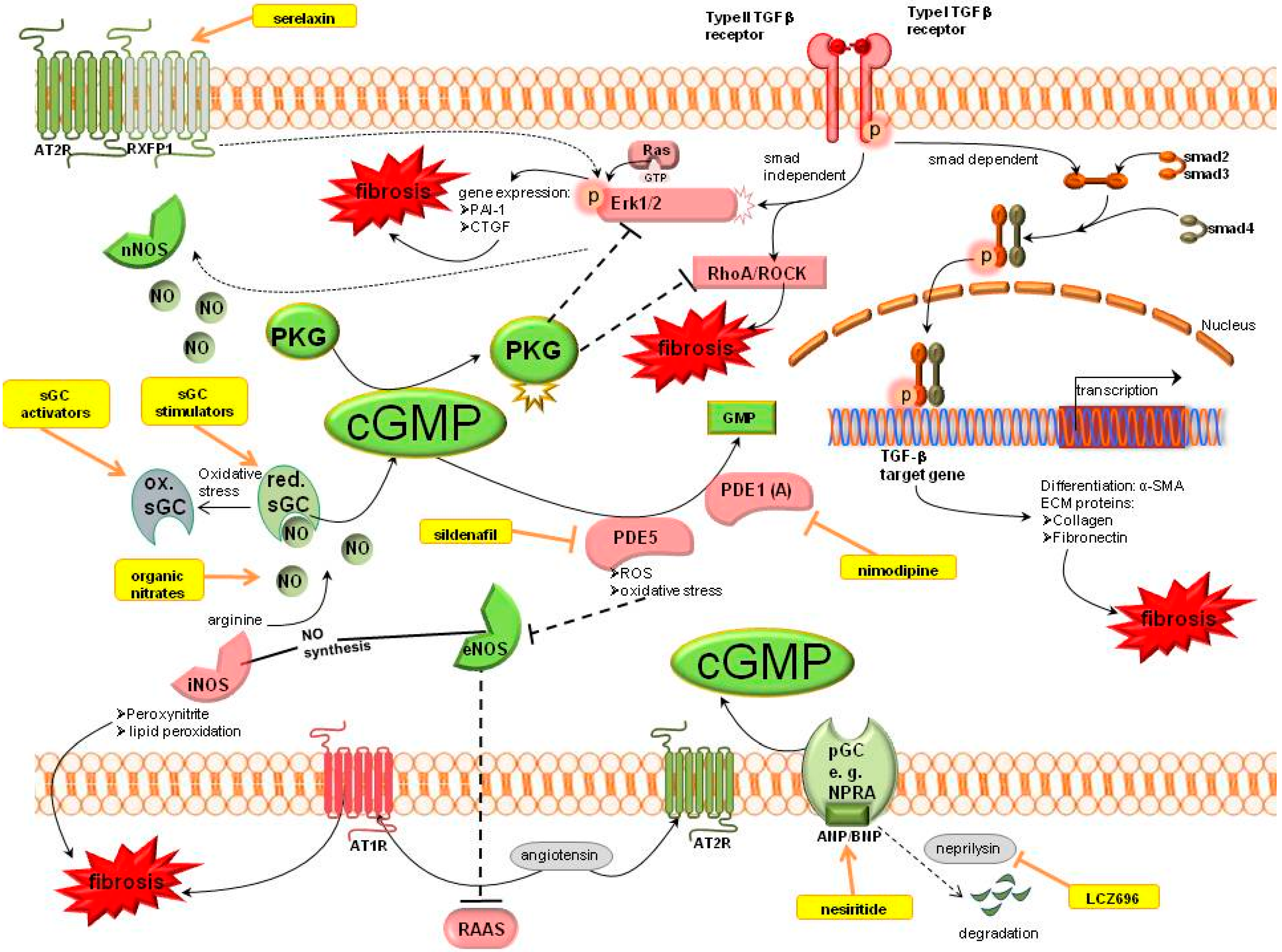 2.2.1. cGMP Modulation
Organic Nitrates
Organic nitrates are used for the treatment of cardiovascular disease for the last centuries, as they increase NO availability and thereby support the NO/cGMP signalling pathway. However, this therapy option is limited due to formation of nitrate tolerance as well as accumulation of ROS (e.g., peroxynitrite) under oxidative stress conditions. Beneficial effects in kidney fibrosis were shown in different glomerulonephritis experimental models after administering l-arginine supplements [
93
,
94
].
Soluble Guanylyl Cyclase (sGC)
sGC modulation could be achieved by either sGC stimulators or sGC activators.
BAY 41-8543 and BAY 41-2272 are pyrazolopyridines which were developed from the structure of YC-1.
The NO independent sGC activator cinaciguat (Bay 58-2667) is characterized by activating sGC after oxidation of its hem group. Chronic renal failure is accompanied by impaired NO availability because the generation of NO is decreased, and NO is inactivated by ROS or its physiological action is impeded by dysfunctional sGC. The reduced NO availability promotes renal disease.
sGC activators are promising compounds for the treatment of kidney fibrosis. Data about antifibrotic effects in the kidney are still to be fully elucidated.
PDE Inhibitors
PDE5: The cGMP pool is rapidly degraded by PDEs. PDE5 is the PDE isozyme which specifically hydrolyzes cGMP. At the renal level of rat kidney, PDE5 is expressed in inner medullary collecting duct cells, cortical tubules, mesangial cells, the vasculature and glomeruli. PDE5 inhibitors, including sildenafil and tadalafil, possess antiapoptotic and antioxidant properties. Consequently, they exert nephroprotective effects.
Relaxin
The exogenous infusion of serelaxin led to ameliorated progression of interstitial and glomerular fibrosis in several experimental models of renal diseases.
Natriuretic Peptides
Thus the pharmacological potentiation of endogenous ANP or BNP may be a therapeutic approach for the treatment of renal fibrosis.
Nesiritide is the recombinant form of naturally occurring brain natriuretic peptide (BNP) enhancing cGMP levels via GC-A/NPR-A. This signalling pathway has demonstrated cardiac antihypertrophic and antifibrotic effects in several experiments.
2.2.2. cGMP Effectors
cGMP Dependent Protein Kinases (PKG)
The major downstream effector of cGMP is PKG. Two isoforms of PKG are known—PKG1 and PKG2. However, only PKG1 is studied regarding the involvement in renal fibrosis.
Using PKG1-KO mice, Schinner
et al.
[
92
,
119
] showed that cGMP acts antifibrotically via activation of PKG1 in UUO. Thereby, the antifibrotic effects of cGMP/PKG1 were mediated by inhibition of the profibrotic RhoA/ROCK signalling to inhibit TGFβ signalling and myofibroblast formation (see above).
In human mesangial cells (HMCs), TWEAK, which is an inflammatory cytokine, led to increased TGFβ expression by stimulation of Ras/Erk1/2. Interestingly, PKG1 protein expression and activity was reduced. Thereby, the Ras/Erk1/2 pathway was essential for the downregulation of PKG1 by TWEAK. Stimulation of PKG1 via 8Br-cGMP abolished TWEAK induced upregulation of TGFβ [
177
]. These results are in accordance with a study of Cui
et al.
, that increasing PKG activity reduces ECM accumulation in renal mesangial cells. PKG can be activated by increased cGMP levels. In addition to pharmacological approach, PKG transgenic mice (Tg mice) were used to demonstrate the antifibrotic effects of PKG. Tg mice, which expressed more PKG1 than WT mice, showed the same results compared to the treatment with PDE5 inhibitor sildenafil [
132
]. Until today, no direct PKG activators are in clinical trial, only cGMP elevating agents are being tested.
2.2.3. Further cGMP Influencing Systems
Renin Angiotensin Aldosterone System (RAAS)
Angiotensin acts via angiotensin II type 1 receptor (AT
1
R) and angiotensin II type 2 receptor (AT
2
R). Interestingly, AT
2
R has opposite effects of AT
1
R which induces fibrosis. The expression of AT
2
R is increased in pathological situations and is able to suppress cardiac fibrosis. Thereby, the AT
2
R effect is mediated via bradykinin/NO/cGMP pathway AT
2
R thereby forms a heterodimer with the bradykinin receptor B
2
R to induce eNOS which subsequently activates NO/cGMP signalling [
178
]. The effect of AT
2
R might be promising but is not yet explored in the kidney.
Diabetes mellitus is accompanied by an increase of the RAAS activity, including ATII and aldosterone production. Increased aldosterone was associated with reduced NO/cGMP and increased fibrosis in diabetic kidney [
10
]. The renin inhibitor aliskiren blocked ATII and aldosterone production [
179
] and the dihydropyridine-type calcium channel blocker amlodipine reduced aldosterone levels [
180
]. Decrease of aldosterone and its downstream effectors via aliskiren, amlodipine or the combination of both lead to reduced oxdidative stress and fibrosis via enhanced NO/cGMP availability in the kidney [
10
].
Kallikrein
Bradykinin mediates vasodilatory and antiinflammatory action through NO signalling. Furthermore, kallikrein positively modulates bradykinin production which subsequently activates eNOS. This mechanism is responsible, among others, for its antifibrotic effects.
Kallikrein reverses salt-induced renal fibrosis and glomerular hypertrophy in the interstitium and vasculature of hypertensive Dahl salt-sensitive rats [
181
]. The repair of renal tubular damage was also observed in a gentamycin-induced nephrotoxicity in normotensive rats [
182
]. Similar results were shown in a mineralocorticoid-induced renal fibrosis [
183
].
All-Trans-Retinoic Acid/Sodium Butyrate
All-trans retinoic acid in combination with sodium butyrate showed synergistical effects in reducing renal fibrotic biomarkers by enhancing
Npr1
gene transcription which encodes for the GC-A/NPR-A [
184
]. Renal fibrosis and immunoexpression of renal α-SMA was reduced by ≥70%, and TNFα as well as IL-6 showed lower plasma and renal levels. This could be an important finding for the prevention of hypertension-related kidney diseases.
3. Conclusions
Cyclic nucleotide signalling plays a prominent role in the development as well as in the prevention or amelioration of progressive renal disease. cGMP concentrations are diminished during kidney fibrosis. Enhancement of cyclic nucleotides improves renal fibrosis at different stages. They reduce TGFβ signalling, transcription of profibrotic cytokines, oxidative stress, myofibroblast formation and subsequently ECM accumulation in different experimental models for studying renal fibrosis
in vitro
and
in vivo
. Therapeutic approaches are in development, but treatment options modulating cyclic nucleotides are still lacking in clinical practice. Hence, preclinical experimental research is indispensable for the understanding of cyclic nucleotide dependent antifibrotic signalling and for the generation of drugs that may find their way into clinical practice for the treatment or prevention of kidney failure.
Acknowledgments
The work was supported by the state of Bavaria, the Deutsche Forschungsgemeinschaft DFG and the Sonderforschungsbereich SFB699.
Author Contributions
Elisabeth Schinner, Veronika Wetzl and Jens Schlossmann wrote the manuscript. Jens Schlossmann was primarily involved in the concept. Elisabeth Schinner and Veronika Wetzl designed the figures.
Conflicts of Interest
The authors Elisabeth Schinner and Jens Schlossmann declare no conflict of interest. PhD thesis of Veronika Wetzl is funded by Novartis GmbH. The company had no participation in writing of the review and decision to publish it.
© 2015 by the authors; licensee MDPI, Basel, Switzerland. This article is an open access article distributed under the terms and conditions of the Creative Commons Attribution license (http://creativecommons.org/licenses/by/4.0/).