Mutations of Glucose-6-Phosphate Dehydrogenase Durham, Santa-Maria and A+ Variants Are Associated with Loss Functional and Structural Stability of the Protein
1
Laboratorio de Bioquímica Genética, Instituto Nacional de Pediatría, Mexico D.F. 04530, Mexico
2
CONACYT Research Fellow—Instituto Nacional de Pediatría, Mexico D.F. 04530, Mexico
3
Laboratorio de Neurociencias, Instituto Nacional de Pediatría, Mexico D.F. 04530, Mexico
4
Departamento de Biología Molecular y Biotecnología, Instituto de Investigaciones Biomédicas, Universidad Nacional Autónoma de Mexico, Mexico D.F. 04510, Mexico
5
Colegio de Ciencias y Humanidades, Plantel Casa Libertad, UACM, Mexico D.F.09620, Mexico
6
Departamento de Química de Biomacromoléculas, Instituto de Química, Universidad Nacional Autónoma de Mexico, México, D.F. 04510, Mexico
*
Authors to whom correspondence should be addressed.
Academic Editor: Christo Z. Christov
Received: 30 October 2015 / Revised: 23 November 2015 / Accepted: 23 November 2015 / Published: 2 December 2015
Abstract
Glucose-6-phosphate dehydrogenase (G6PD) deficiency is the most common enzymopathy in the world. More than 160 mutations causing the disease have been identified, but only 10% of these variants have been studied at biochemical and biophysical levels. In this study we report on the functional and structural characterization of three naturally occurring variants corresponding to different classes of disease severity: Class I G6PD Durham, Class II G6PD Santa Maria, and Class III G6PD A+. The results showed that the G6PD Durham (severe deficiency), and the G6PD Santa Maria and A+ (less severe deficiency) (Class I, II and III, respectively) affect the catalytic efficiency of these enzymes, are more sensitive to temperature denaturing, and affect the stability of the overall protein when compared to the wild type WT-G6PD. In the variants, the exposure of more and buried hydrophobic pockets was induced and monitored with 8-Anilinonaphthalene-1-sulfonic acid (ANS) fluorescence, directly affecting the compaction of structure at different levels and probably reducing the stability of the protein. The degree of functional and structural perturbation by each variant correlates with the clinical severity reported in different patients.
View Full-Text
►

▼

Figures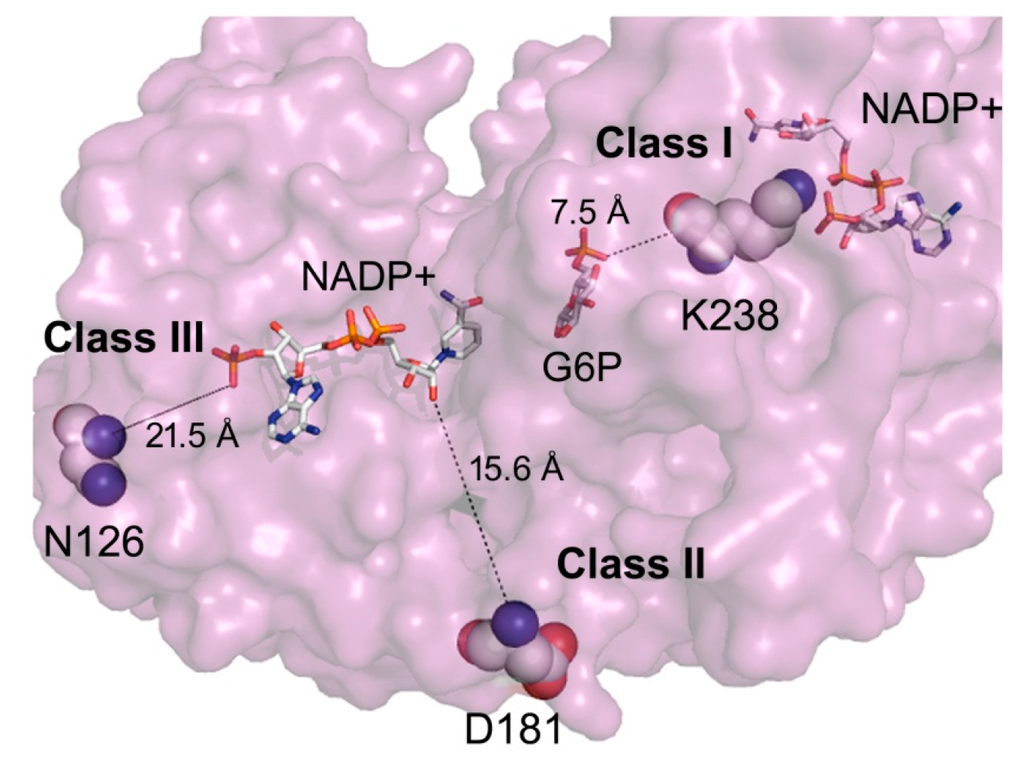 Figure 1
This is an open access article distributed under the
Creative Commons Attribution License
which permits unrestricted use, distribution, and reproduction in any medium, provided the original work is properly cited (CC BY 4.0).

Share & Cite This Article
MDPI and ACS Style
Gómez-Manzo, S.; Marcial-Quino, J.; Vanoye-Carlo, A.; Enríquez-Flores, S.; De la Mora-De la Mora, I.; González-Valdez, A.; García-Torres, I.; Martínez-Rosas, V.; Sierra-Palacios, E.; Lazcano-Pérez, F.; Rodríguez-Bustamante, E.; Arreguin-Espinosa, R. Mutations of Glucose-6-Phosphate Dehydrogenase Durham, Santa-Maria and A+ Variants Are Associated with Loss Functional and Structural Stability of the Protein. Int. J. Mol. Sci. 2015, 16, 28657-28668.
Related Articles
Comments
[Return to top]