Excited States and Photodebromination of Selected Polybrominated Diphenyl Ethers: Computational and Quantitative Structure—Property Relationship Studies
1
Guizhou Provincial Key Laboratory for Information System of Mountainous Areas and Protection of Ecological Environment, Guizhou Normal University, Guiyang 550001, China
2
Department of Applied Chemistry, College of Chemistry and Molecular Engineering, Peking University, Beijing 100871, China
*
Author to whom correspondence should be addressed.
Academic Editor: Mihai V. Putz
Received: 22 October 2014 / Accepted: 24 December 2014 / Published: 6 January 2015
Abstract
This paper presents a density functional theory (DFT)/time-dependent DFT (TD-DFT) study on the lowest lying singlet and triplet excited states of 20 selected polybrominateddiphenyl ether (PBDE) congeners, with the solvation effect included in the calculations using the polarized continuum model (PCM). The results obtained showed that for most of the brominated diphenyl ether (BDE) congeners, the lowest singlet excited state was initiated by the electron transfer from HOMO to LUMO, involving a π–σ* excitation. In triplet excited states, structure of the BDE congeners differed notably from that of the BDE ground states with one of the specific C–Br bonds bending off the aromatic plane. In addition, the partial least squares regression (PLSR), principal component analysis-multiple linear regression analysis (PCA-MLR), and back propagation artificial neural network (BP-ANN) approaches were employed for a quantitative structure-property relationship (QSPR) study. Based on the previously reported kinetic data for the debromination by ultraviolet (UV) and sunlight, obtained QSPR models exhibited a reasonable evaluation of the photodebromination reactivity even when the BDE congeners had same degree of bromination, albeit different patterns of bromination.
View Full-Text
►

▼

Figures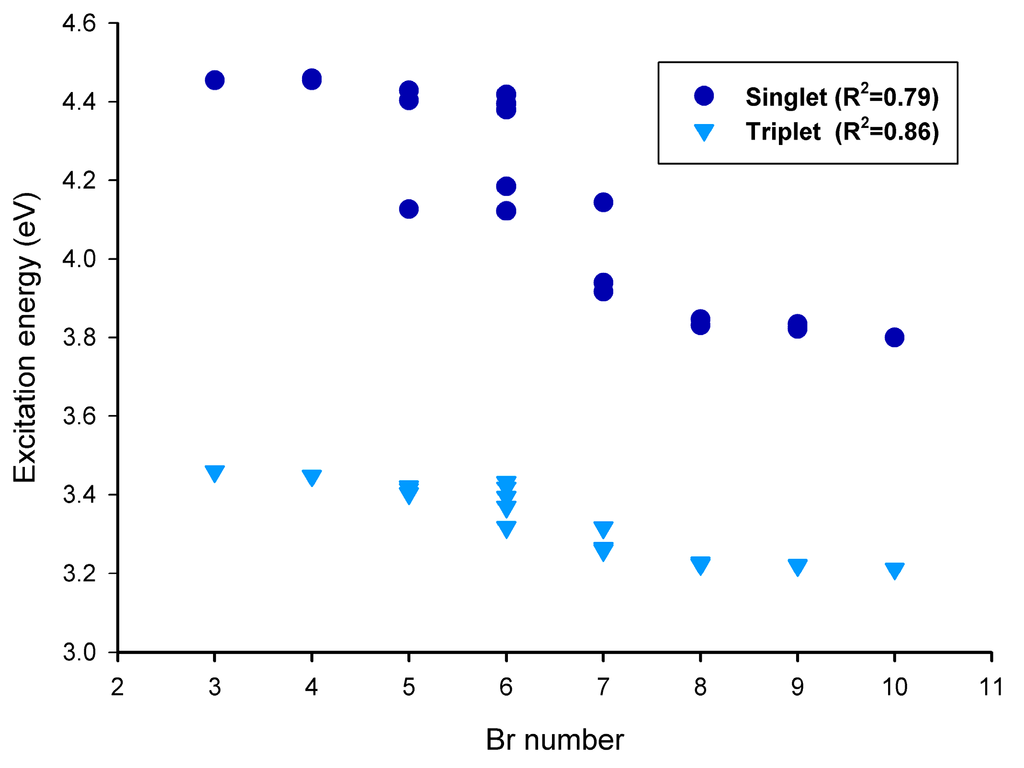 Figure 1
This is an open access article distributed under the
Creative Commons Attribution License
which permits unrestricted use, distribution, and reproduction in any medium, provided the original work is properly cited (CC BY 4.0).

Share & Cite This Article
MDPI and ACS Style
Luo, J.; Hu, J.; Wei, X.; Li, L.; Huang, X. Excited States and Photodebromination of Selected Polybrominated Diphenyl Ethers: Computational and Quantitative Structure—Property Relationship Studies. Int. J. Mol. Sci. 2015, 16, 1160-1178.
Related Articles
Comments
[Return to top]