Maternal–Fetal Nutrient Transport in Pregnancy Pathologies: The Role of the Placenta
1
Healthy Active Living and Obesity Research Group, Children's Hospital of Eastern Ontario Research Institute, 401 Smyth Rd., Ottawa, ON K1H 8L1, Canada
2
Faculty of Health Sciences, School of Human Kinetics, University of Ottawa, 75 Laurier Avenue East, Ottawa, ON K1N 6N5, Canada
3
Division of Maternal–Fetal Medicine, Obstetrics and Gynecology, the Ottawa Hospital, 501 Smyth Rd., Ottawa, ON K1H 8L6, Canada
4
Ottawa Hospital Research Institute, Cancer Centre, 501 Smyth Rd., Ottawa, ON K1H 8L6, Canada
5
Chronic Disease Program, Ottawa Hospital Research Institute, 501 Smyth Rd., Ottawa, ON K1H 8L6, Canada
6
Faculty of Medicine, Pediatrics, University of Ottawa, 5 Laurier Avenue East, Ottawa, ON K1N 6N5, Canada
*
Author to whom correspondence should be addressed.
Received: 28 July 2014 / Revised: 3 September 2014 / Accepted: 4 September 2014 / Published: 12 September 2014
Abstract
Appropriate
in utero
growth is essential for offspring development and is a critical contributor to long-term health. Fetal growth is largely dictated by the availability of nutrients in maternal circulation and the ability of these nutrients to be transported into fetal circulation via the placenta. Substrate flux across placental gradients is dependent on the accessibility and activity of nutrient-specific transporters. Changes in the expression and activity of these transporters is implicated in cases of restricted and excessive fetal growth, and may represent a control mechanism by which fetal growth rate attempts to match availability of nutrients in maternal circulation. This review provides an overview of placenta nutrient transport with an emphasis on macro-nutrient transporters. It highlights the changes in expression and activity of these transporters associated with common pregnancy pathologies, including intrauterine growth restriction, macrosomia, diabetes and obesity, as well as the potential impact of maternal diet. Molecular signaling pathways linking maternal nutrient availability and placenta nutrient transport are discussed. How sexual dimorphism affects fetal growth strategies and the placenta's response to an altered intrauterine environment is considered. Further knowledge in this area may be the first step in the development of targeted interventions to help optimize fetal growth.
View Full-Text
►

▼

Figures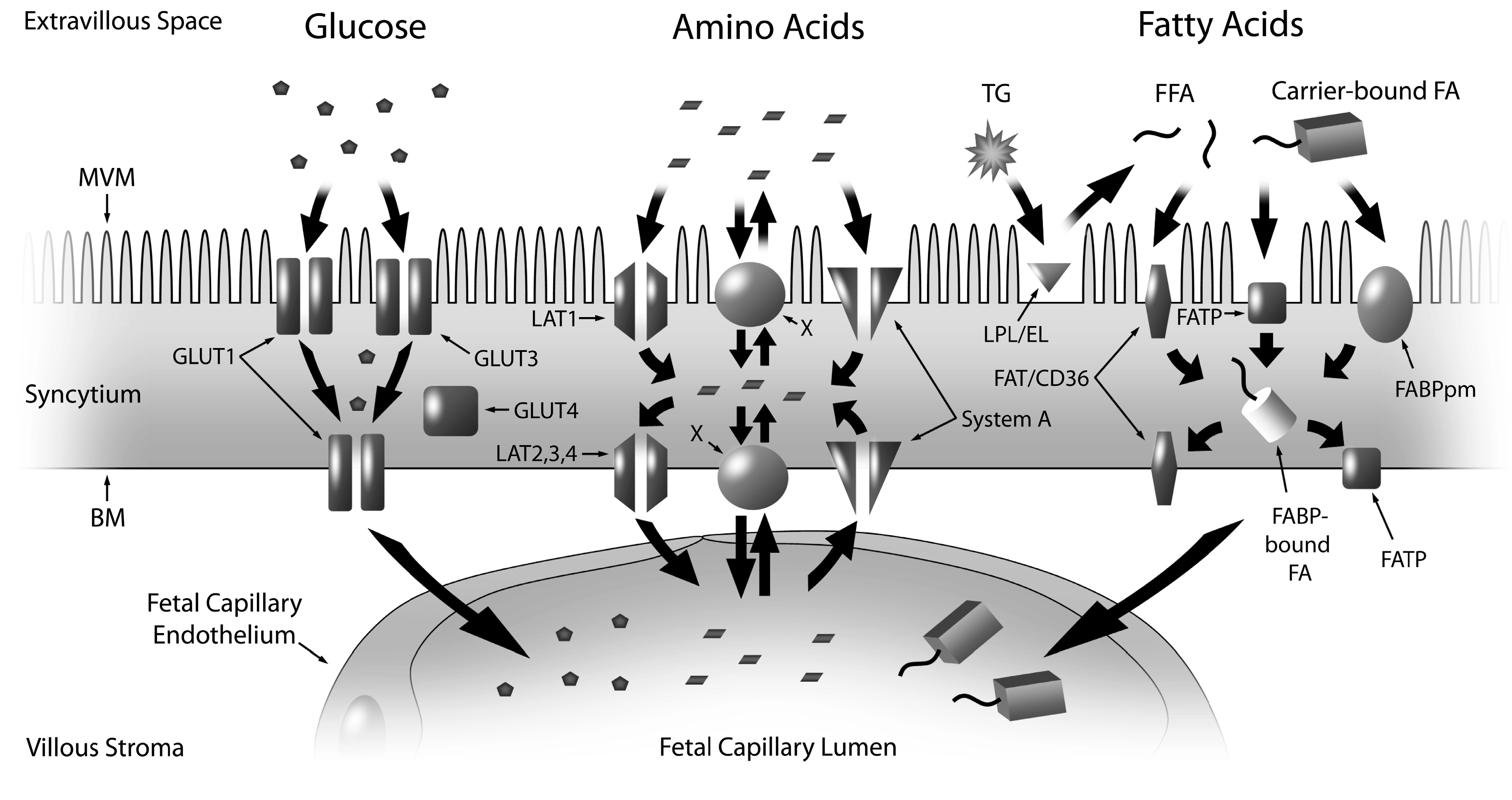 Figure 1

Share & Cite This Article
MDPI and ACS Style
Brett, K.E.; Ferraro, Z.M.; Yockell-Lelievre, J.; Gruslin, A.; Adamo, K.B. Maternal–Fetal Nutrient Transport in Pregnancy Pathologies: The Role of the Placenta. Int. J. Mol. Sci. 2014, 15, 16153-16185.
Related Articles
Comments
[Return to top]