Identification of Differentially Expressed miRNAs between White and Black Hair Follicles by RNA-Sequencing in the Goat (
Capra hircus

)

1

Key Laboratory of Agricultural Animal Genetics, Breeding and Reproduction, Ministry of Education, Huazhong Agricultural University, Wuhan 430070, Hubei, China

2

Agriculture and Animal Husbandry College of Tibet University, Linzhi 860000, Tibet, China

*

Author to whom correspondence should be addressed.

Received: 12 April 2014 / Revised: 12 May 2014 / Accepted: 14 May 2014 / Published: 28 May 2014
Abstract
MicroRNAs (miRNAs) play a key role in many biological processes by regulating gene expression at the post-transcriptional level. A number of miRNAs have been identified from livestock species. However, compared with other animals, such as pigs and cows, the number of miRNAs identified in goats is quite low, particularly in hair follicles. In this study, to investigate the functional roles of miRNAs in goat hair follicles of goats with different coat colors, we sequenced miRNAs from two hair follicles samples (white and black) using Solexa sequencing. A total of 35,604,016 reads were obtained, which included 30,878,637 clean reads (86.73%). MiRDeep2 software identified 214 miRNAs. Among them, 205 were conserved among species and nine were novel miRNAs. Furthermore, DESeq software identified six differentially expressed miRNAs. Quantitative PCR confirmed differential expression of two miRNAs, miR-10b and miR-211. KEGG pathways were analyzed using the DAVID website for the predicted target genes of the differentially expressed miRNAs. Several signaling pathways including Notch and MAPK pathways may affect the process of coat color formation. Our study showed that the identified miRNAs might play an essential role in black and white follicle formation in goats.
View Full-Text
►

▼

Figures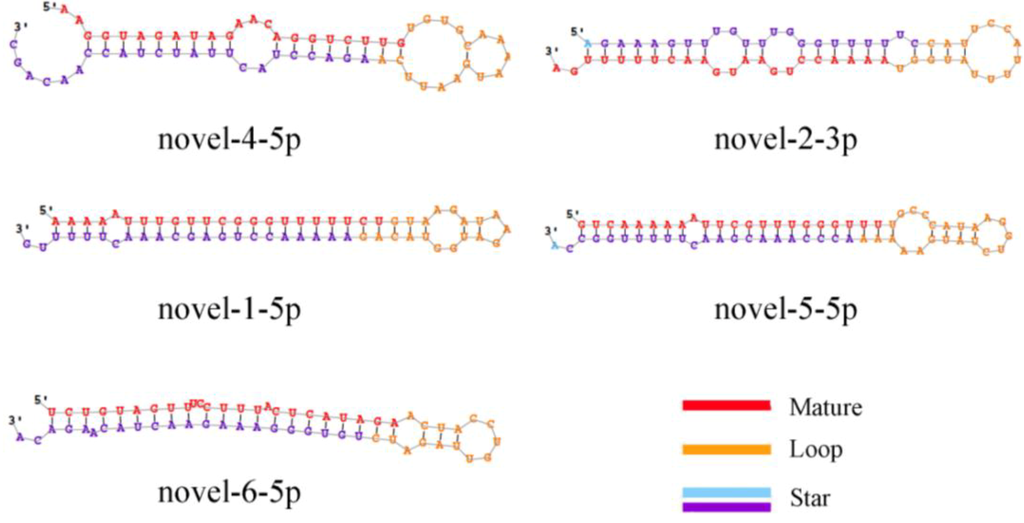 Figure 1

Share & Cite This Article
MDPI and ACS Style
Wu, Z.; Fu, Y.; Cao, J.; Yu, M.; Tang, X.; Zhao, S. Identification of Differentially Expressed miRNAs between White and Black Hair Follicles by RNA-Sequencing in the Goat (Capra hircus). Int. J. Mol. Sci. 2014, 15, 9531-9545.
Related Articles
Comments
[Return to top]