Regulation of an Autoimmune Model for Multiple Sclerosis in Th2-Biased GATA3 Transgenic Mice
1
Department of Microbiology and Immunology, Center for Tumor and Molecular Virology, Louisiana State University Health Sciences Center, Shreveport, LA 71130, USA
2
Department of Nephrology, Division of Clinical Medicine, Faculty of Medicine, University of Tsukuba, Tsukuba, Ibaraki 305-8575, Japan
3
Department of Anatomy and Embryology, Faculty of Medicine, International Institute for Integrative Sleep Medicine (WPI-IIIS), Life Science Center, Tsukuba Research Alliance (TARA), Laboratory Animal Resource Center (LARC), University of Tsukuba, 1-1-1 Tennoudai, Tsukuba, Ibaraki 305-8575, Japan
*
Author to whom correspondence should be addressed.
†
These authors contributed equally this work.
Received: 1 November 2013 / Revised: 11 January 2014 / Accepted: 14 January 2014 / Published: 23 January 2014
Abstract
T helper (Th)2 cells have been proposed to play a neuroprotective role in multiple sclerosis (MS). This is mainly based on "loss-of-function" studies in an animal model for MS, experimental autoimmune encephalomyelitis (EAE), using blocking antibodies against Th2 related cytokines, and knockout mice lacking Th2-related molecules. We tested whether an increase of Th2 responses ("gain-of-function" approach) could alter EAE, the approach of novel GATA binding protein 3 (GATA3)-transgenic (tg) mice that overexpress GATA3, a transcription factor required for Th2 differentiation. In EAE induced with myelin oligodendrocyte glycoprotein (MOG)
35−55
peptide, GATA3-tg mice had a significantly delayed onset of disease and a less severe maximum clinical score, compared with wild-type C57BL/6 mice. Histologically, GATA3-tg mice had decreased levels of meningitis and demyelination in the spinal cord, and anti-inflammatory cytokine profiles immunologically, however both groups developed similar levels of MOG-specific lymphoproliferative responses. During the early stage, we detected higher levels of interleukin (IL)-4 and IL-10, with MOG and mitogen stimulation of regional lymph node cells in GATA3-tg mice. During the late stage, only mitogen stimulation induced higher IL-4 and lower interferon-γ and IL-17 production in GATA3-tg mice. These results suggest that a preexisting bias toward a Th2 immune response may reduce the severity of inflammatory demyelinating diseases, including MS.
View Full-Text
►

▼

Figures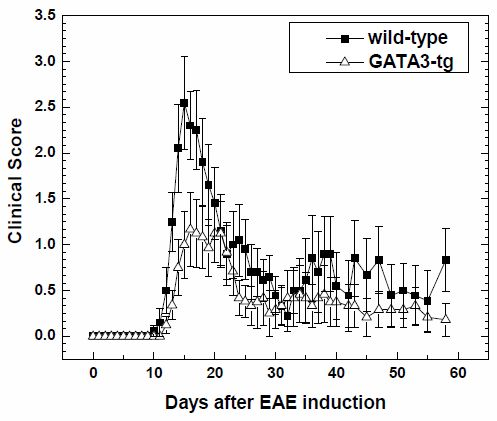 Graphical abstract

Share & Cite This Article
MDPI and ACS Style
Fernando, V.; Omura, S.; Sato, F.; Kawai, E.; Martinez, N.E.; Elliott, S.F.; Yoh, K.; Takahashi, S.; Tsunoda, I. Regulation of an Autoimmune Model for Multiple Sclerosis in Th2-Biased GATA3 Transgenic Mice. Int. J. Mol. Sci. 2014, 15, 1700-1718.
Related Articles
Comments
[Return to top]