Inhibitory Effects of Benzaldehyde Derivatives from the Marine Fungus
Eurotium

sp. SF-5989 on Inflammatory Mediators via the Induction of Heme Oxygenase-1 in Lipopolysaccharide-Stimulated RAW264.7 Macrophages

1

College of Pharmacy, Wonkwang University, Iksan 570-749, Korea

2

Professional Graduate School of Oriental Medicine, Wonkwang University, Iksan 570-749, Korea

3

Key Laboratory of Natural Resources and Functional Molecules of the Changbai Mountain, Affiliated Ministry of Education, Yanbian University College of Pharmacy, 977 Gongyuan Road, Yanji 133002, China

4

Inha Research Institute for Medical Sciences, Inha University School of Medicine, Incheon 400-712, Korea

5

College of Medical and Life Sciences, Silla University, Busan 617-736, Korea

6

Korea Polar Research Institute, KORDI, 7-50 Songdo-dong, Yeonsu-gu, Incheon 406-840, Korea

†

These authors contributed equally to this work.

*

Authors to whom correspondence should be addressed.

Received: 23 September 2014 / Revised: 10 December 2014 / Accepted: 12 December 2014 / Published: 19 December 2014
Abstract
Two benzaldehyde derivatives, flavoglaucin (
1
) and isotetrahydro-auroglaucin (
2
), were isolated from the marine fungus
Eurotium
sp. SF-5989 through bioassay- and
1
H NMR-guided investigation. In this study, we evaluated the anti-inflammatory effects of these compounds in lipopolysaccharide (LPS)-stimulated RAW264.7 macrophages. We demonstrated that compounds
1
and
2
markedly inhibited LPS-induced nitric oxide (NO) and prostaglandin E2 (PGE
2
) production by suppressing inducible nitric oxide synthase (iNOS) and cyclooxygenase-2 (COX-2) protein expression without affecting cell viability. We also demonstrated that the compounds reduced the secretion of pro-inflammatory cytokines such as tumor necrosis factor-α (TNF-α), interleukin-1β (IL-1β) and interleukin-6 (IL-6). Furthermore, compounds
1
and
2
inhibited LPS-induced nuclear factor-κB (NF-κB) activation by suppressing phosphorylation of IkappaB (IκB). These results indicated that the anti-inflammatory effects of these benzaldehyde derivatives in LPS-stimulated RAW264.7 macrophages were due to the inactivation of the NF-κB pathway. In addition, compounds
1
and
2
induced heme oxygenase-1 (HO-1) expression through the nuclear transcription factor-E2–related factor 2 (Nrf2) translocation. The inhibitory effects of compounds
1
and
2
on the production of pro-inflammatory mediators and on NF-κB binding activity were reversed by HO-1 inhibitor tin protoporphyrin (SnPP). Thus, the anti-inflammatory effects of compounds
1
and
2
also correlated with their ability of inducing HO-1 expression.
View Full-Text
►

▼

Figures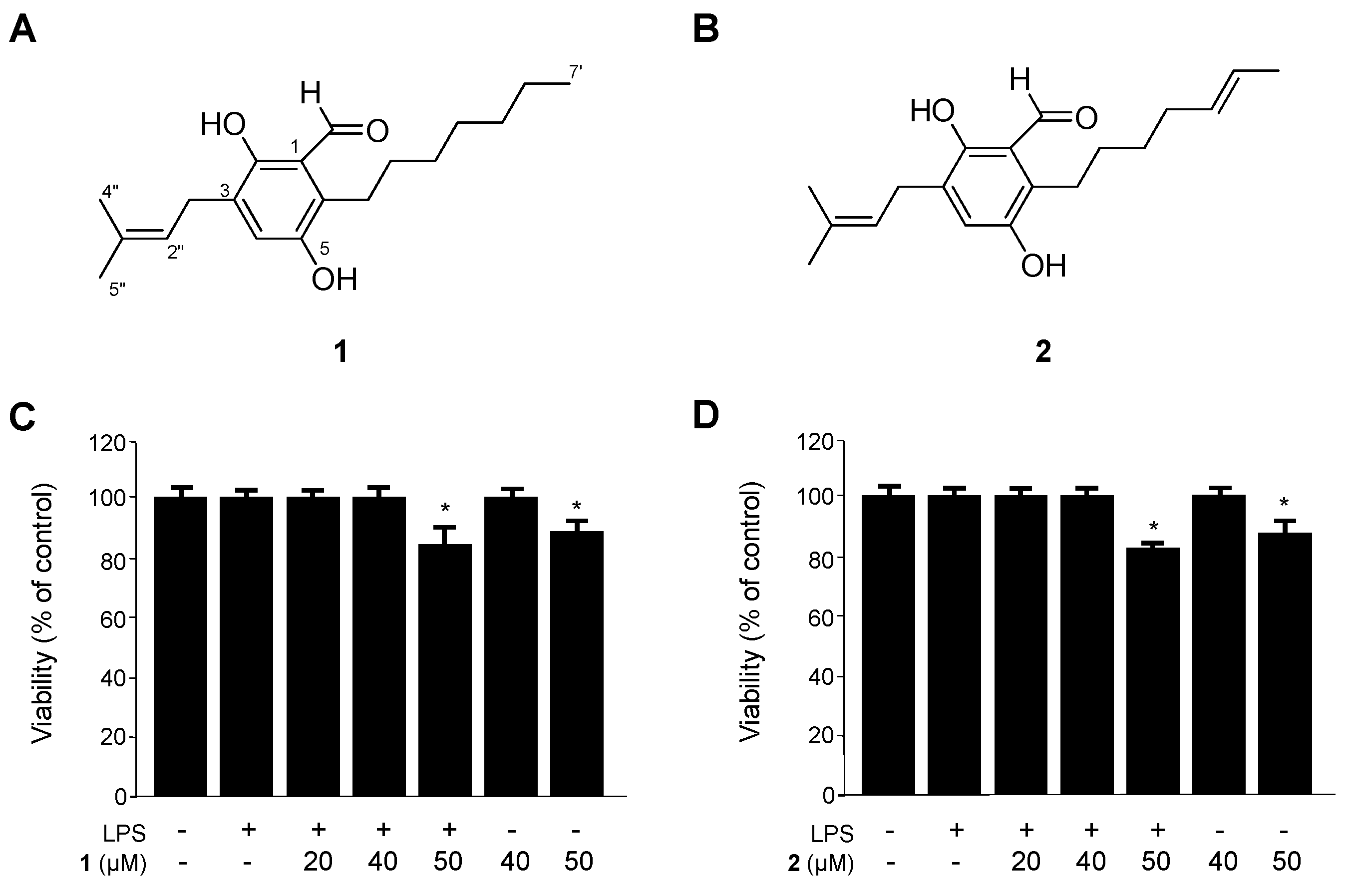 Figure 1
This is an open access article distributed under the
Creative Commons Attribution License
which permits unrestricted use, distribution, and reproduction in any medium, provided the original work is properly cited (CC BY 4.0).

Share & Cite This Article
MDPI and ACS Style
Kim, K.-S.; Cui, X.; Lee, D.-S.; Ko, W.; Sohn, J.H.; Yim, J.H.; An, R.-B.; Kim, Y.-C.; Oh, H. Inhibitory Effects of Benzaldehyde Derivatives from the Marine Fungus Eurotium sp. SF-5989 on Inflammatory Mediators via the Induction of Heme Oxygenase-1 in Lipopolysaccharide-Stimulated RAW264.7 Macrophages. Int. J. Mol. Sci. 2014, 15, 23749-23765.
Related Articles
Comments
[Return to top]