Reactivation of Hepatitis B Virus in Hematopoietic Stem Cell Transplant Recipients in Japan: Efficacy of Nucleos(t)ide Analogues for Prevention and Treatment
1
Department of Molecular Virology, Graduate School of Medicine, Chiba University, 1-8-1 Inohana, Chuo-ku, Chiba 260-8677, Japan
2
Department of Gastroenterology and Nephrology, Graduate School of Medicine, Chiba University, 1-8-1 Inohana, Chuo-ku, Chiba 260-8677, Japan
3
Department of Hematology, Chiba University Hospital, 1-8-1 Inohana, Chuo-ku, Chiba 260-8670, Japan
4
Division of Transfusion Medicine and Cell Therapy, Chiba University Hospital, 1-8-1 Inohana, Chuo-ku, Chiba 260-8670, Japan
*
Author to whom correspondence should be addressed.
†
These authors contributed equally to this work.
Received: 12 October 2014 / Revised: 11 November 2014 / Accepted: 18 November 2014 / Published: 21 November 2014
Abstract
We retrospectively reviewed 413 recipients with hematologic malignancies who underwent hematopoietic stem cell transplantation (HSCT) between June 1986 and March 2013. Recipients with antibody to hepatitis B core antigen (anti-HBc) and/or to hepatitis B surface antigen (anti-HBs) were regarded as experiencing previous hepatitis B virus (HBV) infection. Clinical data of these recipients were reviewed from medical records. We defined ≥1 log IU/mL increase in serum HBV DNA from nadir as HBV reactivation in hepatitis B surface antigen (HBsAg)-positive recipients, and also defined ≥1 log IU/mL increase or re-appearance of HBV DNA and/or HBsAg as HBV reactivation in HBsAg-negative recipients. In 5 HBsAg-positive recipients, 2 recipients initially not administered with nucleos(t)ide analogues (NUCs) experienced HBV reactivation, but finally all 5 were successfully controlled with NUCs. HBV reactivation was observed in 11 (2.7%) of 408 HBsAg-negative recipients; 8 of these were treated with NUCs, and fortunately none developed acute liver failure. In 5 (6.0%) of 83 anti-HBc and/or anti-HBs-positive recipients, HBV reactivation occurred. None of 157 (0%) recipients without HBsAg, anti-HBs or anti-HBc experienced HBV reactivation. In HSCT recipients, HBV reactivation is a common event in HBsAg-positive recipients, or in HBsAg-negative recipients with anti-HBc and/or anti-HBs. Further attention should be paid to HSCT recipients with previous exposure to HBV.
View Full-Text
►

▼

Figures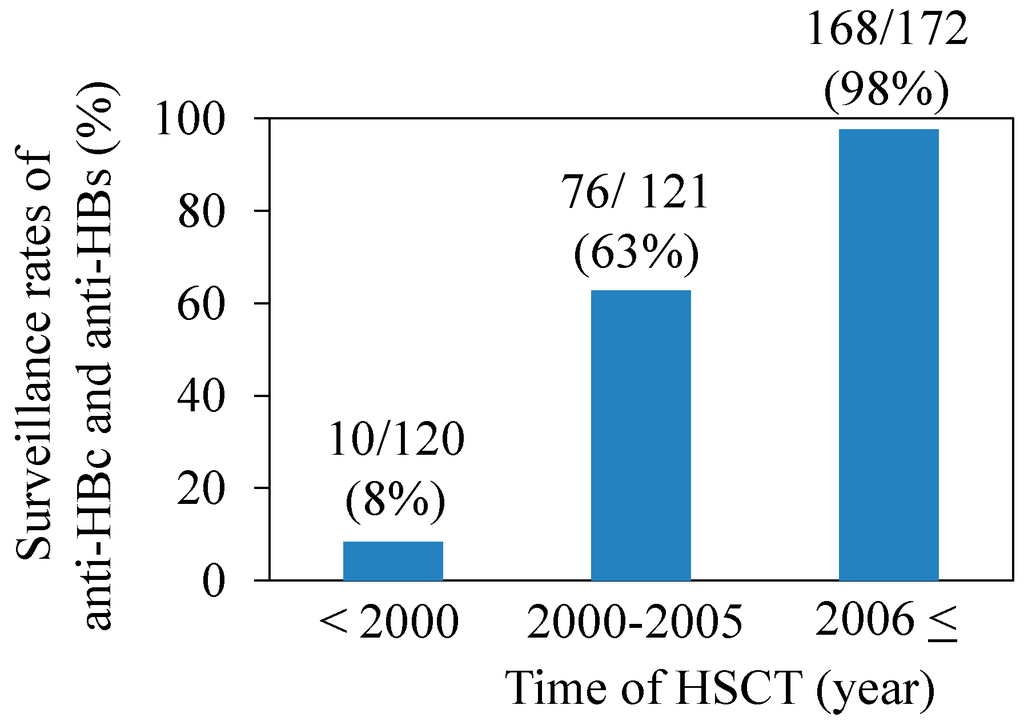 Figure 1
This is an open access article distributed under the
Creative Commons Attribution License
which permits unrestricted use, distribution, and reproduction in any medium, provided the original work is properly cited (CC BY 4.0).

Share & Cite This Article
MDPI and ACS Style
Nakamoto, S.; Kanda, T.; Nakaseko, C.; Sakaida, E.; Ohwada, C.; Takeuchi, M.; Takeda, Y.; Mimura, N.; Iseki, T.; Wu, S.; Arai, M.; Imazeki, F.; Saito, K.; Shirasawa, H.; Yokosuka, O. Reactivation of Hepatitis B Virus in Hematopoietic Stem Cell Transplant Recipients in Japan: Efficacy of Nucleos(t)ide Analogues for Prevention and Treatment. Int. J. Mol. Sci. 2014, 15, 21455-21467.
Related Articles
Comments
[Return to top]