TCDD Induces the Hypoxia-Inducible Factor (HIF)-1α Regulatory Pathway in Human Trophoblastic JAR Cells
1
Graduate Institute of Medical Science, College of Medicine, Taipei Medical University, Taipei 110, Taiwan
2
School of Medical Laboratory Science and Biotechnology, College of Medical Science and Technology, Taipei Medical University, Taipei 110, Taiwan
3
Department of Obstetrics and Gynecology, Cathay General Hospital, Taipei 110, Taiwan
4
Center for Reproductive Medicine & Sciences Taipei Medical University Hospital, Taipei 110, Taiwan
5
Department of Obstetrics and Gynecology, Taipei Medical University Hospital, Taipei 110, Taiwan
*
Author to whom correspondence should be addressed.
†
These authors contributed equally to this study.
Received: 14 August 2014 / Revised: 19 September 2014 / Accepted: 22 September 2014 / Published: 30 September 2014
Abstract
The exposure to dioxin can compromise pregnancy outcomes and increase the risk of preterm births. 2,3,7,8-Tetrachlorodibenzo-
p
-dioxin (TCDD) has been demonstrated to induce placental hypoxia at the end of pregnancy in a rat model, and hypoxia has been suggested to be the cause of abnormal trophoblast differentiation and placental insufficiency syndromes. In this study, we demonstrate that the non-hypoxic stimulation of human trophoblastic cells by TCDD strongly increased hypoxia inducible factor-1 alpha (HIF-1α) stabilization. TCDD exposure induced the generation of reactive oxygen species (ROS) and nitric oxide. TCDD-induced HIF-1α stabilization and Akt phosphorylation was inhibited by pretreatment with wortmannin (a phosphatidylinositol 3-kinase (PI3K) inhibitor) or
N
-acetylcysteine (a ROS scavenger). The augmented HIF-1α stabilization by TCDD occurred via the ROS-dependent activation of the PI3K/Akt pathway. Additionally, a significant increase in invasion and metallomatrix protease-9 activity was found in TCDD-treated cells. The gene expression of vascular endothelial growth factor and placental growth factor was induced upon TCDD stimulation, whereas the protein levels of peroxisome proliferator-activated receptor γ (PPARγ), PPARγ coactivator-1α, mitochondrial transcription factor, and uncoupling protein 2 were decreased. Our results indicate that an activated HIF-1α pathway, elicited oxidative stress, and induced metabolic stress contribute to TCDD-induced trophoblastic toxicity. These findings may provide molecular insight into the TCDD-induced impairment of trophoblast function and placental development.
View Full-Text
►

▼

Figures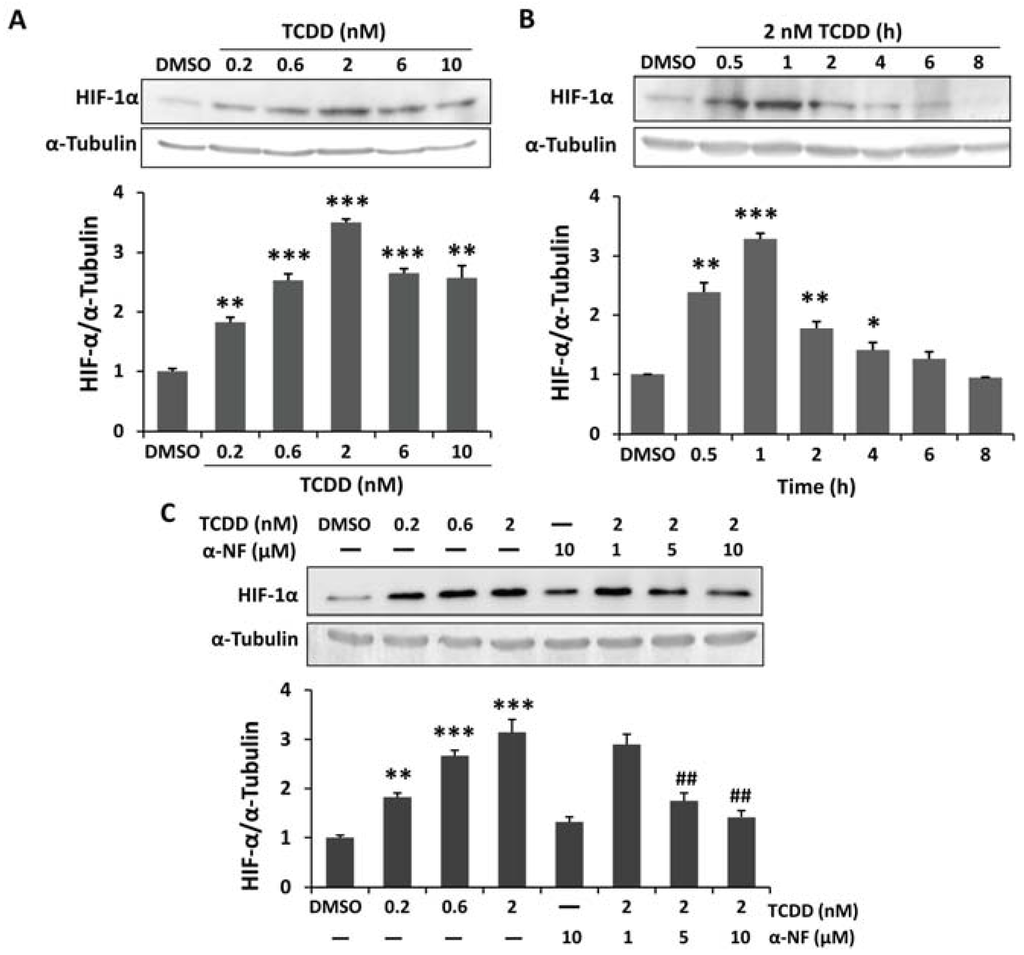 Figure 1
This is an open access article distributed under the
Creative Commons Attribution License
which permits unrestricted use, distribution, and reproduction in any medium, provided the original work is properly cited (CC BY 4.0).

Share & Cite This Article
MDPI and ACS Style
Liao, T.-L.; Chen, S.-C.; Tzeng, C.-R.; Kao, S.-H. TCDD Induces the Hypoxia-Inducible Factor (HIF)-1α Regulatory Pathway in Human Trophoblastic JAR Cells. Int. J. Mol. Sci. 2014, 15, 17733-17750.
Related Articles
Comments
[Return to top]