Molecular Modeling and MM-PBSA Free Energy Analysis of Endo-1,4-β-Xylanase from
Ruminococcus albus

8

1

Key Laboratory for Molecular Enzymology and Engineering of Ministry of Education, Jilin University, Changchun 130023, China

2

College of Food Science and Engineering, Jilin Agricultural University, Changchun 130118, China

3

State Key Laboratory of Theoretical and Computational Chemistry, Institute of Theoretical Chemistry, Jilin University, Changchun 130023, China

*

Author to whom correspondence should be addressed.

†

These authors contributed equally to this work.

Received: 23 June 2014 / Revised: 11 September 2014 / Accepted: 15 September 2014 / Published: 26 September 2014
Abstract
Endo-1,4-β-xylanase (EC 3.2.1.8) is the enzyme from
Ruminococcus albus
8 (
R. albus
8) (Xyn10A), and catalyzes the degradation of arabinoxylan, which is a major cell wall non-starch polysaccharide of cereals. The crystallographic structure of Xyn10A is still unknown. For this reason, we report a computer-assisted homology study conducted to build its three-dimensional structure based on the known sequence of amino acids of this enzyme. In this study, the best similarity was found with the
Clostridium thermocellum
(
C. thermocellum
)
N
-terminal endo-1,4-β-d-xylanase 10 b. Following the 100 ns molecular dynamics (MD) simulation, a reliable model was obtained for further studies. Molecular Mechanics/Poisson-Boltzmann Surface Area (MM-PBSA) methods were used for the substrate xylotetraose having the reactive sugar, which was bound in the −1 subsite of Xyn10A in the
4
C
1
(chair) and
2
SO
(skew boat) ground state conformations. According to the simulations and free energy analysis, Xyn10A binds the substrate with the −1 sugar in the
2
SO
conformation 39.27 kcal·mol
−1
tighter than the substrate with the sugar in the
4
C
1
conformation. According to the Xyn10A-
2
SO
Xylotetraose (X4(sb) interaction energies, the most important subsite for the substrate binding is subsite −1. The results of this study indicate that the substrate is bound in a skew boat conformation with Xyn10A and the −1 sugar subsite proceeds from the
4
C
1
conformation through
2
S
O
to the transition state. MM-PBSA free energy analysis indicates that Asn187 and Trp344 in subsite −1 may an important residue for substrate binding. Our findings provide fundamental knowledge that may contribute to further enhancement of enzyme performance through molecular engineering.
View Full-Text
►

▼

Figures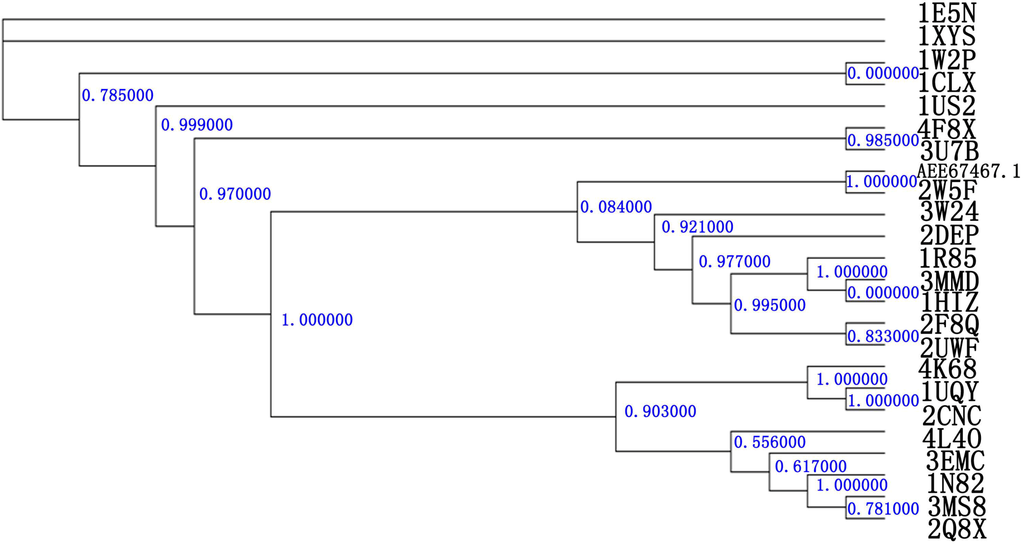 Figure 1
This is an open access article distributed under the
Creative Commons Attribution License
which permits unrestricted use, distribution, and reproduction in any medium, provided the original work is properly cited (CC BY 4.0).

Share & Cite This Article
MDPI and ACS Style
Zhan, D.; Yu, L.; Jin, H.; Guan, S.; Han, W. Molecular Modeling and MM-PBSA Free Energy Analysis of Endo-1,4-β-Xylanase from Ruminococcus albus 8. Int. J. Mol. Sci. 2014, 15, 17284-17303.
Related Articles
Comments
[Return to top]