Sildenafil Attenuates Inflammation and Oxidative Stress in Pelvic Ganglia Neurons after Bilateral Cavernosal Nerve Damage
1
Division of Endocrinology, Metabolism and Molecular Medicine, Department of Internal Medicine, Charles R. Drew University of Medicine and Science, 1731 East 120th Street, Los Angeles, CA 90059, USA
2
Department of Health and Life Science, College of Science and Health, Charles R. Drew University of Medicine and Science, Los Angeles, CA 90059, USA
3
Los Angeles Biomedical Research Institute, Harbor-University of California Los Angeles, Torrance, CA 90502, USA
4
Department of Urology, David Geffen School of Medicine, University of California Los Angeles, Los Angeles, CA 90095, USA
5
Department of Medicine, David Geffen School of Medicine, University of California Los Angeles, Los Angeles, CA 90095, USA
*
Author to whom correspondence should be addressed.
Received: 13 July 2014 / Revised: 9 September 2014 / Accepted: 16 September 2014 / Published: 26 September 2014
Abstract
Erectile dysfunction is a common complication for patients undergoing surgeries for prostate, bladder, and colorectal cancers, due to damage of the nerves associated with the major pelvic ganglia (MPG). Functional re-innervation of target organs depends on the capacity of the neurons to survive and switch towards a regenerative phenotype. PDE5 inhibitors (PDE5i) have been successfully used in promoting the recovery of erectile function after cavernosal nerve damage (BCNR) by up-regulating the expression of neurotrophic factors in MPG. However, little is known about the effects of PDE5i on markers of neuronal damage and oxidative stress after BCNR. This study aimed to investigate the changes in gene and protein expression profiles of inflammatory, anti-inflammatory cytokines and oxidative stress related-pathways in MPG neurons after BCNR and subsequent treatment with sildenafil. Our results showed that BCNR in Fisher-344 rats promoted up-regulation of cytokines (interleukin- 1 (IL-1) β, IL-6, IL-10, transforming growth factor β 1 (TGFβ1), and oxidative stress factors (Nicotinamide adenine dinucleotide phosphate (NADPH) oxidase, Myeloperoxidase (MPO), inducible nitric oxide synthase (iNOS), TNF receptor superfamily member 5 (CD40) that were normalized by sildenafil treatment given in the drinking water. In summary, PDE5i can attenuate the production of damaging factors and can up-regulate the expression of beneficial factors in the MPG that may ameliorate neuropathic pain, promote neuroprotection, and favor nerve regeneration.
View Full-Text
►

▼

Figures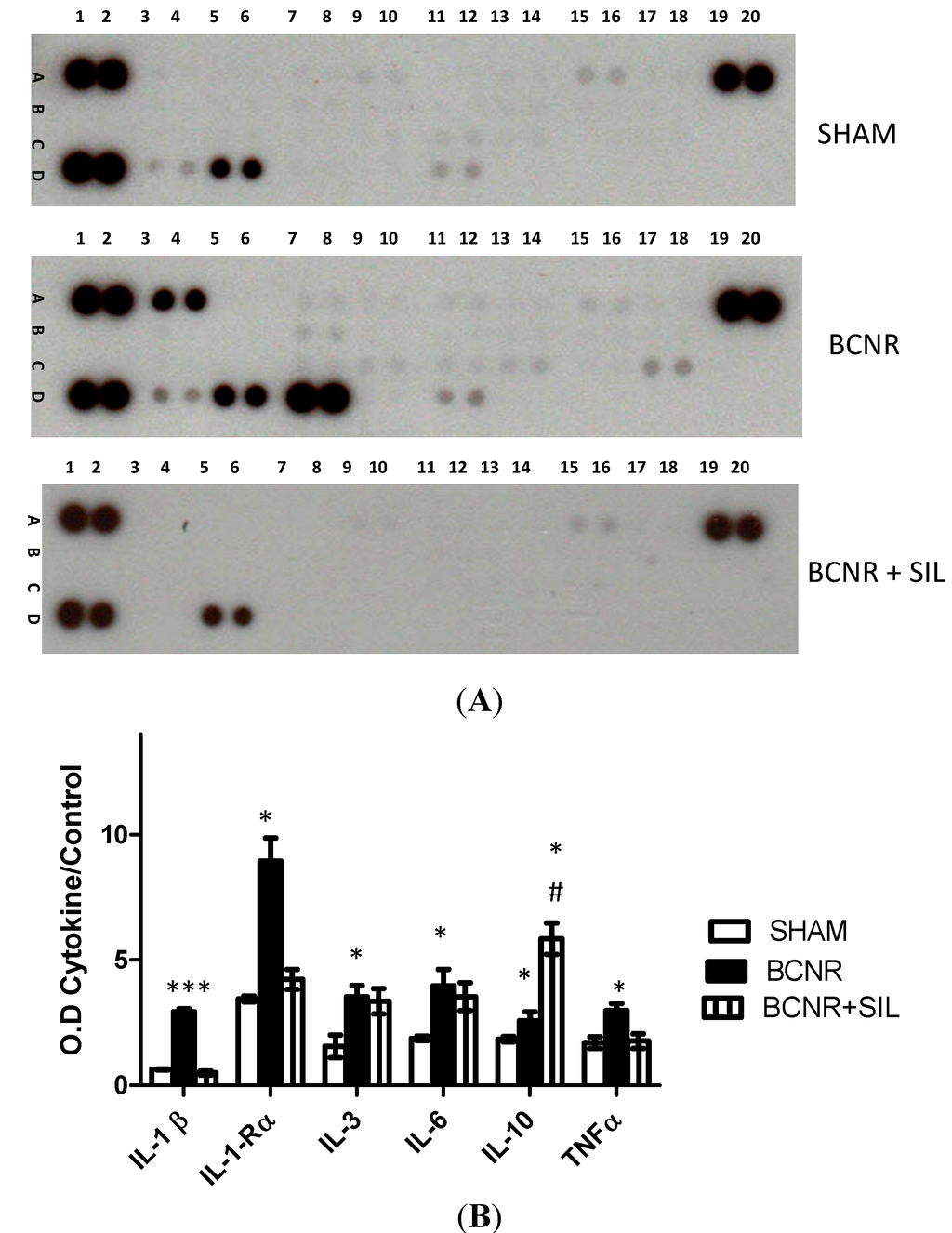 Figure 1
This is an open access article distributed under the
Creative Commons Attribution License
which permits unrestricted use, distribution, and reproduction in any medium, provided the original work is properly cited (CC BY 4.0).

Share & Cite This Article
MDPI and ACS Style
Garcia, L.A.; Hlaing, S.M.; Gutierrez, R.A.; Sanchez, M.D.; Kovanecz, I.; Artaza, J.N.; Ferrini, M.G. Sildenafil Attenuates Inflammation and Oxidative Stress in Pelvic Ganglia Neurons after Bilateral Cavernosal Nerve Damage. Int. J. Mol. Sci. 2014, 15, 17204-17220.
Related Articles
Comments
[Return to top]