Modulation of Phytoalexin Biosynthesis in Engineered Plants for Disease Resistance
Laboratory of Stress, Defenses and Plant Reproduction, Research Unit "Vines and Wines of Champagne", UPRES EA 4707, Faculty of Sciences, University of Reims, P.O. Box 1039, Reims 51687, France
*
Author to whom correspondence should be addressed.
Received: 25 April 2013 / Revised: 19 June 2013 / Accepted: 25 June 2013 / Published: 8 July 2013
Abstract
Phytoalexins are
antimicrobial substances of low molecular weight produced by plants in response to infection or stress, which form part of their active defense mechanisms. Starting in the 1950's, research on phytoalexins has begun with biochemistry and bio-organic chemistry, resulting in the determination of their structure, their biological activity as well as mechanisms of their synthesis and their catabolism by microorganisms. Elucidation of the biosynthesis of numerous phytoalexins has permitted the use of molecular biology tools for the exploration of the genes encoding enzymes of their synthesis pathways and their regulators. Genetic manipulation of phytoalexins has been investigated to increase the disease resistance of plants. The first example of a disease resistance resulting from foreign phytoalexin expression in a novel plant has concerned a phytoalexin from grapevine which was transferred to tobacco. Transformations were then operated to investigate the potential of other phytoalexin biosynthetic genes to confer resistance to pathogens. Unexpectedly, engineering phytoalexins for disease resistance in plants seem to have been limited to exploiting only a few phytoalexin biosynthetic genes, especially those encoding stilbenes and some isoflavonoids. Research has rather focused on indirect approaches which allow modulation of the accumulation of phytoalexin employing transcriptional regulators or components of upstream regulatory pathways. Genetic approaches using gain- or less-of functions in phytoalexin engineering together with modulation of phytoalexin accumulation through molecular engineering of plant hormones and defense-related marker and elicitor genes have been reviewed.
View Full-Text
►

▼

Figures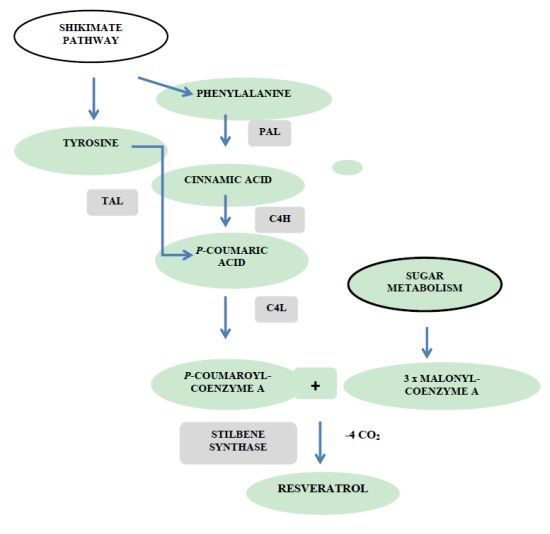 Graphical abstract

Share & Cite This Article
MDPI and ACS Style
Jeandet, P.; Clément, C.; Courot, E.; Cordelier, S. Modulation of Phytoalexin Biosynthesis in Engineered Plants for Disease Resistance. Int. J. Mol. Sci. 2013, 14, 14136-14170.
Related Articles
Comments
[Return to top]