Anti-Proliferative Activities and Apoptosis Induction by Triterpenes Derived from
Eriobotrya japonica

in Human Leukemia Cell Lines

1

Department of Pharmacognosy, Faculty of Pharmaceutical Sciences, Nagasaki International University, 2825-7 Huis Ten Bosch, Sasebo, Nagasaki 859-3298, Japan

2

Department of Immunology, Faculty of Pharmaceutical Sciences, Nagasaki International University, 2825-7 Huis Ten Bosch, Sasebo, Nagasaki 859-3298, Japan

3

Department of Pharmaceutical Health Care Sciences, Faculty of Pharmaceutical Sciences, Nagasaki International University, 2825-7 Huis Ten Bosch, Sasebo, Nagasaki 859-3298, Japan

*

Author to whom correspondence should be addressed.

Received: 19 December 2012 / Revised: 15 January 2013 / Accepted: 4 February 2013 / Published: 18 February 2013
Abstract
Eriobotrya japonica
leaf is a traditional herbal medicine that contains
numerous
triterpenes, which have various pharmacological properties. In this study, we investigated the anti-proliferative activity of four triterpenes derived from E. japonica
, including corosolic acid (CA),
ursolic acid (UA), maslinic acid (MA) and oleanolic acid (OA), in human leukemia cell lines. CA showed the strongest anti-proliferative activity in all of the leukemia cell lines tested, but not in normal human skin fibroblast cell lines. To determine the mechanism underlying the anti-proliferative effect of CA, we examined the effect of CA on molecular events known as apoptosis induction. CA induced chromatin condensation, DNA fragmentation, sub-G
1
phase DNA, activation of caspase-3, -8 and -9 and the cleavage of PARP in HL-60. CA also activated Bid and Bax, leading to the loss of mitochondrial membrane potential (∆ψ
m
) and cytochrome c release into the cytosol, whereas Bcl-2 and Bcl-xL were unaffected by CA. These results suggest that CA has an anti-proliferative effect on leukemia cells via the induction of apoptosis mediated by mitochondrial dysfunction and caspase activation. CA may be a potential chemotherapeutic agent for the treatment of human leukemia.
View Full-Text
►

▼

Figures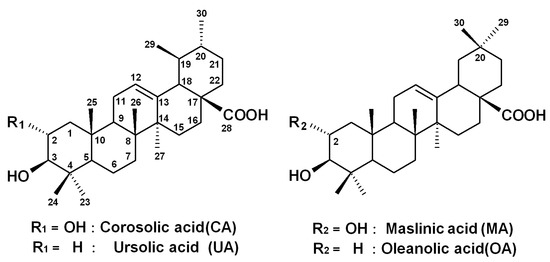 Figure 1

Share & Cite This Article
MDPI and ACS Style
Uto, T.; Sakamoto, A.; Tung, N.H.; Fujiki, T.; Kishihara, K.; Oiso, S.; Kariyazono, H.; Morinaga, O.; Shoyama, Y. Anti-Proliferative Activities and Apoptosis Induction by Triterpenes Derived from Eriobotrya japonica in Human Leukemia Cell Lines. Int. J. Mol. Sci. 2013, 14, 4106-4120.
Related Articles
Comments
[Return to top]