Pre-Treatment of Platinum Resistant Ovarian Cancer Cells with an MMP-9/MMP-2 Inhibitor Prior to Cisplatin Enhances Cytotoxicity as Determined by High Content Screening
1
Department of Obstetrics and Gynaecology, Trinity College Dublin, Trinity Centre for Health Sciences, St. James's Hospital, Dublin 8, Ireland
2
Department of Histopathology, Trinity College Dublin, Sir Patrick Duns Research Laboratory, St. James's Hospital and The Coombe Women and Infants University Hospital, Dublin 8, Ireland
3
Department of Clinical Medicine, Trinity College Dublin, Trinity Centre for Health Sciences, St. James's Hospital, Dublin 8, Ireland
4
Department of Histopathology, St. James's Hospital, Dublin 8, Ireland
†
These authors contributed equally to this work.
*
Authors to whom correspondence should be addressed.
Received: 7 November 2012 / Revised: 5 January 2013 / Accepted: 6 January 2013 / Published: 22 January 2013
Abstract
Platinum resistance is a major cause of treatment failure in ovarian cancer. We previously identified matrix metalloproteinase 9 (MMP-9) as a potential therapeutic target of chemoresistant disease. A2780cis (cisplatin-resistant) and A2780 (cisplatin-sensitive) ovarian carcinoma cell lines were used. The cytotoxic effect of MMP-9/MMP-2 inhibitor, (2
R
)-2-[(4-Biphenylsulfonyl) amino]-3 phenylpropionic acid (C21H19NO4S) alone or in combination with cisplatin was determined using high content screening. Protein expression was examined using immunohistochemistry and ELISA. Co-incubation of cisplatin and an MMP-9/MMP-2 inhibitor, (2
R
)-2-[(4-Biphenylsulfonyl) amino]-3 phenylpropionic acid (C21H19NO4S) resulted in significantly greater cytotoxicity as compared to either treatment alone in a cisplatin resistant MMP-9 overexpressing cell line; A2780cis. In addition, pre-incubating with MMP-9i prior to cisplatin further enhances the cytotoxic effect. No significant difference was observed in MMP-9 protein in tissue but a trend towards increased MMP-9 was observed in recurrent serum. We propose that MMP-9/MMP-2i may be utilized in the treatment of recurrent/chemoresistant ovarian cancers that overexpress MMP-9 mRNA but its role
in vivo
remains to be evaluated.
View Full-Text
►

▼

Figures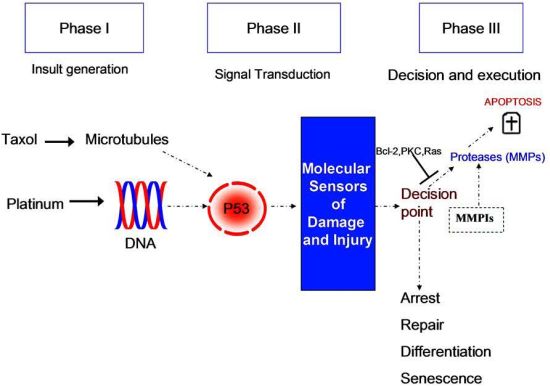 Graphical abstract

Share & Cite This Article
MDPI and ACS Style
Laios, A.; Mohamed, B.M.; Kelly, L.; Flavin, R.; Finn, S.; McEvoy, L.; Gallagher, M.; Martin, C.; Sheils, O.; Ring, M.; Davies, A.; Lawson, M.; Gleeson, N.; D'Arcy, T.; D'Adhemar, C.; Norris, L.; Langhe, R.; Saadeh, F.A.; O'Leary, J.J.; O'Toole, S.A. Pre-Treatment of Platinum Resistant Ovarian Cancer Cells with an MMP-9/MMP-2 Inhibitor Prior to Cisplatin Enhances Cytotoxicity as Determined by High Content Screening. Int. J. Mol. Sci. 2013, 14, 2085-2103.
Related Articles
Comments
[Return to top]