Analysis of the Endoplasmic Reticulum Subproteome in the Livers of Type 2 Diabetic Mice
1
Division of Life Science, Korea Basic Science Institute, Daejeon 305-806, Korea
2
Pioneer Research Center for Protein Network Exploration, Korea Basic Science Institute, Daejeon 305-806, Korea
3
Department of Functional Genomics, University of Science and Technology, Daejeon 305-350, Korea
4
Gwangju Center, Korea Basic Science Institute, Gwangju 500-757, Korea
5
Department of Bio-Analytical Science, University of Science and Technology, Daejeon 305-350, Korea
*
Authors to whom correspondence should be addressed.
†
These authors contributed equally to this work.
Received: 27 September 2012 / Revised: 30 November 2012 / Accepted: 12 December 2012 / Published: 17 December 2012
Abstract
Type 2 diabetes is a chronic metabolic disease that results from insulin resistance in the liver, muscle, and adipose tissue and relative insulin deficiency. The endoplasmic reticulum (ER) plays a crucial role in the regulation of the cellular response to insulin. Recently, ER stress has been known to reduce the insulin sensitivity of the liver and lead to type 2 diabetes. However, detailed mechanisms of ER stress response that leads to type 2 diabetes remains unknown. To obtain a global view of ER function in type 2 diabetic liver and identify proteins that may be responsible for hepatic ER stress and insulin resistance, we performed proteomics analysis of mouse liver ER using nano UPLC-MS
E
. A total of 1584 proteins were identified in control C57 and type 2 diabetic
db/db
mice livers. Comparison of the rER and sER proteomes from normal mice showed that proteins involved in protein synthesis and metabolic process were enriched in the rER, while those associated with transport and cellular homeostasis were localized to the sER. In addition, proteins involved in protein folding and ER stress were found only in the rER. In the livers of
db/db
mice, however, the functions of the rER and sER were severely disrupted, including the capacity to resolve ER stress. These results provide new insight into the research on hepatic insulin resistance and type 2 diabetes and are suggestive of the potential use of the differentially expressed hepatic ER proteins as biomarkers for hepatic insulin resistance and type 2 diabetes.
View Full-Text
►

▼

Figures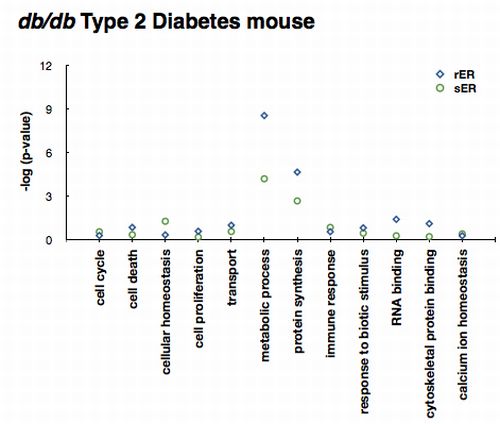 Graphical abstract

Share & Cite This Article
MDPI and ACS Style
Park, E.C.; Kim, G.-H.; Yun, S.-H.; Lim, H.L.; Hong, Y.; Kwon, S.-O.; Kwon, J.; Chung, Y.-H.; Kim, S.I. Analysis of the Endoplasmic Reticulum Subproteome in the Livers of Type 2 Diabetic Mice. Int. J. Mol. Sci. 2012, 13, 17230-17243.
Related Articles
Comments
[Return to top]