Synthesis and Biological Evaluation of Quinazoline-4-thiones
1
Faculty of Pharmacy in Hradec Králové, Charles University in Prague, Heyrovského 1205, 500 05 Hradec Králové, Czech Republic
2
Institute of Chemistry, Faculty of Natural Sciences, Comenius University, Mlynská dolina CH-2, 842 15 Bratislava, Slovak Republic
3
Department of Pharmacy, Division of Pharmacognosy, University of Helsinki, P.O. Box 56, (Viikinkaari 5), Helsinki, Finland
4
National Reference Laboratory for Mycobacterium Kansasii, Institute of Hygiene, 728 92 Ostrava, Czech Republic
*
Author to whom correspondence should be addressed.
Received: 25 August 2003 / Revised: 30 September 2003 / Accepted: 30 September 2003 / Published: 15 November 2003
Abstract
Several 2,2-dimethyl-3-phenyl-1,2-dihydroquinazoline-4(3H)-thiones and 2-methyl-3-phenylquinazoline-4(3H)-thiones were synthesized and tested for their antimycobacterial, photosynthesis-inhibiting, and antialgal activity. Antimycobacterially active compounds were found among the 6-chloro substituted compounds. 6-Chloro-3-(4-isopropylphenyl)-2-methylquinazoline-4(3H)-thione exhibited higher activity than the isoniazid standard against
Mycobacterium avium
and
M. kansasii
. Most of the compounds possessed photosynthesis-inhibiting activity. 6-Chloro-2,2-dimethyl-3-phenyl-1,2-dihydroquinazoline-4(3H)-thione and its 3´-chloro- and 3´,4´-dichloro analogs were most effective in the inhibition of oxygen evolution rate in spinach chloroplasts. Of compounds selected for toxicological screening, 6-chloro-3-(4-isopropylphenyl)-2-methyl-quinazoline-4(3H)-thione was the only one active in the brine shrimp bioassay.
View Full-Text
►

▼

Figures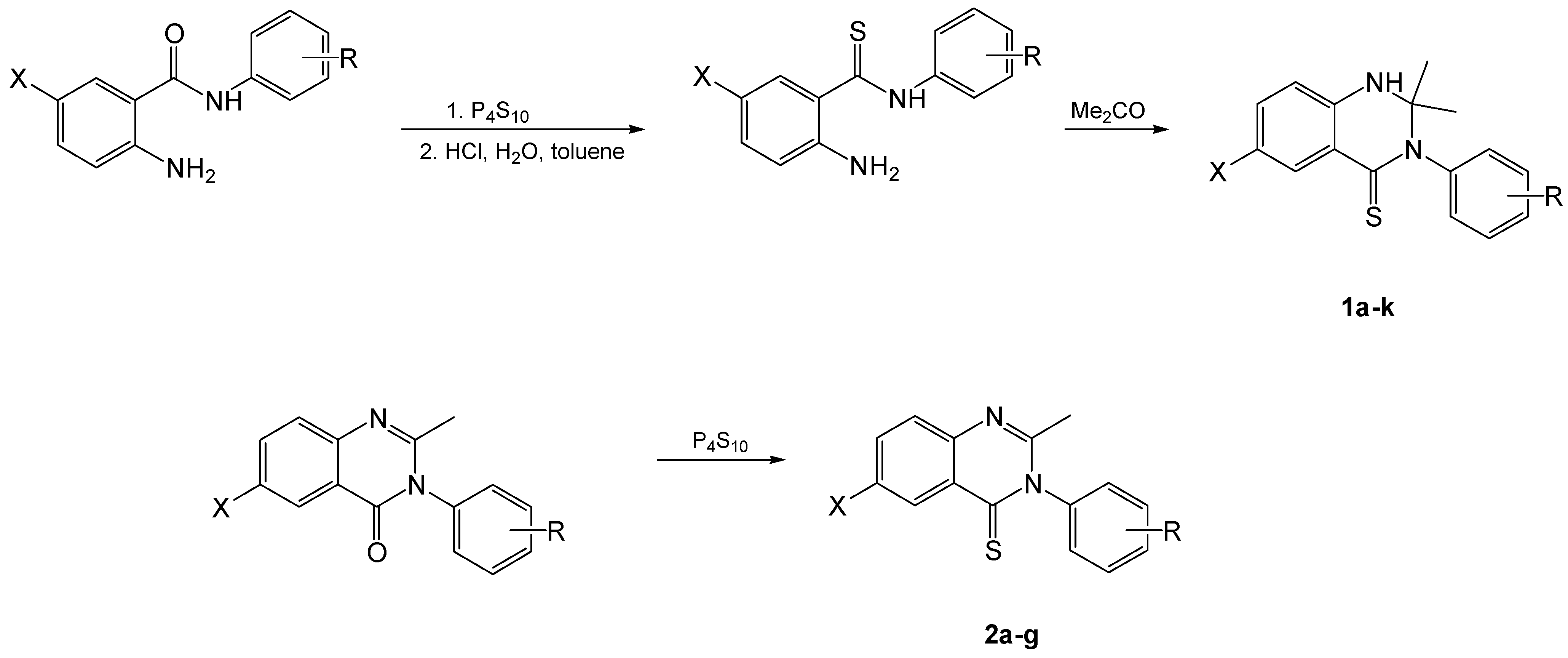 Figure 1

Share & Cite This Article
MDPI and ACS Style
Kubicová, L.; Šustr, M.; Kráľová, K.; Chobot, V.; Vytlačilová, J.; Jahodář, L.; Vuorela, P.; Macháček, M.; Kaustová, J. Synthesis and Biological Evaluation of Quinazoline-4-thiones. Molecules 2003, 8, 756-769.
Related Articles
Comments
[Return to top]