2,3-Bifunctionalized Quinoxalines: Synthesis, DNA Interactions and Evaluation of Anticancer, Anti-tuberculosis and Antifungal Activity
1
Department of Chemistry, Faculty of Sciences, University Mohammed 1er, Oujda 60000, Morocco
2
Department of Biology, Faculty of Sciences, University Mohammed 1er, Oujda 60000, Morocco
3
Department of Chemistry and Biochemistry, 1 University Plaza, Long Island University, Brooklyn, NY 11201, USA
4
Department of Pharmacology, University of Cambridge, Tennis Court Road, Cambridge, CB2 1QJ, UK
*
Author to whom correspondence should be addressed.
Received: 13 February 2002 / Revised: 8 August 2002 / Accepted: 10 August 2002 / Published: 30 August 2002
Abstract
A variety of 2,3-bifunctionalized quinoxalines (6-14) have been prepared by the condensation of 1,6-disubstituted-hexan-1,3,4,6-tetraones (1-4) with o-phenylenediamine, (R,R)-1,2-diaminocyclohexane and p-nitro-o-phenylenediamine. It is concluded that strong intramolecular N-H----O bonds in the favoured keto-enamine form may be responsible for the minimal biological activities observed in DNA footprinting, antitubercular, anti-fungal and anticancer tests with these hyper π-conjugated quinoxaline derivatives. However, subtle alteration by addition of a nitro group affecting the charge distribution confers significant improvements in biological effects and binding to DNA.
View Full-Text
►

▼

Figures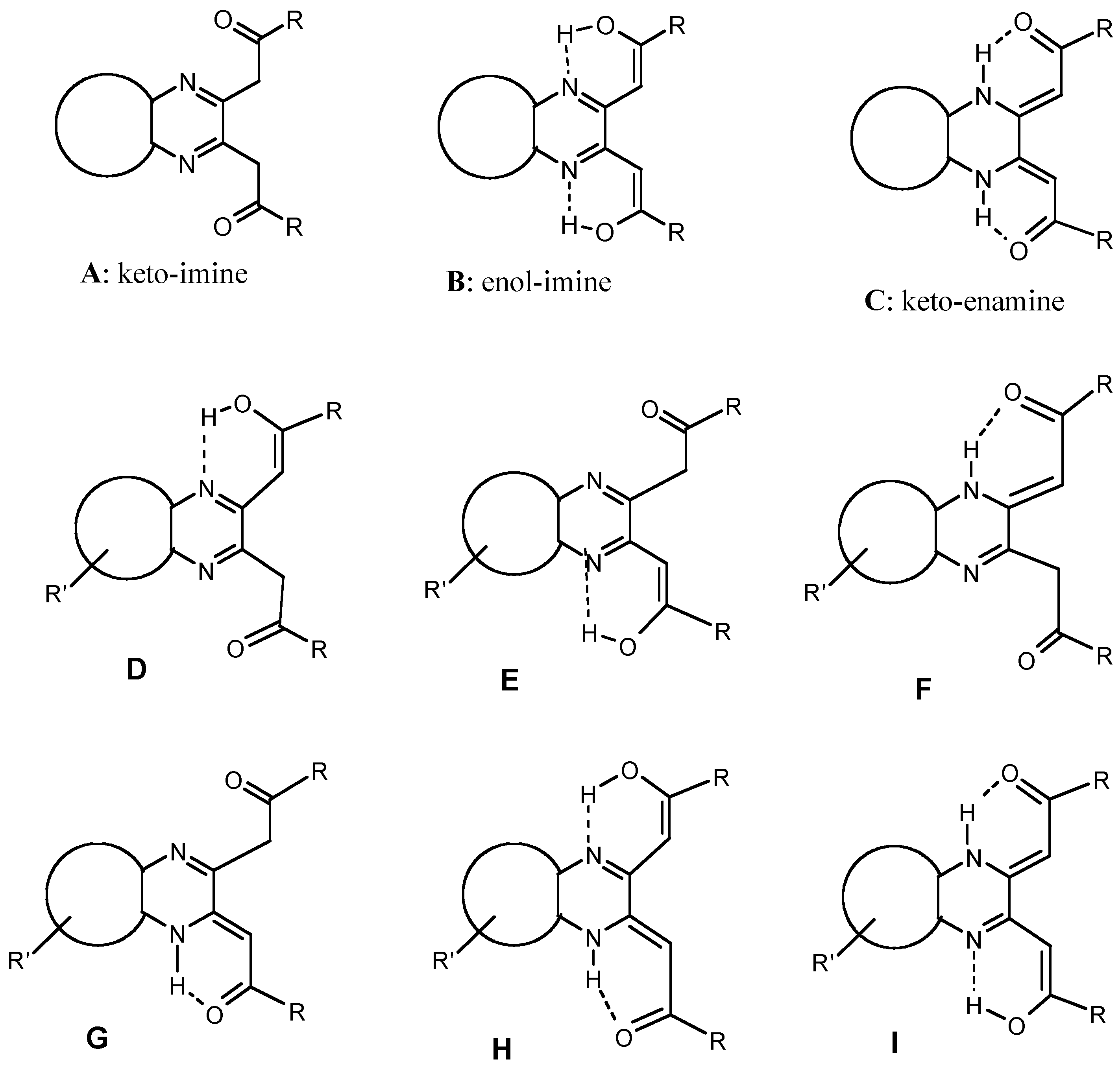 Figure 1

Share & Cite This Article
MDPI and ACS Style
Waring, M.J.; Ben-Hadda, T.; Kotchevar, A.T.; Ramdani, A.; Touzani, R.; Elkadiri, S.; Hakkou, A.; Bouakka, M.; Ellis, T. 2,3-Bifunctionalized Quinoxalines: Synthesis, DNA Interactions and Evaluation of Anticancer, Anti-tuberculosis and Antifungal Activity. Molecules 2002, 7, 641-656.
Related Articles
Comments
[Return to top]