π-Bond Screening in Benzonorbornadienes: The Role of 7-Substituents in Governing the Facial Selectivity for the Diels-Alder Reaction of Benzonorbornadienes with 3,6-Di(2-pyridyl)-s-Tetrazine
Centre for Molecular Architecture, Central Queensland University, Rockhampton, Queensland, 4702, Australia
*
Author to whom correspondence should be addressed.
Received: 3 November 2000 / Accepted: 6 November 2000 / Published: 31 March 2001
Abstract
Benzonorbornadiene 21, 7-spirocyclopropylbenzonorbornadiene 23, 7,7-dimethylbenzonorbornadiene 25, and 7-spirocyclopentylbenzonorbornadiene 27 have been reacted with 3,6-di(2-pyridyl)-s-tetrazine (rate: 21>23>25=27) to form symmetrical 4,5-dihydropyridazines which are stable towards fragmentation but rearrange with varying facility to their 1,4 isomers. The facial selectivity of attack on the π-bond changes from exo-attack for 21 and 23 to endo-attack for 25 and 27. The 7-spirocyclopropyl benzonorbornadiene 23 typically forms a mixture of dihydropyridazines with exo-stereochemistry, which undergo further stereochemical isomerisation to an exo-fused product upon acetylation (acetyl chloride in hot pyridine). Oxidation with DDQ of the dihydropyridazines individually or as mixtures gives the corresponding fused 3,6-di(2-pyridyl)pyridazines.
View Full-Text
►

▼

Figures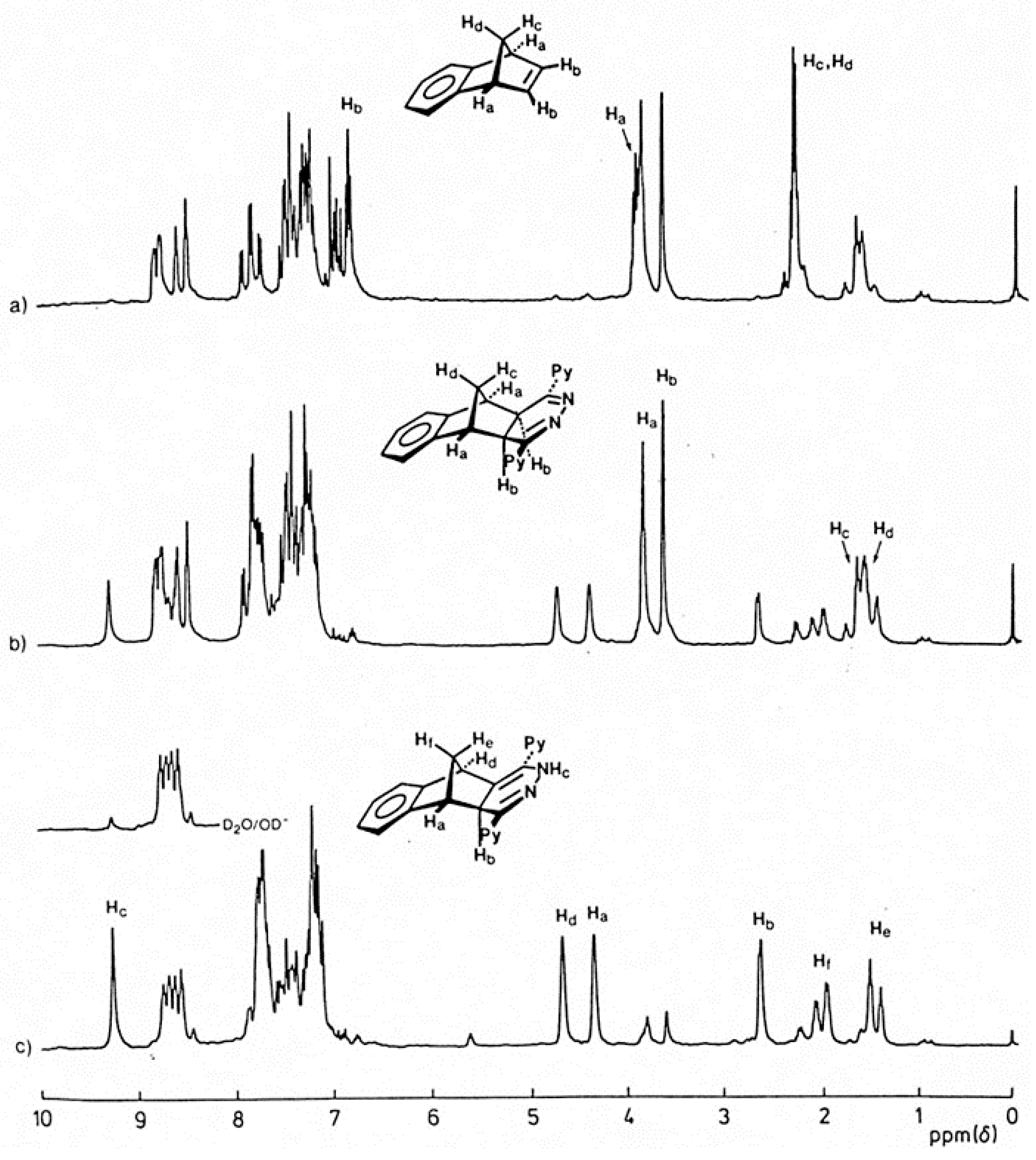 Figure 1

Share & Cite This Article
MDPI and ACS Style
Warrener, R.N.; Harrison, P.A. π-Bond Screening in Benzonorbornadienes: The Role of 7-Substituents in Governing the Facial Selectivity for the Diels-Alder Reaction of Benzonorbornadienes with 3,6-Di(2-pyridyl)-s-Tetrazine. Molecules 2001, 6, 353-369.
Related Articles
Comments
[Return to top]