Open Access This article is
freely available
re-usable
Review
Selective Upregulation by Theanine of Slc38a1 Expression in Neural Stem Cell for Brain Wellness
1
Department of Pharmacology, Osaka University Graduate School of Dentistry, Suita 565-0871, Japan
2
The Institute of Prophylactic Pharmacology, Kita-Shinagawa, Shinagawa, Tokyo 140-0001, Japan
3
Department of Pharmacology, Chiba Institute of Science Faculty of Pharmaceutical Sciences, Chiba 288-0025, Japan
4
Laboratory of Molecular Pharmacology, Setsunan University Faculty of Pharmaceutical Sciences, Hirakata 573-0101, Japan
*
Author to whom correspondence should be addressed.
Academic Editor: Derek J. McPhee
Received: 21 November 2019 / Accepted: 15 January 2020 / Published: 15 January 2020
Abstract
:
Theanine is an amino acid abundant in green tea with an amide moiety analogous to glutamine (GLN) rather than glutamic acid (Glu) and GABA, which are both well-known as amino acid neurotransmitters in the brain. Theanine has no polyphenol and flavonoid structures required for an anti-oxidative property as seen with catechins and tannins, which are more enriched in green tea. We have shown marked inhibition by this exogenous amino acid theanine of the uptake of [3H]GLN, but not of [3H]Glu, in rat brain synaptosomes. Beside a ubiquitous role as an endogenous amino acid, GLN has been believed to be a main precursor for the neurotransmitter Glu sequestered in a neurotransmitter pool at glutamatergic neurons in the brain. The GLN transporter solute carrier 38a1 (Slc38a1) plays a crucial role in the incorporation of extracellular GLN for the intracellular conversion to Glu by glutaminase and subsequent sequestration at synaptic vesicles in neurons. However, Slc38a1 is also expressed by undifferentiated neural progenitor cells (NPCs) not featuring a neuronal phenotype. NPCs are derived from a primitive stem cell endowed to proliferate for self-renewal and to commit differentiation to several daughter cell lineages such as neurons, astrocytes, and oligodendrocytes. In vitro culture with theanine leads to the marked promotion of the generation of new neurons together with selective upregulation of Slc38a1 transcript expression in NPCs. In this review, we will refer to a possible novel neurogenic role of theanine for brain wellness through a molecular mechanism relevant to facilitated neurogenesis with a focus on Slc38a1 expressed by undifferentiated NPCs on the basis of our accumulating findings to date.
Keywords:
theanine; glutamine transporter; Slc38a1; neural stem cell; mTOR; neurogenesis
Funding
This research received no external funding.
Conflicts of Interest
Yoneda is playing a role as a scientific advisor in Japan Detox, Co. Ltd. The other authors have no conflicts of interest to declare. The funder had no role in the design of the study; in the collection, analyses, or interpretation of data; in the writing of the manuscript, or in the decision to publish the results.
Abbreviations
ADHD: attention deficit hyperactivity disorder; AP1, activator protein-1; bHLH, basic helix-loop-helix; BrdU, 5-bromo-2′-deoxyuridine; CREB, cyclic AMP responsive element-binding protein; EAA, essential amino acids; GABA, γ-aminobutyric acid; GFP, green fluorescent protein; GLN, glutamine; GLNase; glutaminase; GLNT, glutamine transporter; Glu, glutamic acid; mTOR, mechanistic target of rapamycin; mTORC, mechanistic target of rapamycin complex; MTT, 3-(4,5-dimethyl-2-thiazolyl)-2,5-diphenyl-2H-tetrazolium bromide; NMDA, N-methyl-D-aspartic acid; NPCs, neural progenitor cells; NSCs, neural stem cells; Slc38a1, solute carrier 38a1; SNAT1, sodium-dependent neutral amino acid transporter-1; SGZ, subgranular zone; SVZ, subventricular zone.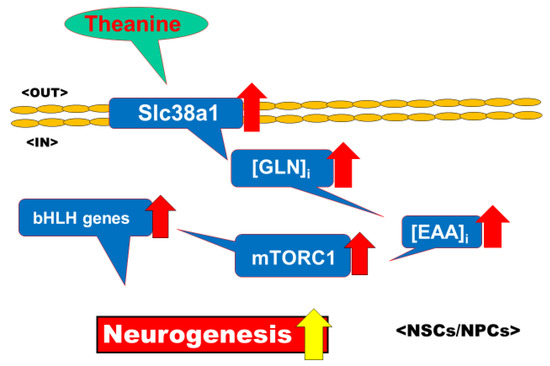 Figure 1. Proposed signaling from theanine to neurogenesis. Sustained exposure to theanine selectively up-regulates the expression of an isoform of glutamine transporter (GLNT), Slc38a1, among different adherent and trophic molecules endowed to modulate the properties of neural stem cells (NSCs) toward an increase in the intracellular glutamine (GLN) level in primitive NSCs/neural progenitor cells (NPCs) only, but not in daughter cells such as neurons and astrocytes. In exchange of intracellular GLN, the incorporation of extracellular essential amino acids (EAAs) is facilitated to activate mTORC1 phosphorylation signaling to upregulation of several basic helix-loop-helix (bHLH) transcription factors capable of promoting neurogenesis in NSCs/NPCs. In neurons and astrocytes, by contrast, theanine is unable to up-regulate the expression of Slc38a1, which is absolutely required for triggering the proposed signaling cascade.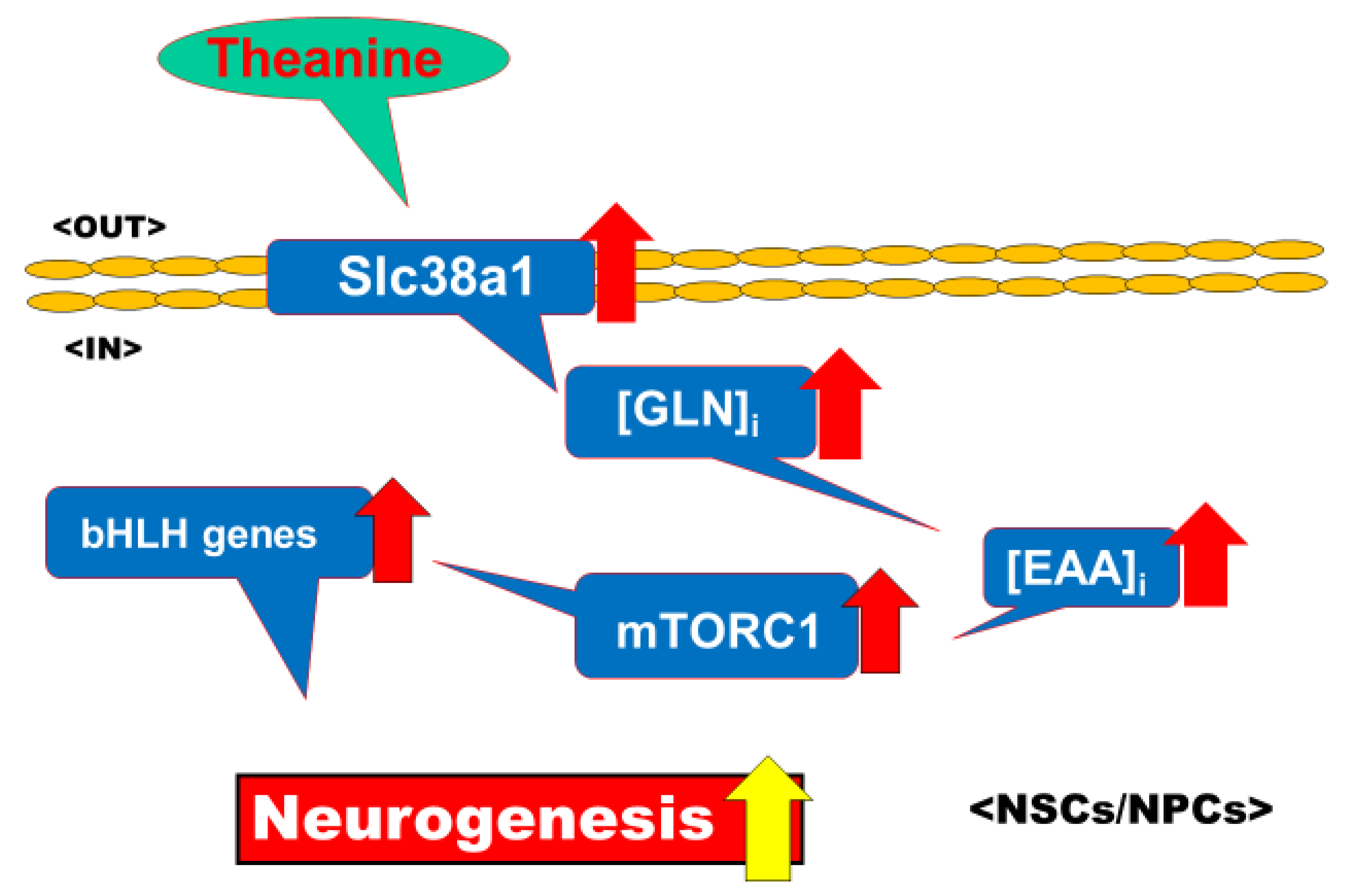 © 2020 by the authors. Licensee MDPI, Basel, Switzerland. This article is an open access article distributed under the terms and conditions of the Creative Commons Attribution (CC BY) license (http://creativecommons.org/licenses/by/4.0/).