An Opinion Paper on Aerogels for Biomedical and Environmental Applications
1
Department of Pharmacology, Pharmacy and Pharmaceutical Technology, R+D Pharma group (GI-1645), Faculty of Pharmacy and Health Research Institute of Santiago de Compostela (IDIS), Universidade de Santiago de Compostela, E-15782 Santiago de Compostela, Spain
2
MINES ParisTech, PSL Research University, CEMEF – Center for materials forming, UMR CNRS 7635, CS 10207, 06904 Sophia Antipolis, France
3
CIEPQPF, Department of Chemical Engineering, University of Coimbra, Rua Sílvio Lima, 3030-790 Coimbra, Portugal
4
Department of Chemical and Biological Engineering, Koç University, Sariyer, Istanbul 34450, Turkey
5
Department of Pharmacy, University of Salerno, I-84084 Fisciano (SA), Italy
6
Institute of Thermal Separation Processes, Hamburg University of Technology, Eißendorfer Straße 38, 21073 Hamburg, Germany
7
Laboratory for Building Energy Materials and Components, Swiss Federal Laboratories for Materials Science and Technology - Empa, Überlandstrasse 129, CH-8600 Dübendorf, Switzerland
8
Institute for Chemistry of Renewable Resources, University of Natural Resources and Life Sciences Vienna, Konrad-Lorenz-Straße 24, 3430 Tulln an der Donau, Austria
9
Immunology Department, "Victor Babes" National Institute of Pathology, 99-101 Splaiul Independentei, 050096 Bucharest, Romania
*
Author to whom correspondence should be addressed.
Received: 2 April 2019 / Revised: 2 May 2019 / Accepted: 8 May 2019 / Published: 10 May 2019
Abstract
Aerogels are a special class of nanostructured materials with very high porosity and tunable physicochemical properties. Although a few types of aerogels have already reached the market in construction materials, textiles and aerospace engineering, the full potential of aerogels is still to be assessed for other technology sectors. Based on current efforts to address the material supply chain by a circular economy approach and longevity as well as quality of life with biotechnological methods, environmental and life science applications are two emerging market opportunities where the use of aerogels needs to be further explored and evaluated in a multidisciplinary approach. In this opinion paper, the relevance of the topic is put into context and the corresponding current research efforts on aerogel technology are outlined. Furthermore, key challenges to be solved in order to create materials by design, reproducible process technology and society-centered solutions specifically for the two abovementioned technology sectors are analyzed. Overall, advances in aerogel technology can yield innovative and integrated solutions for environmental and life sciences which in turn can help improve both the welfare of population and to move towards cleaner and smarter supply chain solutions.
View Full-Text
►

▼

Figures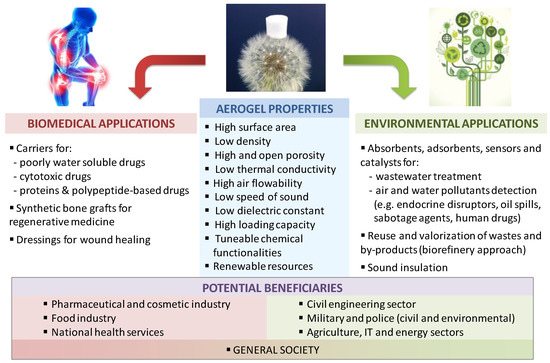 Figure 1
This is an open access article distributed under the
Creative Commons Attribution License
which permits unrestricted use, distribution, and reproduction in any medium, provided the original work is properly cited (CC BY 4.0).

Share & Cite This Article
MDPI and ACS Style
García-González, C.A.; Budtova, T.; Durães, L.; Erkey, C.; Del Gaudio, P.; Gurikov, P.; Koebel, M.; Liebner, F.; Neagu, M.; Smirnova, I. An Opinion Paper on Aerogels for Biomedical and Environmental Applications. Molecules 2019, 24, 1815.
Note that from the first issue of 2016, MDPI journals use article numbers instead of page numbers. See further details here.
Related Articles
Comments
[Return to top]