Fe3O4@C Matrix with Tailorable Adsorption Capacities for Paracetamol and Acetylsalicylic Acid: Synthesis, Characterization, and Kinetic Modeling
1
"Victor Babeș" University of Medicine and Pharmacy Timișoara, Faculty of Pharmacy, Eftimie Murgu Square no.2, Timișoara RO-300041, Romania
2
Politehnica University Timişoara, Faculty of Industrial Chemistry and Environmental Engineering, Victoriei Square no.2, Timişoara RO-300006, Romania
3
"Vasile Goldiş" Western University of Arad, The Institute of Life Sciences no.86, Liviu Rebreanu Street, RO-310414 Arad, Romania
4
"Victor Babeș" University of Medicine and Pharmacy Timișoara, Faculty of Medicine, Eftimie Murgu Square no.2, Timișoara RO-300041, Romania
*
Author to whom correspondence should be addressed.
†
These authors contributed equally to this work.
Received: 25 March 2019 / Revised: 16 April 2019 / Accepted: 29 April 2019 / Published: 3 May 2019
Abstract
In this study Fe
3
O
4
@C matrix was obtained by combustion method and used hereafter as adsorbent for paracetamol and acetylsalicylic acid removal from aqueous solutions. The Fe
3
O
4
@C matrix was characterized by electronic microscopy, X-ray diffraction, thermal analysis, Fourier-transform infrared spectroscopy, and magnetic measurements. Two kinetic models of pseudo first-order and pseudo-second-order for both paracetamol and acetylsalicylic acid were studied. The experimental data were investigated by Langmuir, Freundlich, and Redlich–Peterson adsorption isotherm models. The adsorption followed the Redlich–Peterson and pseudo-second-order models with correlation coefficients R
2
= 0.98593 and R
2
= 0.99996, respectively, for the adsorption of paracetamol; for the acetylsalicylic acid, the adsorption followed the Freundlich and pseudo-second-order model, with correlation coefficients R
2
= 0.99421 and R
2
= 0.99977, respectively. The equilibrium was quickly reached after approximately 1h for the paracetamol adsorption and approximately 2h for acetylsalicylic acid adsorption. According to the Langmuir isotherm, the maximum adsorption capacity of the magnetic matrix was 142.01 mg·g
−1
for the retention of paracetamol and 234.01 mg·g
−1
for the retention of acetylsalicylic acid. The benefits of using the Fe
3
O
4
@C matrix are the low cost of synthesis and its easy and fast separation from solution by using an NdBFe magnet.
View Full-Text
►

▼

Figures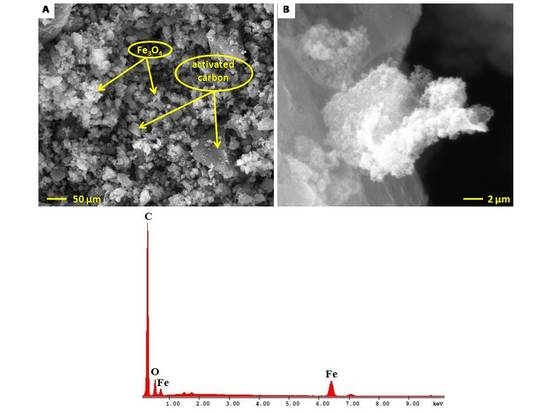 Graphical abstract
This is an open access article distributed under the
Creative Commons Attribution License
which permits unrestricted use, distribution, and reproduction in any medium, provided the original work is properly cited (CC BY 4.0).

Share & Cite This Article
MDPI and ACS Style
Moacă, E.-A.; Mihali, C.-V.; Macaşoi, I.-G.; Racoviceanu (Băbuţă), R.; Şoica, C.; Dehelean, C.-A.; Păcurariu, C.; Florescu, S. Fe3O4@C Matrix with Tailorable Adsorption Capacities for Paracetamol and Acetylsalicylic Acid: Synthesis, Characterization, and Kinetic Modeling. Molecules 2019, 24, 1727.
Note that from the first issue of 2016, MDPI journals use article numbers instead of page numbers. See further details here.
Related Articles
Comments
[Return to top]