In Silico Peptide Ligation: Iterative Residue Docking and Linking as a New Approach to Predict Protein-Peptide Interactions
1
Institut de Chimie Organique et Analytique (ICOA), UMR CNRS-Université d'Orléans 7311, Université d'Orléans BP 6759, 45067 Orléans Cedex 2, France
2
UMR Physiologie de la Reproduction et des Comportements (INRA, UMR85; CNRS, UMR7247; Université de Tours; IFCE), F-37380 Nouzilly, France
3
Centre de Biophysique Moléculaire (CNRS UPR4301), Rue Charles Sadron, F-45071 Orléans Cedex 2, France
*
Author to whom correspondence should be addressed.
Academic Editor: Dragos Horvath
Received: 20 January 2019 / Revised: 2 April 2019 / Accepted: 3 April 2019 / Published: 5 April 2019
Abstract
Peptide–protein interactions are corner-stones of living functions involved in essential mechanisms, such as cell signaling. Given the difficulty of obtaining direct experimental structural biology data, prediction of those interactions is of crucial interest for the rational development of new drugs, notably to fight diseases, such as cancer or Alzheimer's disease. Because of the high flexibility of natural unconstrained linear peptides, prediction of their binding mode in a protein cavity remains challenging. Several theoretical approaches have been developed in the last decade to address this issue. Nevertheless, improvements are needed, such as the conformation prediction of peptide side-chains, which are dependent on peptide length and flexibility. Here, we present a novel in silico method, Iterative Residue Docking and Linking (IRDL), to efficiently predict peptide–protein interactions. In order to reduce the conformational space, this innovative method splits peptides into several short segments. Then, it uses the performance of intramolecular covalent docking to rebuild, sequentially, the complete peptide in the active site of its protein target. Once the peptide is constructed, a rescoring step is applied in order to correctly rank all IRDL solutions. Applied on a set of 11 crystallized peptide–protein complexes, the IRDL method shows promising results, since it is able to retrieve experimental binding conformations with a Root Mean Square Deviation (RMSD) below 2 Å in the top five ranked solutions. For some complexes, IRDL method outperforms two other docking protocols evaluated in this study. Hence, IRDL is a new tool that could be used in drug design projects to predict peptide–protein interactions.
View Full-Text
►

▼

Figures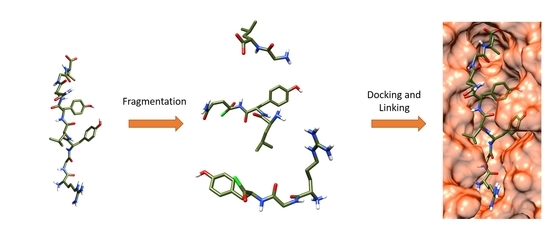 Graphical abstract
This is an open access article distributed under the
Creative Commons Attribution License
which permits unrestricted use, distribution, and reproduction in any medium, provided the original work is properly cited (CC BY 4.0).

Share & Cite This Article
MDPI and ACS Style
Diharce, J.; Cueto, M.; Beltramo, M.; Aucagne, V.; Bonnet, P. In Silico Peptide Ligation: Iterative Residue Docking and Linking as a New Approach to Predict Protein-Peptide Interactions. Molecules 2019, 24, 1351.
Note that from the first issue of 2016, MDPI journals use article numbers instead of page numbers. See further details here.
Related Articles
Comments
[Return to top]