Enhanced Anti-Allergic Activity of Milk Casein Phosphopeptide by Additional Phosphorylation in Ovalbumin-Sensitized Mice
1
Interdisciplinary Graduate School of Science and Technology, Shinshu University, 8304 Minamiminowa, Ina, Nagano 399-4598, Japan
2
Department of Agricultural Research, Animal Production and Range research Division, Ministry of Agriculture, Private bag 0033, Gaborone BO320, Botswana
3
Faculty of Agriculture, Shinshu University, 8304 Minamiminowa, Ina, Nagano 399-4598, Japan
*
Author to whom correspondence should be addressed.
Received: 9 January 2019 / Revised: 11 February 2019 / Accepted: 17 February 2019 / Published: 19 February 2019
Abstract
The proteolytic digest of milk casein, known as casein phosphopeptide (CPP-III), exhibits diverse biological activities, including calcium absorption and antioxidant activities. We hypothesized that the additional phosphorylation of this peptide can enhance its immunomodulatory activity such as suppression of allergy-associated cytokine and antigen-specific immune response. This study was conducted to assess whether oral intake of additionally phosphorylated CPP-III (P-CPP) attenuates ovalbumin (OVA)-induced IgE-mediated allergic reactions because of the additional phosphate groups. Female BALB/c mice were intraperitoneally sensitized with OVA twice at intervals of 14 days and then orally fed native CPP-III (N-CPP), P-CPP, and dephosphorylated CPP-III (D-CPP) for 6 weeks. Next, the mice were orally challenged with 50 mg of OVA. Oral administration of P-CPP suppressed total and specific IgE levels in the serum. Mice fed P-CPP exhibited low levels of OVA-specific IgG1 and increased OVA-specific IgG2a. P-CPP also suppressed IL-4 production, while D-CPP showed similar a level compared to that of the control. Further, P-CPP increased the population of the T follicular helper (Tfh) cell in the spleen. These results suggest that additional phosphorylation of CPP can enhance the attenuation of allergen-specific IgE-modulated allergic reactions in a murine food allergy model.
View Full-Text
►

▼

Figures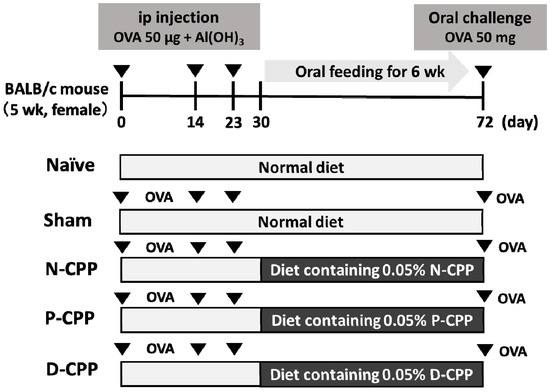 Figure 1
This is an open access article distributed under the
Creative Commons Attribution License
which permits unrestricted use, distribution, and reproduction in any medium, provided the original work is properly cited (CC BY 4.0).

Share & Cite This Article
MDPI and ACS Style
Lebetwa, N.; Suzuki, Y.; Tanaka, S.; Nakamura, S.; Katayama, S. Enhanced Anti-Allergic Activity of Milk Casein Phosphopeptide by Additional Phosphorylation in Ovalbumin-Sensitized Mice. Molecules 2019, 24, 738.
Note that from the first issue of 2016, MDPI journals use article numbers instead of page numbers. See further details here.
Related Articles
Comments
[Return to top]