Supramolecular Complexes of Graphene Oxide with Porphyrins: An Interplay between Electronic and Magnetic Properties
1
Institute of Molecular Physics, Polish Academy of Science, ul. Smoluchowskiego 17, 60-179 Poznań, Poland
2
Faculty of Technical Physics, Poznan University of Technology, ul. Piotrowo 3, 60-965 Poznań, Poland
3
Department of Pharmacognosy, Faculty of Pharmacy, Poznań University of Medical Sciences, Święcickiego 4, 60-781 Poznań, Poland
4
Academic Centre for Materials and Nanotechnology, AGH University of Science and Technology, Al. Mickiewicza 30, 30-059 Kraków, Poland
*
Authors to whom correspondence should be addressed.
Received: 21 December 2018 / Revised: 28 January 2019 / Accepted: 12 February 2019 / Published: 14 February 2019
Abstract
Graphene oxide (GO) was modified by two modified porphyrins (THPP and TCPP) to form GO–porphyrin hybrids. Spectroscopic measurements demonstrated the formation of stable supramolecular aggregates when mixing two components in solution. The Fourier transform infrared (FTIR) and Raman scattering measurements confirm π-stacking between hydrophobic regions of GO nanoflakes and porphyrin molecules. On the number and the kind of paramagnetic centers generated in pristine GO samples, which originate from spin anomalies at the edges of aromatic domains within GO nanoflakes. More significant changes in electronic properties have been observed in hybrid materials. This is particularly evident in the drastic increase in the number of unpaired electrons for the THPP-GO sample and the decrease in the number of unpaired electrons for the TCPP-GO. The difference of paramagnetic properties of hybrid materials is a consequence of π-stacking between GO and porphyrin rings. An interesting interplay between modifiers and the surface of GO leads to a significant change in electronic structure and magnetic properties of the designed hybrid materials. Based on the selection of molecular counterpart we can affect the behavior of hybrids upon light irradiation in a different manner, which may be useful for the applications in photovoltaics, optoelectronics, and spintronics.
View Full-Text
►

▼

Figures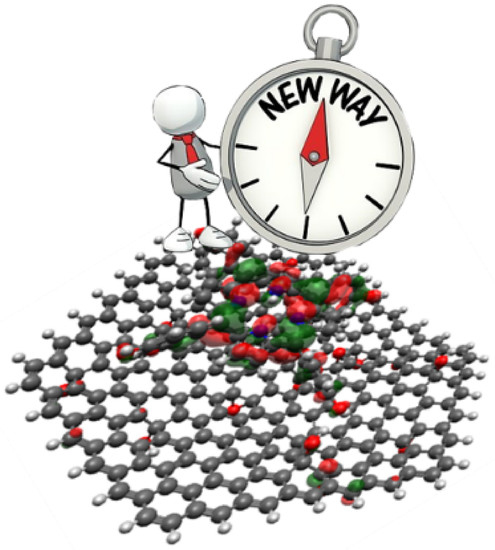 Graphical abstract
This is an open access article distributed under the
Creative Commons Attribution License
which permits unrestricted use, distribution, and reproduction in any medium, provided the original work is properly cited (CC BY 4.0).

Share & Cite This Article
MDPI and ACS Style
Lewandowska, K.; Rosiak, N.; Bogucki, A.; Cielecka-Piontek, J.; Mizera, M.; Bednarski, W.; Suchecki, M.; Szaciłowski, K. Supramolecular Complexes of Graphene Oxide with Porphyrins: An Interplay between Electronic and Magnetic Properties. Molecules 2019, 24, 688.
Note that from the first issue of 2016, MDPI journals use article numbers instead of page numbers. See further details here.
Related Articles
Comments
[Return to top]