Cucurbitacin B Induces the Lysosomal Degradation of EGFR and Suppresses the CIP2A/PP2A/Akt Signaling Axis in Gefitinib-Resistant Non-Small Cell Lung Cancer
1
Laboratory of Molecular Target Therapy of Cancer, Institute of Basic Medical Sciences, Hubei University of Medicine, Shiyan 442000, China
2
Laboratory of Molecular Target Therapy of Cancer, Biomedical Research Institute, Hubei University of Medicine, Shiyan 442000, China
3
Hubei Key Laboratory of Wudang Local Chinese Medicine Research and Institute of Medicinal Chemistry, Hubei University of Medicine, Shiyan 442000, China
*
Authors to whom correspondence should be addressed.
†
These authors contributed equally.
Received: 10 December 2018 / Revised: 27 January 2019 / Accepted: 1 February 2019 / Published: 12 February 2019
Abstract
Non-small cell lung cancer (NSCLC) patients carrying an epidermal growth factor receptor (EGFR) mutation are initially sensitive to EGFR-tyrosine kinase inhibitors (TKIs) treatment, but soon develop an acquired resistance. The treatment effect of EGFR-TKIs-resistant NSCLC patients still faces challenges. Cucurbitacin B (CuB), a triterpene hydrocarbon compound isolated from plants of various families and genera, elicits anticancer effects in a variety of cancer types. However, whether CuB is a viable treatment option for gefitinib-resistant (GR) NSCLC remains unclear. Here, we investigated the anticancer effects and underlying mechanisms of CuB. We report that CuB inhibited the growth and invasion of GR NSCLC cells and induced apoptosis. The inhibitory effect of CuB occurred through its promotion of the lysosomal degradation of EGFR and the downregulation of the cancerous inhibitor of protein phosphatase 2A/protein phosphatase 2A/Akt (CIP2A/PP2A/Akt) signaling axis. CuB and cisplatin synergistically inhibited tumor growth. A xenograft tumor model indicated that CuB inhibited tumor growth in vivo. Immunohistochemistry results further demonstrated that CuB decreased EGFR and CIP2A levels in vivo. These findings suggested that CuB could suppress the growth and invasion of GR NSCLC cells by inducing the lysosomal degradation of EGFR and by downregulating the CIP2A/PP2A/Akt signaling axis. Thus, CuB may be a new drug candidate for the treatment of GR NSCLC.
View Full-Text
►

▼

Figures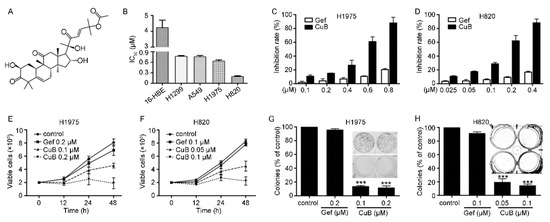 Figure 1
This is an open access article distributed under the
Creative Commons Attribution License
which permits unrestricted use, distribution, and reproduction in any medium, provided the original work is properly cited (CC BY 4.0).

Share & Cite This Article
MDPI and ACS Style
Liu, P.; Xiang, Y.; Liu, X.; Zhang, T.; Yang, R.; Chen, S.; Xu, L.; Yu, Q.; Zhao, H.; Zhang, L.; Liu, Y.; Si, Y. Cucurbitacin B Induces the Lysosomal Degradation of EGFR and Suppresses the CIP2A/PP2A/Akt Signaling Axis in Gefitinib-Resistant Non-Small Cell Lung Cancer. Molecules 2019, 24, 647.
Note that from the first issue of 2016, MDPI journals use article numbers instead of page numbers. See further details here.
Related Articles
Comments
[Return to top]