Targeting a Designer TIMP-1 to the Cell Surface for Effective MT1-MMP Inhibition: A Potential Role for the Prion Protein in Renal Carcinoma Therapy
Department of Biological Sciences, Xian Jiaotong Liverpool University, 111 Ren Ai Road, Suzhou 215123, China
*
Author to whom correspondence should be addressed.
Received: 10 December 2018 / Revised: 3 January 2019 / Accepted: 7 January 2019 / Published: 11 January 2019
Abstract
Renal carcinoma cells express Membrane Type 1-Matrix Metalloproteinase (MT1-MMP, MMP-14) to degrade extracellular matrix components and a range of bioactive molecules to allow metastasis and cell proliferation. The activity of MT1-MMP is modulated by the endogenous inhibitors, Tissue Inhibitor of Metalloproteinases (TIMPs). In this study, we describe a novel strategy that would enable a "designer" TIMP-1 tailored specifically for MT1-MMP inhibition (V4A/P6V/T98L;
K
i
app
1.66 nM) to be targeted to the plasma membrane for more effective MT1-MMP inhibition. To achieve this, we fuse the designer TIMP-1 to the glycosyl-phosphatidyl inositol (GPI) anchor of the prion protein to create a membrane-tethered, high-affinity TIMP variant named "T1
Pr αMT1
" that is predominantly located on the cell surface and co-localised with MT1-MMP. Confocal microscopy shows that T1
Pr αMT1
is found throughout the cell surface in particular the membrane ruffles where MT1-MMP is most abundant. Expression of T1
Pr αMT1
brings about a complete abrogation of the gelatinolytic activity of cellular MT1-MMP in HT1080 fibrosarcoma cells whilst in renal carcinoma cells CaKi-1, the GPI-TIMP causes a disruption in MMP-mediated proteolysis of ECM components such as fibronectin, collagen I and laminin that consequently triggers a downstream senescence response. Moreover, the transduced cells also suffer from an impairment in proliferation and survival in vitro as well as in NOD/SCID mouse xenograft. Taken together, our findings demonstrate that the GPI anchor of prion could be exploited as a targeting device in TIMP engineering for MT1-MMP inhibition with a potential in renal carcinoma therapy.
View Full-Text
►

▼

Figures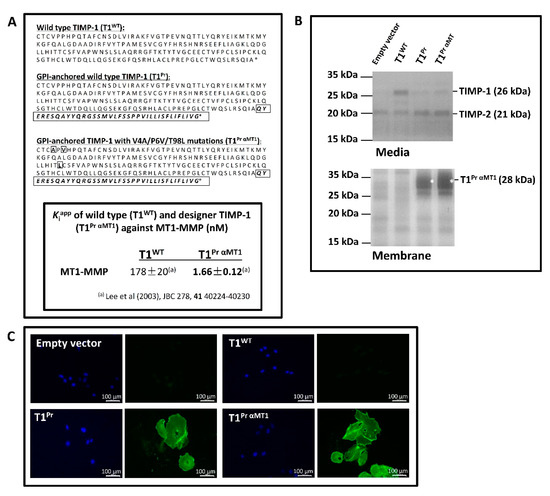 Figure 1
This is an open access article distributed under the
Creative Commons Attribution License
which permits unrestricted use, distribution, and reproduction in any medium, provided the original work is properly cited (CC BY 4.0).

Share & Cite This Article
MDPI and ACS Style
Jiang, B.; Liu, J.; Lee, M.H. Targeting a Designer TIMP-1 to the Cell Surface for Effective MT1-MMP Inhibition: A Potential Role for the Prion Protein in Renal Carcinoma Therapy. Molecules 2019, 24, 255.
Note that from the first issue of 2016, MDPI journals use article numbers instead of page numbers. See further details here.
Related Articles
Comments
[Return to top]