Chitosan-Coated Flexible Liposomes Magnify the Anticancer Activity and Bioavailability of Docetaxel: Impact on Composition
1
Pharmacy Department, King Abdulaziz Medical City, Ministry of National Guard-Health Affairs, Riyadh 11426, P.O. Box 22490, Saudi Arabia
2
Faculty of Pharmacy, Northern Border University, Arar 91911, P.O. Box 840, Saudi Arabia
3
Department of Pharmaceutics, College of Pharmacy, King Saud University, Riyadh 11451, P.O. Box 2457, Saudi Arabia
4
Kayyali Chair for Pharmaceutical Industry, Department of Pharmaceutics, College of Pharmacy, King Saud University, Riyadh 11451, P.O. Box 2457, Saudi Arabia
5
Department of Biochemistry, College of Pharmacy, Al-Azhar University, Cairo P.O. Box 11751, Egypt
6
Nanomedicine unit (NMU-KSU), College of Pharmacy, King Saud University, Riyadh 11451, P.O. Box 2457, Saudi Arabia
7
Department of Pharmaceutics, College of Pharmacy, Al-Azhar University, Cairo P.O. Box 11751, Egypt
*
Author to whom correspondence should be addressed.
Received: 7 December 2018 / Revised: 7 January 2019 / Accepted: 8 January 2019 / Published: 11 January 2019
Abstract
Flexible liposomes (FLs) were developed as promising nano-carriers for anticancer drugs. Coating them with chitosan (CS) could improve their drug delivery properties. The aim of this study was to investigate the physicochemical characteristics, pharmacokinetics behavior, and cytotoxic efficacy of docetaxel (DTX)-loaded CS-coated FLs (C-FLs). DTX-loaded FLs and C-FLs were produced via thin-film evaporation and electrostatic deposition methods, respectively. To explore their physicochemical characterization, the particle size, zeta potential, encapsulation efficiency (EE%), morphology, and DTX release profiles were determined. In addition, pharmacokinetic studies were performed, and cytotoxic effect was assessed using colon cancer cells (HT29). Various FLs, dependent on the type of surfactant, were formed with particle sizes in the nano-range, 137.6 ± 6.3 to 238.2 ± 14.2 nm, and an EE% of 59–94%. Moreover, the zeta potential shifted from a negative to a positive value for C-FL with increased particle size and EE%, and the in vitro sustained-release profiles of C-FL compared to those of FL were evident. The optimized C-FL containing sodium deoxycholate (NDC) and dicetyl phosphate (DP) elicited enhanced pharmacokinetic parameters and cytotoxic efficiency compared to those of the uncoated ones and Onkotaxel
®
. In conclusion, this approach offers a promising solution for DTX delivery.
View Full-Text
►

▼

Figures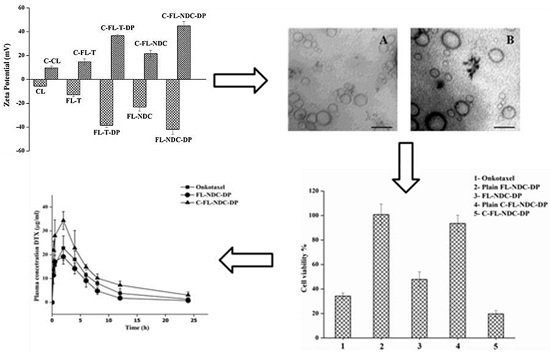 Graphical abstract
This is an open access article distributed under the
Creative Commons Attribution License
which permits unrestricted use, distribution, and reproduction in any medium, provided the original work is properly cited (CC BY 4.0).

Share & Cite This Article
MDPI and ACS Style
Alshraim, M.O.; Sangi, S.; Harisa, G.I.; Alomrani, A.H.; Yusuf, O.; Badran, M.M. Chitosan-Coated Flexible Liposomes Magnify the Anticancer Activity and Bioavailability of Docetaxel: Impact on Composition. Molecules 2019, 24, 250.
Note that from the first issue of 2016, MDPI journals use article numbers instead of page numbers. See further details here.
Related Articles
Comments
[Return to top]