Synthesis of Daidzein Glycosides, α-Tocopherol Glycosides, Hesperetin Glycosides by Bioconversion and Their Potential for Anti-Allergic Functional-Foods and Cosmetics
1
Department of Life Science, Faculty of Science, Okayama University of Science, 1-1 Ridai-cho, Kita-ku, Okayama 700-0005, Japan
2
Department of Biochemistry, Faculty of Science, Okayama University of Science, 1-1 Ridai-cho, Kita-ku, Okayama 700-0005, Japan
3
Department of Biomedical Chemistry, Faculty of Medicine, Oita University, 1-1 Hasama-machi, Oita 879-5593, Japan
4
Department of Biophysics, Faculty of Medicine, Oita University, 1-1 Hasama-machi, Oita 879-5593, Japan
5
Faculty of Medicine and Health Sciences, Yamaguchi University, 1-1-1 Minamikogushi, Ube-shi, Yamaguchi 755-8505, Japan
6
Department of Nursing, Junshin Gakuen University, 1-1-1 Tikushigaoka, Fukuoka-shi, Minami-ku, Fukuoka 815-8510, Japan
*
Author to whom correspondence should be addressed.
Academic Editors: Francesco Epifano and Serena Fiorito
Received: 22 July 2019 / Revised: 15 August 2019 / Accepted: 15 August 2019 / Published: 16 August 2019
Abstract
Daidzein is a common isoflavone, having multiple biological effects such as anti-inflammation, anti-allergy, and anti-aging. α-Tocopherol is the tocopherol isoform with the highest vitamin E activity including anti-allergic activity and anti-cancer activity. Hesperetin is a flavone, which shows potent anti-inflammatory effects. These compounds have shortcomings, i.e., water-insolubility and poor absorption after oral administration. The glycosylation of bioactive compounds can enhance their water-solubility, physicochemical stability, intestinal absorption, and biological half-life, and improve their bio- and pharmacological properties. They were transformed by cultured
Nicotiana tabacum
cells to 7-β-glucoside and 7-β-gentiobioside of daidzein, and 3′- and 7-β-glucosides, 3′,7-β-diglucoside, and 7-β-gentiobioside of hesperetin. Daidzein and α-tocopherol were glycosylated by galactosylation with β-glucosidase to give 4′- and 7-β-galactosides of daidzein, which were new compounds, and α-tocopherol 6-β-galactoside. These nine glycosides showed higher anti-allergic activity, i.e., inhibitory activity toward histamine release from rat peritoneal mast cells, than their respective aglycones. In addition, these glycosides showed higher tyrosinase inhibitory activity than the corresponding aglycones. Glycosylation of daidzein, α-tocopherol, and hesperetin greatly improved their biological activities.
View Full-Text
►

▼

Figures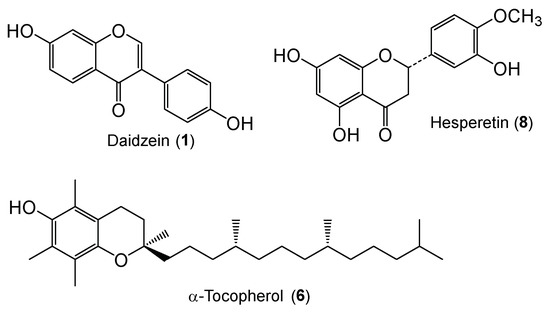 Figure 1
This is an open access article distributed under the
Creative Commons Attribution License
which permits unrestricted use, distribution, and reproduction in any medium, provided the original work is properly cited (CC BY 4.0).

Share & Cite This Article
MDPI and ACS Style
Fujitaka, Y.; Hamada, H.; Uesugi, D.; Kuboki, A.; Shimoda, K.; Iwaki, T.; Kiriake, Y.; Saikawa, T. Synthesis of Daidzein Glycosides, α-Tocopherol Glycosides, Hesperetin Glycosides by Bioconversion and Their Potential for Anti-Allergic Functional-Foods and Cosmetics. Molecules 2019, 24, 2975.
Note that from the first issue of 2016, MDPI journals use article numbers instead of page numbers. See further details here.
Related Articles
Comments
[Return to top]